Who Is Joseph Silk? GOP Senator Trying to Ban Abortion Says It's Like a Mother Killing a '1-Year-Old Child'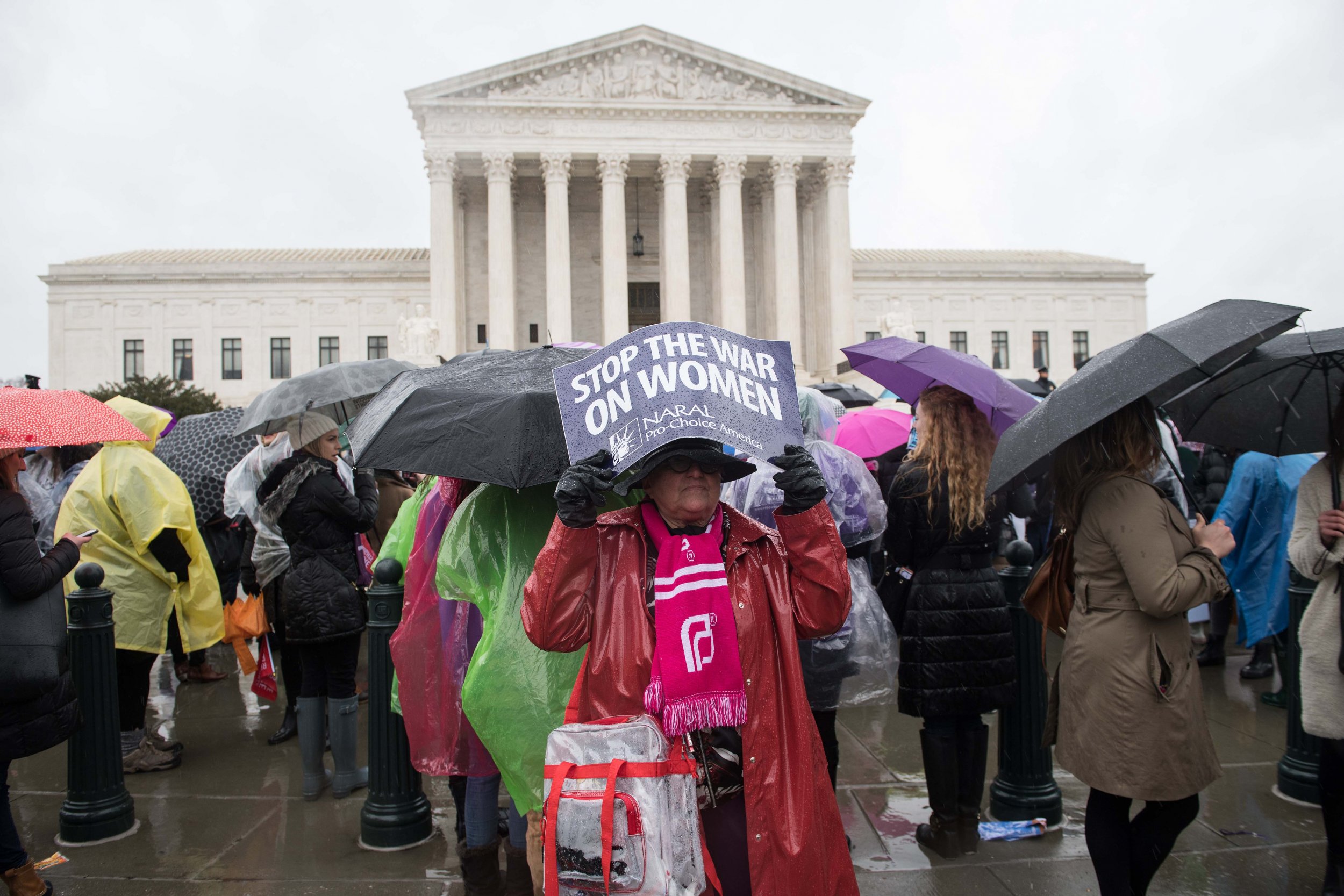 An Oklahoma lawmaker has proposed a new bill that seeks to ban abortion under "any circumstance" and classify the act "as murder," which would make anyone undergoing the procedure vulnerable to severe sentences, including life imprisonment and, potentially, the death penalty.
Republican Senator Joseph Silk, from Broken Bow, filed Senate Bill 13 last Thursday, which called for "a total abolition of human abortion in Oklahoma.
"If signed into law, SB 13 would classify abortion as murder," Silk said in a statement sent to local news station KOCO 5 on Friday.
"This measure shows that Oklahomans value and protects [sic] life at stages," he continued.
Pressed on his comments by local broadcaster KFOR, Silk said that he would tell a woman who was sentenced to life in prison for having had an abortion "the exact same thing I would say to a mother who just killed a 1-month-old or a 1-year-old child.
"It's a horrific act and there shouldn't be any tolerance for it," he said.
Silk also argued that it was justifiable for Oklahoma to pass such a bill, despite the Supreme Court's landmark 1973 Roe v. Wade decision, which recognized a woman's legal right to abortion, by drawing comparisons to the Supreme Court's past support for slavery.
"The Supreme Court also ruled that slavery, you know, that slaves were private property and they were wrong," Silk said. "And so, the courts do need to be challenged."
A summary of the bill prepared for the Oklahoma legislature states that it seeks to prohibit abortion "in any circumstance," asserting that the measure's intent "is to provide to unborn children the equal protection of the laws of [the] state.
"Any abortion procedure that results in the death of an unborn child is subject to the same laws governing homicide, manslaughter, justifiable homicide, and excusable homicide," the summary states. "Additionally, wrongful damages may be recovered by representatives of the deceased."
In addition to potentially condemning women who undergo an abortion to severe sentences that could include the death penalty, SB 13 also seeks to ban physicians, physician assistants, abortion clinics and counseling services from providing "any counseling, referrals, or services related to abortion.
"No exceptions are allowed under the measure," the statement continues, adding that the bill would repeal "all other sections of law related to governing the use of abortion."
Asked by KFOR whether he believed exceptions should be made for cases involving rape and incest, Silk said "it's almost not even an arguable question" as "the numbers of rape and incest are so tiny, under half percent.
"It is a human life, regardless of how it came to be," Silk said. He did not address whether exceptions should be made in cases where a woman's health was at risk.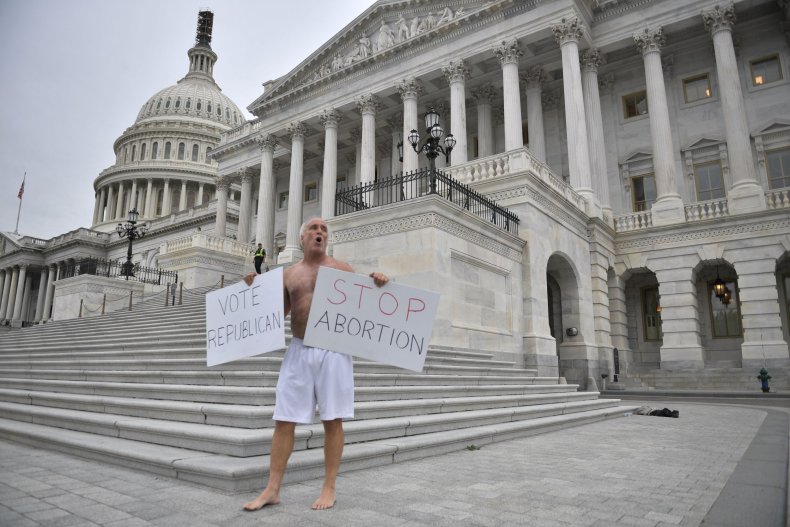 His measure goes as far as to demand that the attorney general continue to "enforce laws related to homicide and abortions" regardless of "any contrary or conflicting federal statutes, regulations, executive order or court decisions.
"Any ruling or law contradicting this measure is deemed to be unconstitutional and void and no federal suits may be entered to challenge the measure, should it pass," the summary says, adding that the provisions in the measure are "inseverable."
Silk has been slammed by abortion rights groups over the measure. #VOTEPROCHOICE co-founder Heidi Sieck accused the state senator of "trying to turn America into a forced birth nation," in a statement sent to Newsweek.
"This is unconscionable and we cannot let this stand," Sieck said, asserting that "America is a staunchly pro-choice nation."
Referring to November's midterm elections, Sieck added: "We just elected a historic number of women and pro-choice champions in November to defend our reproductive freedom. We must stand up for choice in Oklahoma and force Senator Silk to stand down.
"Make no mistake: Our lives are on the line," she said.
Allie Shinn, deputy director for the American Civil Liberties Union of Oklahoma, called the bill outrageous in a statement to KFOR.
"I'm not sure where Joseph Silk got to decide that he's the morality police, but nobody elected him to do that," Shinn said.
The bill follows several other anti-abortion measures that have been put forward and, in some cases, approved, in a number of states, including Ohio, Alabama and West Virginia.
Last month, Ohio saw House Bill 565, which sought to ban abortion in the state, while extending the definition of a "person" in Ohio's criminal code to include "unborn" humans, thereby making the procedure a criminal act, advanced.
That measure came shortly after the state passed a House bill, known as the "heartbeat bill," seeking to ban abortion at six weeks.
And in the recent midterm elections, Alabama and West Virginia voters approved amendments to their state constitutions that could see reproductive rights protections removed.
Alabama's Amendment 2 seeks to remove constitutional protections for the right to abortion, while West Virginia's Amendment 1 aims to change the state constitution to ensure that the right to abortion is not protected, while also preventing state taxpayer money from being used to pay for abortions for those on Medicaid.
The anti-abortion measures have come amid fears from abortion rights advocates that the recent appointment of Judge Brett Kavanaugh to the Supreme Court could spell trouble for Roe v. Wade.
Read more: Ohio Considering Bill That Could See Abortions Punishable by Death
Kavanaugh's appointment brings a five-justice conservative majority to the Supreme Court, and advocates have sounded the alarm that the landmark ruling could be overturned.
Mary Ziegler, a professor at Florida State University's College of Law who specializes in the legal history of reproduction and the Constitution, has previously told Newsweek that she did not believe Roe would be overturned any time soon but suspected that the landmark ruling would instead be gradually "scaled back" over time.
"It's not so much that I think Roe is safe," she said. "It's more that I think there is going to be a stealth overruling of Roe."
Ziegler said she believed that measures seeking to equate abortion with murder would likely go too far for the majority of so-called "pro-life" advocates, asserting that many anti-abortion advocates do not want to see women punished for having abortions.
"I think anti-abortion groups realize this is going to be a tough issue for them in many ways, because the movement is divided," Ziegler said. "If Roe is overturned, the question will be how far the anti-abortion movement wants to go in criminalizing abortion."