A U.S. team has arrived in North Korea in order to prepare for the proposed summit between Donald Trump and Kim Jong Un, which the president recently pulled out of.
Both the State Department and South Korea's Foreign Ministry confirmed the team of officials had met at Panmunjom, a village in the Demilitarized Zone (DMZ) along the Korean border, in order to discuss a potentially historic meeting.
Trump previously cancelled the planned June 12 summit in Singapore with Kim, focusing on the denuclearization of North Korea in a letter to Kim Jong Un. "Sadly, based on the tremendous anger and open hostility displayed in your most recent statement, I feel it is inappropriate, at this time, to have this long-planned meeting," he wrote, but soon after suggested talks could still go ahead.
On Sunday (May 27), Trump confirmed in a tweet that the team of advisories are in the secretive state to "make arrangements for the Summit between Kim Jong Un and myself."
He added: "I truly believe North Korea has brilliant potential and will be a great economic and financial Nation one day. Kim Jong Un agrees with me on this. It will happen!"
Among those in North Korea on behalf of the U.S. was Sung Kim, the veteran diplomat and current U.S. ambassador to the Philippines.
Kim, on-board to lead the pre-summit negotiations, was previously the U.S. Ambassador to the Republic of Korea between 2011 and 2014 and also served as the Special Representative for North Korea Policy in Washington.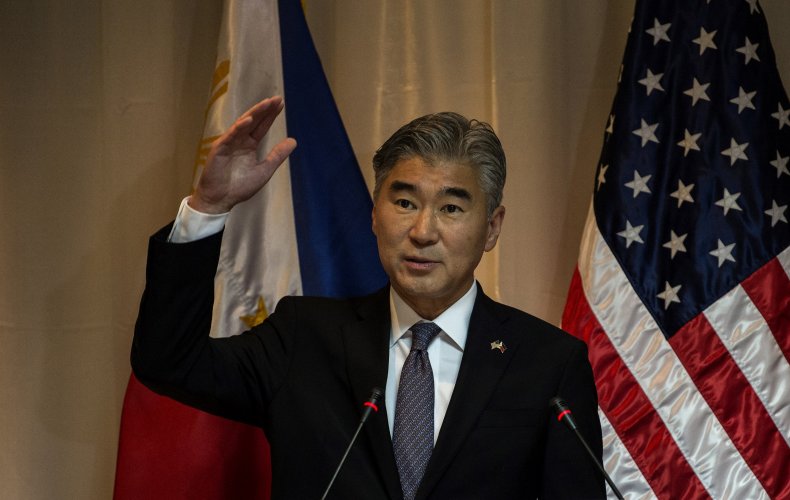 His previous work as a U.S. diplomat has seen him work in Tokyo, Kuala Lumpur, and Hong Kong. Having been born in Seoul, South Korea, he grew up in Los Angeles. He went on to study at the University of Pennsylvania as well as completing a law degree at Loyola University. He also holds a Master of Laws degree from the London School of Economics and an honorary doctorate from the Catholic University of Korea.
A former senior South Korean official told Reuters it is a "good thing" that Kim is part of the negotation team. "He's capable, level-headed, cautious, and has solid grasp of the issues and knows North Koreans well. But at the same time, he has healthy skepticism," the official added.
South Korean President Moon Jae-in and the North Korean leader previously met on Saturday (May 26) to discuss Kim's possible upcoming summit with Trump.
Discussing the Korean leaders' second summit in a month, Moon told reporters that he is willing to co-operate to end the hostility between the two nations.
"What Kim is unclear about is that he has concerns about whether his country can surely trust the United States over its promise to end hostile relations (with North Korea) and provide a security guarantee if they do denuclearization," Moon said, reports the Associated Press.
"During the South Korea-U.S. summit, President Trump said the U.S. is willing to clearly put an end to hostile relations (between the U.S. and North Korea) and help (the North) achieve economic prosperity if North Korea conducts denuclearization."
The U.S. has frequently called for the "complete, verifiable, and irreversible" dismantlement of North Korea's nuclear weapons program.