Who Is Taylor Simone Ledward? Chadwick Boseman's Widow Praised for Golden Globes Speech
Movie fans and the entertainment industry alike are still reeling from the death of Chadwick Boseman last year.
The beloved Black Panther star died in August at age 43, after a private battle with colon cancer.
At last night's Golden Globes he was posthumously awarded for his role in the Netflix film, Ma Rainey's Black Bottom, which was the last film he worked on before his death.
There to accept the Best Actor award was his wife Taylor Simone Ledward, who is being praised for her moving acceptance speech on behalf of her late husband.
"He would thank God," Ledward said at the ceremony via Zoom. "He would thank his parents. He would thank his ancestors for their guidance and their sacrifices.
"He would say something beautiful, something inspiring, something that would amplify that little voice inside of all of us that tells you you can, that tells you to keep going, that calls you back to what you're meant to be doing at this moment in history."
Fighting back tears, Ledward continued: "I don't have his words but we have to take all the moment to celebrate all we love, so thank you, HFPA, for this opportunity to do exactly that.
"And, hun, you keep 'em coming. Thank you."
Having gotten engaged in October 2019, Ledward and Boseman married privately in the months before his death in 2020.
According to Oprah Magazine, Ledward graduated from California State Polytechnic University (Cal Poly), Pomona in 2014. She has a bachelor's degree in music industry studies. The couple kept a relatively low profile but attended a number of award shows together.
In 2019, Boseman gave a moving acceptance speech for Black Panther's Best Film Ensemble win at the SAG Awards.
"Simone, you're with me every day. I have to acknowledge you right now. Love you," he said in his acceptance speech. The camera saw her mouth back, "I love you."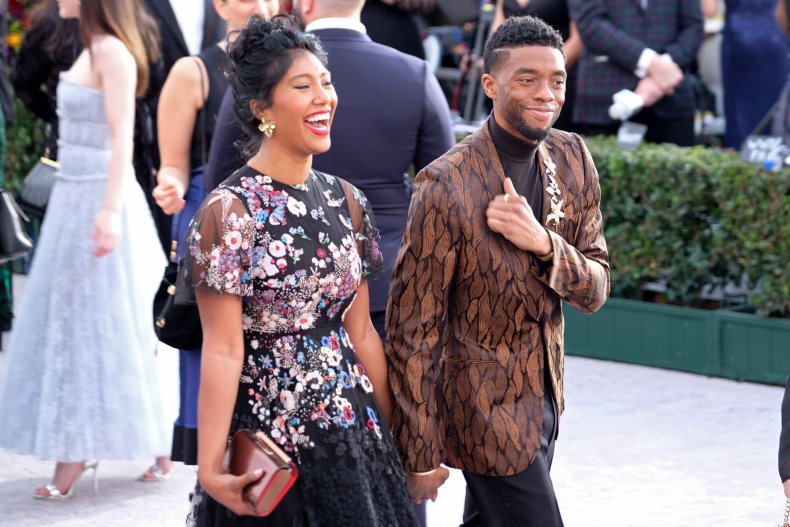 In January 2021, Ledward gave an emotional speech in honor of her late husband as she accepted the Actor Tribute award for him at the Gotham Awards. "As an artist, an actor, and a person, Chad made a practice of telling the truth," she said. "He is the most honest person I've ever met...because he didn't just stop at speaking the truth. He actively searched for it in himself, in those around him and in the moment."
People everywhere have been tweeting to praise Ledward for her speech and display of strength in honoring her late husband.
"The strength and grace and beauty of Chadwick Boseman's wife Taylor Simone Ledward, my god," tweeted journalist Ashley Spencer.
While NPR's Eric Deggens added: "Wow. That emotional acceptance speech by Chadwick Boseman's widow Taylor Simone Ledward at #GoldenGlobes was just incredibly moving and powerful. Glad as I am to see him get all the roses his legacy deserves, I'm a little sad she has to go through this in every acceptance speech."
"In awe of the strength of Taylor Simone Ledward," said Netflix's Jarett Wieselman.