Who Is Terry Branstad? New China Ambassador Is a Longtime Friend of President Xi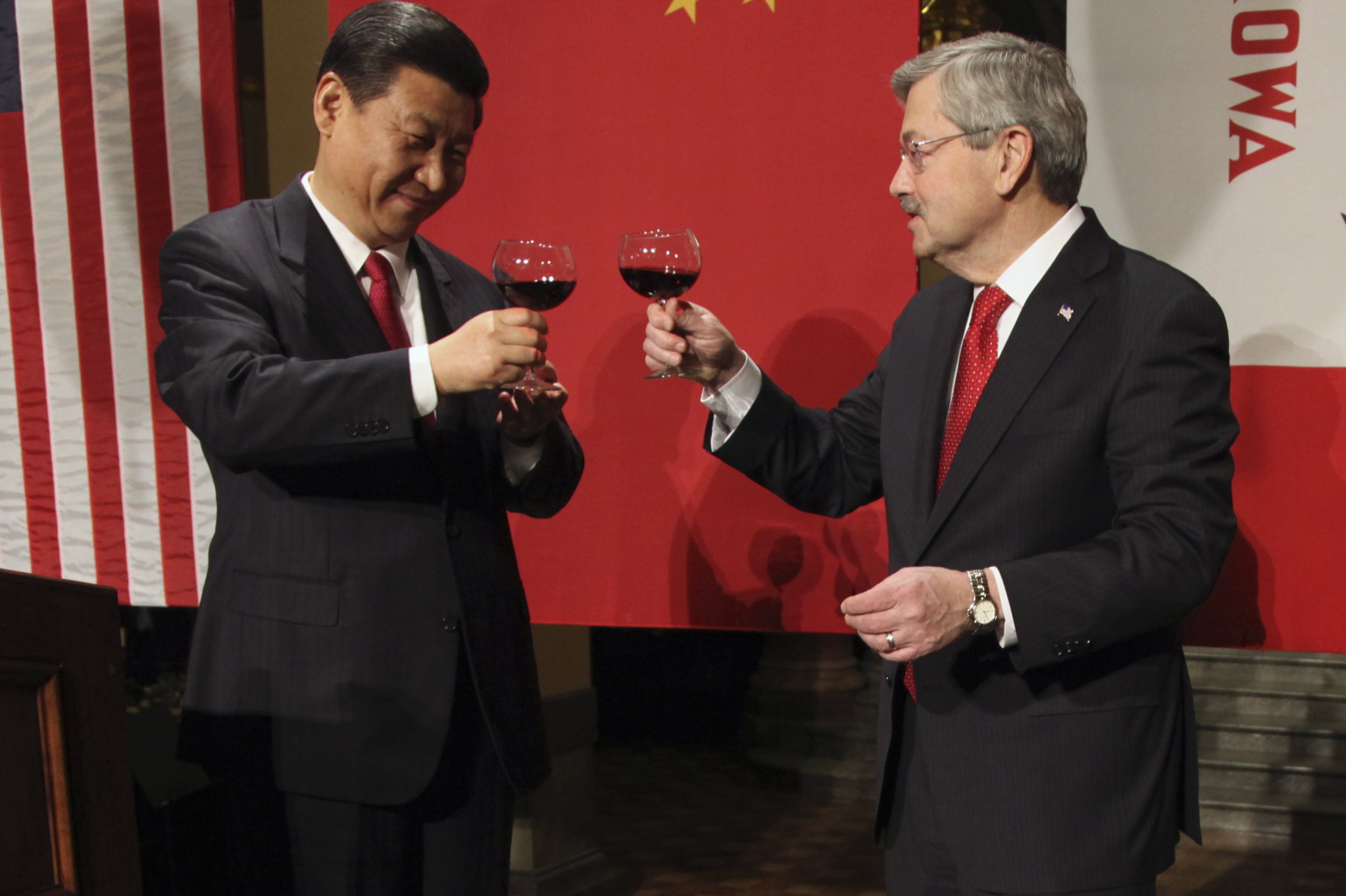 Iowa Governor Terry Branstad, who holds the longest governorship in U.S. history, resigned Wednesday and became President Donald Trump's U.S. ambassador to China. He has a long-standing and personal friendship with Chinese President Xi Jinping that dates back to 1985. More than 30 years ago, Xi, then a young agriculture officer, visited Iowa during Branstad's first term as governor.
Related: Why China and Xi Jinping may see Trump as a paper tiger
The two men have kept in touch for more than three decades. Most recently, the Republican governor met with Xi during a meeting at the Great Hall of the People in Beijing in 2013. A year earlier, Branstad hosted a state dinner at the Iowa Capitol for Xi, who then was vice president of China. He also met Xi on a visit to China in 2011.
"I had told Donald Trump on several occasions, 'Don't say anything bad about China when you're in Iowa,'" Branstad told NPR in January. "We have a great relationship there."
Branstad, now 70, served four consecutive terms—six in total—in the Hawkeye State. Photos of Chinese diplomats on a visit to Iowa were displayed behind Branstad as he was sworn-into his new role at the Iowa State Capitol earlier Wednesday. "There's no better job in the world than being governor of the state that you love," Branstad said before he gave his official resignation Wednesday. "But sometimes we're called to serve in ways that we never imagined."
Over the past few months, Trump has stood up to China and made for a tense relationship between the two countries. On the campaign trail, candidate Trump attacked China for stealing jobs from American workers. And he angered leaders there before he was even sworn in as president. In December, Trump took a protocol-breaking phone call from Taiwanese President Tsai Ing-wen. During that conversation, he reportedly favored supporting Taiwanese independence and questioned Washington's longstanding policy of acknowledging Taiwan as a part of China.
But two months later, in his first conversation with his Chinese counterpart in his new role, Trump promised Xi he will honor the "One China" policy. In April, he hosted Xi at his Florida resort.
On that policy, Branstad told Agriculture.com, "it's a delicate issue and one that has to be handled very carefully, and I recognize that." He continued: "Obviously, my role as the ambassador to China will be to work with the People's Republic of China. I also know that we have a good relationship with Taiwan, even though it doesn't have an ambassador and it's not an officially recognized nation."
Supporters specifically applaud Branstad's grasp of agricultural and trade issues. China has been a fast-growing market for Iowa's agriculture and processed food, with exports from the state up by a factor of 13 between 2000 and 2010 to $6.3 billion, The Washington Post reported, according to Chinese state media.
On trade, Branstad supported the Trans-Pacific Partnership pact, championed by former President Barack Obama, and suggested renegotiating it to include China. But shortly after his inauguration, Trump acted on one of his key campaign promises and formally withdrew the U.S. from the 12-nation agreement.
The U.S. Senate confirmed Branstad's appointment Monday in an 82-13 vote. Supporters of the Branstad appointment view it as Trump's understanding of the importance of a healthy U.S.-China relationship. China's Foreign Ministry in a statement welcomed Branstad to the role.
Branstad first became governor in 1982, held office for four years and left government for 12 years. In 2010, he returned and again won reelection four years later.
Lieutenant Governor Kim Reynolds, a Republican, took over as Iowa governor on Wednesday, and became the first female to hold that role in her state.