Why Does Thuli Madonsela, South Africa's Public Prosecutor, Fear for Her Life?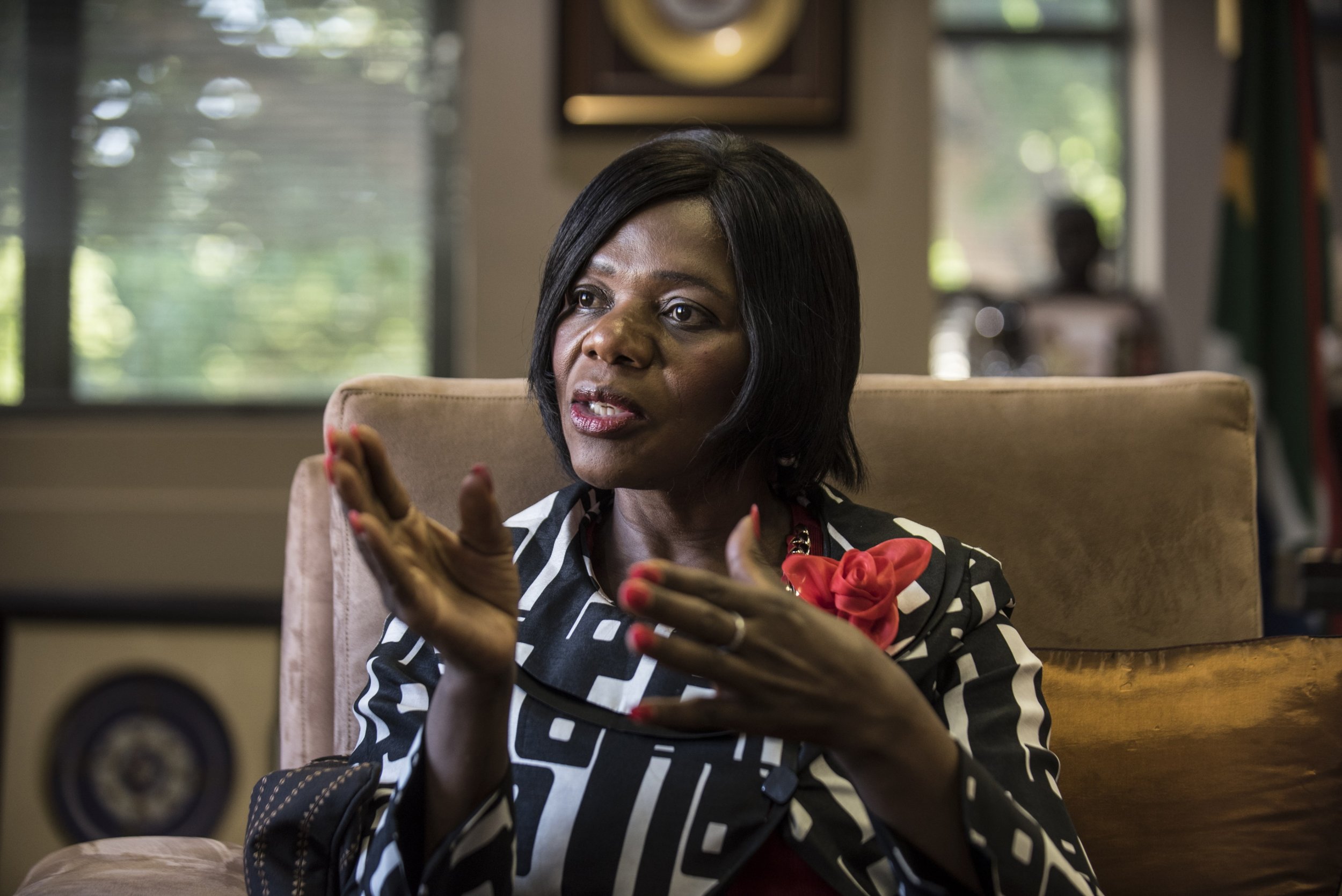 Few women command the same public respect in South Africa as Thuli Madonsela.
Madonsela, 53, holds the post of public protector in South Africa , an independent watchdog tasked with investigating government corruption and holding the most powerful people to account. South African President Jacob Zuma appointed Madonsela to the role in 2009 for a seven-year term, due to conclude in October.
Zuma may well regret that appointment. Madonsela's highest-profile case has been the investigation of Zuma's misuse of state funds in improving his sprawling residence at Nkandla, in South Africa's KwaZulu-Natal province. She authored a 2014 report titled Secure in Comfort , numbering more than 400 pages, concluding that the president had "benefited unduly" from the upgrades—which included a swimming pool and amphitheater and totaled an estimated 246 million rand (worth $23 million at the time)—and should be made to repay funds spent on non-essential security upgrades.
Prior to the 2014 report's release—which came less than two months ahead of a general election that Zuma won convincingly—South African police reportedly threatened to arrest Madonsela, arguing that the report would constitute a breach of the president's security. During the two years following its publication, Madonsela was ignored or insulted by the ruling African National Congress (ANC). Deputy defense minister Kebby Maphatsoe accused her of being an agent of the CIA , while former national police commissioner and ANC national executive committee member Bheki Cele said she must "stop acting like she is God."
Madonsela was finally vindicated in March, however, when the country's highest court ruled that Zuma had failed to uphold the constitution by ignoring Madonsela's report. In its ruling, the Constitutional Court praised Madonsela and her office as "an embodiment of a biblical David" and Madonsela herself welcomed the judgement as having "restored hope in the constitutional dream."
Madonsela's public advocacy against corruption has earned her enemies, however, as she claimed to have been notified of a bounty against her life. The public protector told South Africa's Sunday Times that she received a text message on April 1 from a trusted informant, telling her that a gang leader in the Western Cape region had been contracted to have her assassinated. Madonsela said she is "traumatized" by the plot, which she believes to be authentic, and has stopped jogging in the mornings as a security precaution. The anonymous informant also confirmed that 740,000 rand ($49,000) had changed hands for the hit, which was reportedly planned for May and would be made to look like a car accident.
The opposition Democratic Alliance party, led by Mmusi Maimane, has called on the South African Police Service to fully investigate the allegations, saying that public officials like Madonsela cannot "have threats made on their lives for acting in a manner that is too independent in an effort to root out government corruption." The ANC is yet to comment publicly and was not immediately available when contacted by Newsweek . There is no evidence of a link between the Nkandla investigation and the alleged death threats against Madonsela, who has said she does not know the identity of those threatening her.
The incident highlights the costs that come with speaking out against corruption in a violent and sometimes unstable society like South Africa. It is likely that whoever replaces Madonsela come October will take on her mantle with more than a hint of trepidation.