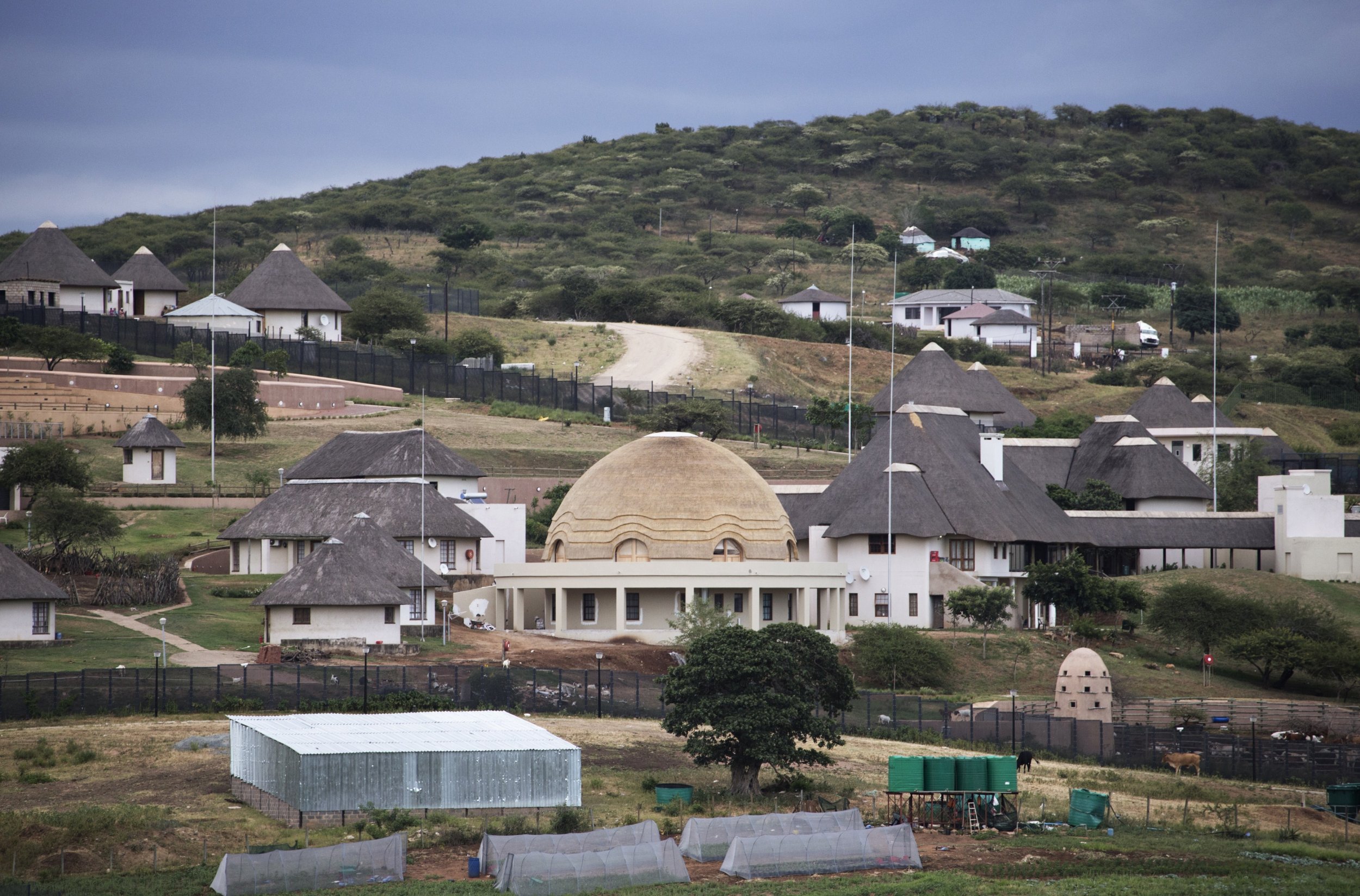 "The President failed to uphold, defend and respect the Constitution." With those words, Chief Justice Mogoeng Thomas Reetsang Mogoeng of the South Africa Constitutional Court finally ruled on the biggest of many presidential scandals since Jacob Zuma came to power in 2009.
The court ruling related to the failure of Zuma to adhere to the findings of the public protector, Advocate Thuli Madonsela, that he breached his ethical responsibility with regards to the excessive expenditure of public money on his private homestead in Nkandla and should repay a portion of it. An amount of 246 million rand ($23 million at the time) was used to enhance security and upgrade Zuma's residence—which including the installation of a swimming pool and ampitheater—resulted in it becoming one of the most expensive homes in a country where more than half the population lives on 779 rand ($53) per month.
The roots of the saga started in 1999, when Zuma was appointed as deputy president of South Africa. Soon after, he began developing his rural estate near Nkandla in northern KwaZulu Natal, a province on South Africa's east coast. His financial advisor at the time, Schabir Shaik, assisted with the financing of the project. Shaik was eventually convicted of being in a corrupt relationship with Zuma and sentenced to 15 years imprisonment in 2005.
Fortunately for Zuma, the political winds were changing at the time. Then-President Thabo Mbeki, who was increasingly seen as intolerant and aloof, had become unpopular within the African National Congress (ANC) and its alliance partners South African Communist Party (SACP) and the Congress of South African Trade Unions (COSATU). Fired by Mbeki and facing corruption charges himself, Zuma had little option but to go for broke and challenge Mbeki for presidency of the ANC. He partly achieved this by presenting himself as a "people's president" and building support from ANC structures such as the Youth League and other political leaders whom Mbeki had alienated.
This strategy succeeded, and he was elected as the ANC president at the party's five-yearly National Conference in 2007. Shortly before the 2009 national elections, the then-acting head of the National Prosecuting Authority Mokotedi Mpshe withdrew the 783 criminal charges of corruption, fraud, money laundering and racketeering facing Zuma. Following the ANC's election win in 2009, Zuma became the president of South Africa.
Zuma quickly used his presidential authority to consolidate his power across the party and the state. He appointed people he believed would owe him allegiance to powerful positions in security and other key state agencies. In this way he was able to dispense patronage to loyalists and target people he perceived as enemies.
Recently, however, Zuma has come under increasing pressure. Various senior ANC party members have publicly alleged that the Guptas—a wealthy business family that are Zuma's personal friends and benefactors to a number of his immediate family members—have been able to influence presidential decisions, including the appointment of cabinet ministers. This resulted in senior ANC stalwarts calling for Zuma to step down.
Zuma's term of office as president is due to end in 2019. However, this Constitutional Court ruling has provided fresh impetus to growing calls for Zuma to either step down or be removed by the ANC much earlier. The problem facing the country is that Zuma is still very powerful within the ANC. Despite the court's ruling, key structures such as the ANC Youth league and Women's League quickly released public statements after the Constitutional Court ruling expressing their full support for him.
If Zuma threatens to fight against any internal attempts to remove him, it is likely to result in deepening the already severe divisions within the ANC and its alliance partners. Given that highly-contested local government elections will take place later this year, there is unlikely to be the stomach for this type of fight. Moreover, Zuma is in a tight spot. A court ruling on rationality of the withdrawal of the criminal charges against him in 2009 will be out later in 2016, and if he loses they could be reinstated. There is far too much at stake for Zuma, a man who has consistently put his personal interests ahead of his party and the ANC, to leave power prematurely.
It is likely that the ANC will try and manage this internally to prevent additional damage to the party. It will most likely be the outcome of the 2016 local government elections that will determine Zuma's fate. If the ANC loses substantial support, Zuma's exit is likely to happen in the relatively near future. If the ANC manages to retain their substantial majority, Zuma is likely to stay until the end of his term of office. Whatever the outcome, South Africa's Constitutional Court has reaffirmed its supremacy over a rapacious political elite.
Gareth Newham is the head of the Governance, Crime and Justice Division at the Institute for Security Studies (ISS), an African security thinktank based in Pretoria. The ISS tweets @issafrica.