'I Just Killed My Dad': Who Was Burt Templet and Did He Kidnap His Son?
I Just Killed My Dad is the latest Netflix true-crime series from Abducted in Plain Sight's Skye Borgman.
The three-part series explores the harrowing true story of Burt and Anthony Templet. On June 3, 2019, Anthony Templet shot his father Burt dead after an argument that Anthony Templet claimed had turned turned physical.
As a result, Anthony Templet shot his father dead, three times, in self-defense.
Anthony Templet was originally charged with second-degree murder, which was reduced to a manslaughter charge.
In March 2021, Templet pleaded no contest to negligent homicide.
As seen in I Just Killed My Dad, a serious amount of disturbing allegations involving emotional and physical abuse against Burt Templet were made by his son. Then, soon after Anthony Templet's arrest, it transpired Anthony Templet was a victim of kidnapping when he was a young boy.
Newsweek has everything you need to know about Burt Templet.
Who Was Burt Templet?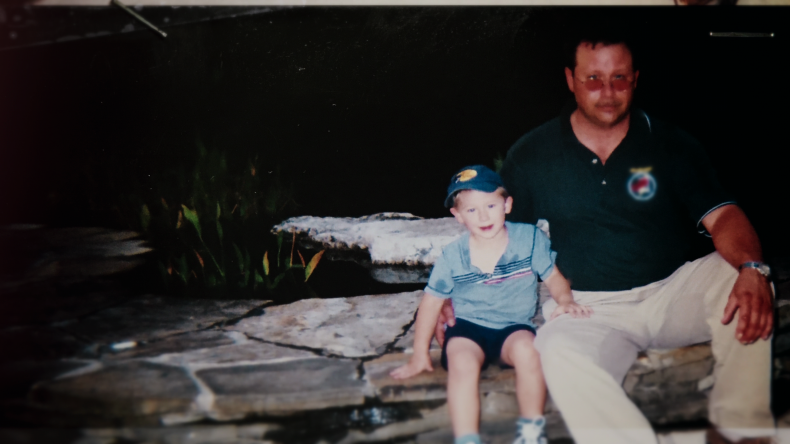 Burt Templet was an Louisiana resident and was the father of Anthony Templet.
On Monday, June 3, 2019, Anthony Templet, who was 17 years old at the time, made a 911 call to report he had shot his father Burt Templet, 53.
"He tried to attack me. Then, we got into a fist fight. Then, I ran in his room, closed the door, and got a gun. As I unlocked the door, he tried to (inaudible) and then I shot him. I just killed my dad. I shot him three times," Anthony Templet told the switchboard operator in a chilling 911 phone call heard in I Just Killed My Dad on Netflix.
On the night Burt Templet was shot, Anthony and Burt Templet had been arguing over Anthony Templet's mobile phone.
Burt, who had separated from his second wife and Anthony's stepmother Susan six months prior to his death, was convinced Anthony Templet and her had been talking and wanted to see the exchanges on Anthony's phone, Anthony explains in I Just Killed My Dad.
When Anthony removed himself from the situation and returned to his bedroom, his father Burt, who he said was drunk and aggressive, followed and things quickly escalated into a physical fight.
Anthony Templet was able to lock himself in his father's bedroom where he retrieved two guns while his father tried to break through the locked door.
When Anthony Templet came face to face with his father moments later, he shot him three times in the head and torso in self-defense. Burt Templet died in hospital on June 6, 2019, from a gunshot wound to the head.
Allegations of Abuse
As heard in Netflix's I Just Killed My Dad, Anthony had suffered years of abuse at the hands of his father.
He told investigators that his father would beat him for hours at a time and would psychologically torment him by controlling his movements, tracking his whereabouts, and installing cameras throughout their home. Burt Templet had also claimed to friends and potential employers his son had been home-schooled but this turned out not to be the case.
Anthony Templet also explained he only meant to injure his father in self-defense, so he alerted the authorities about the abuse he was receiving, but he had unintentionally killed him.
Burt Templet was also believed to have a violent past. USA Today reports Anthony's birth mother, Teresa Thompson, alleged Burt physically abused her and spent a week in jail for the assault.
"One time he beat me so bad that I was in bed for a week," Thompson said, adding, "the abuse was so frequent that it almost did seem normal." She also claims Burt's friend told her he'd been hired to kill her and that she needed to leave.
According to The Cinemaholic, Burt Templet was detained three times on physical assault counts between 2001 and 2002 in Texas, but two instances were dismissed.
Burt Templet's second wife, Susan, revealed in I Just Killed My Dad, that she left Burt Templet six months before his death after she physically assaulted her. She then filed for a protective order against him.
Did Burt Templet Kidnap His Son?
Burt Templet is believed to have taken his son Anthony Templet from the family home when Anthony was just five years old.
Anthony's mother posted missing posters around the town of Anthony and Burt Templet but with no success.
He was also not listed on the National Crime Information Center, as heard in I Just Killed My Dad.
When Anthony's photograph was posted on the news, his half-sister Natasha recognized him, realizing for the first time her long-lost brother was still alive.
Speaking to WAFB9 news, in June 2019, Natasha claimed that Burt Templet had kidnapped Anthony. She said: "After 11 years of waiting to hear if my brother was still alive, he is found.
"He has been secluded and abused all these years by his own father. My brave brother had to defend himself for the last time against that evil man.
"He snatched him from our home. Burt and my mom were together for about ten years and it was extremely violent. I can only imagine what Anthony's been through. When he was a baby, Burt would hold him in his arms while abusing my mother."
He had been taken from his mother 11 years prior.
Speaking in I Just Killed My Dad, Thompson explained she tried to find Anthony but with a lack of financial resources, it proved increasingly difficult, especially as Burt Templet had taken Anthony from Texas to Louisiana.
Anthony Templet Today
Today, Anthony Templet, 20, is no longer in prison.
After pleading no contest to negligent homicide, he was sentenced to five years of supervised probation with credit for the time he had already served. At the moment, he is just one year into his sentence.
As part of his probation, Anthony Templet was given the special condition of obtaining his high school diploma as well as attending counseling and finding full-time employment or education. If he meets all of the above requirements, his criminal record will be wiped.
I Just Killed My Dad is streaming on Netflix now.