Who Is Wendy Vitter? Trump's Judicial Nominee Struggles to Downplay Anti-abortion Views
President Donald Trump's pick to become a federal judge in Louisiana would not say whether she supported the Supreme Court's decision to desegregate schools and sought to dismiss her past work opposing abortion during a confirmation hearing Wednesday.
Wendy Vitter was nominated by Trump in January to serve as a federal judge in the Eastern District of Louisiana. She is an attorney for the Catholic Archdiocese of New Orleans.
Last year she received a "Proudly Pro-Life Award" from the New Orleans Right to Life Educational Foundation. Yet Vitter did not disclose a number of speeches where she has made controversial statements on abortion on a questionnaire submitted to the Senate Judiciary Committee.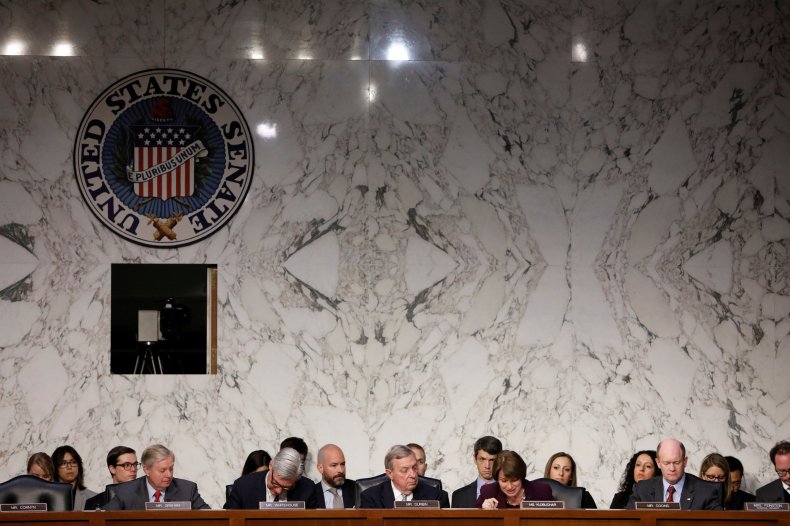 In 2013 she attended a rally against construction of a new Planned Parenthood clinic in Baton Rouge, Louisiana, and accused the organization of "killing over 150,000 females a year."
"Did you omit these materials because they would cause you to face difficult questions, like the ones I'm asking, about your judgment and temperament at this confirmation hearing?" asked Sen. Mazie Hirono of Hawaii during Vitter's confirmation hearing with a panel of other nominees.
At issue, Hirono said, was a panel talk entitled "Abortion Hurts Women's Health" that Vitter led during a 2013 Right to Life conference.
Hirono said Vitter urged the audience to distribute brochures that claimed "abortion causes breast cancer and that birth control causes women to be assaulted and murdered." He asked whether she believes those claims.
Read more: Watch Trump's unqualified federal judge pick totally misunderstand basic law
Vitter replied that she "had never heard those opinions before" and was "not a medical professional."
During the 2013 talk she told attendees to "go to Dr. Angela's website, Breast Cancer Prevention Institute, download [the brochure], and at your next physical, you walk into your pro-life doctor and say, 'Have you thought about putting these facts or this brochure in your waiting room?'"
Vitter said that her "pro-life stance has been made very clear" and that as a judge she would "set aside" her personal and religious views when deciding cases.
When Democratic Sen. Richard Blumenthal asked her if she supported the Supreme Court's decision to allow desegregated schools in Brown v. Board of Education, she hesitated in her reply, stating: "I think I get into a difficult area when I start commenting on Supreme Court decisions—which are correctly decided and which I may disagree with. Again, my personal, political, or religious views I would set aside."
Despite facing tough questions, Vitter was roundly praised by Republicans on the committee in their opening remarks. She also has the backing New Orleans's Democrat Mayor Mitch Landrieu.
The Trump administration has set a record for confirming federal judges.
Baher Azmy, legal director of the Center for Constitutional Rights—a left-leaning legal advocacy group—told The Guardian in November he believes "the goal is to end the progressive state as we know it."
The president has often railed against federal judges who have opposed controversial policies, like his Muslim travel ban, in their court decisions.
Trump's push to fill empty spaces on the federal bench has led to some controversial picks, and in a few cases nominees have been forced to bow out. A Republican member of the Federal Election Commission, Matthew Petersen, withdrew his name after he failed to answer basic questions pm law during his confirmation hearing in December.
Another, Jeff Mateer, withdrew when his comments calling transgender youth part of "Satan's plan" and others about gay marriage came to light.