Utah Republican Sen. Mitt Romney has said he won't seek reelection in a message posted on X, formerly Twitter, on Wednesday.
The former GOP presidential candidate, 76, called for a new generation of leaders. He added, "I just don't think we need another person in their 80s." This was widely interpreted as a swipe at President Biden and Donald Trump, who is the current frontrunner for the GOP's 2024 presidential nomination.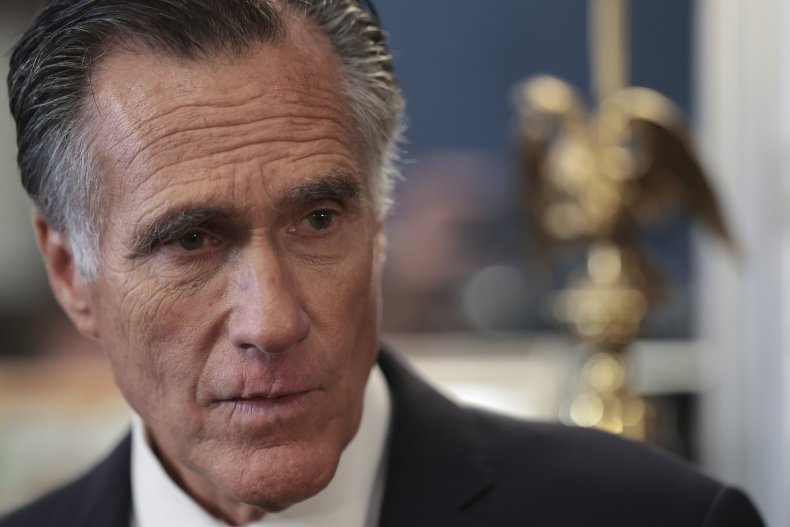 The decision was celebrated by Trump, whom Romney voted to impeach twice. The former president described the decision as fantastic news in a post on his Truth Social website. Trump said Romney did not serve with distinction and added that he would have faced a big primary fight if he tried to run again.
Romney's announcement immediately sparked discussion about his replacement, with a number of possible candidates understood to be interested in the solidly Republican seat. Utah Attorney General (AG) Sean Reyes, who came second in an August poll of GOP voters in the state with 13 percent support, after Romney on 30 percent, said he isn't seeking the Senate seat. He will instead run "for re-election as AG in the great state of Utah."
Newsweek has provided a brief summary of the Republican frontrunners to succeed Romney, with the caveat that the field could end up being much wider. Speaking to local network Fox 13 News about potential candidates after the announcement, Rob Axson, chair of the Utah Republican Party, said: "I would say there's 10 to 15 people who have reached out to me over the last couple of months and a couple more over the last couple of hours."
Brad Wilson
Utah House Speaker Brad Wilson launched an exploratory committee into a possible Senate bid earlier this year, which has raised around $2.2 million since its launch in April. A memo obtained by The Washington Examiner said Wilson already has the support of 60 Utah lawmakers, including a majority in both the state house and senate.
In a statement sent to Fox 13 News, after Romney's announcement, Wilson said: "We are at a crossroads, and it's never been more important to elect a strong conservative fighter to the U.S. Senate. The stakes are too high, and we need a leader with the guts to stand up and get things done for the people of this state.
"I've been encouraged so far by the record-breaking fundraising, groundswell of grassroots support, and unprecedented endorsements we've received so far. Stay tuned," Wilson added.
Trent Staggs
Riverton Mayor Trent Staggs, a firm Donald Trump supporter who has never held state wide office, announced his candidacy shortly after Romney said he would be stepping down.
Speaking to The Washington Examiner, Staggs said: "Now is the time to give Utah the conservative champion they have long deserved. We need America First warriors in the Senate, and I plan to give that to Utah."
Staggs has the support of powerful national conservative figures, such as Turning Point USA founder Charlie Kirk, but there are questions over his level of local support.
Jason Chaffetz
Chaffetz represented Utah in the House of Representatives for eight years and chaired the powerful House Oversight Committee. He has been rumored to be interested in Romney's Senate seat. In February, Chaffetz said this wasn't something he was actively pursuing, but added that he was keeping all his doors open.
John Curtis
John Curtis represents Utah's 3rd Congressional District in the House of Representatives. He didn't rule out running for the Senate in a post on X after Romney's announcement.
Curtis wrote: "It's encouraging to hear from friends urging me to run for Senate. Sue & I are grateful for Utahns' trust. Your appreciation for the work my team and I do in Congress is heartening. Be it in the House or Senate, there's much to accomplish & I look forward to getting things done."