Whoopi to Elisabeth Hasselbeck: 'God Made Us Smart Enough' to Pick Abortion
The View co-host Whoopi Goldberg told Wednesday's guest host Elisabeth Hasselbeck that God would "support abortion rights."
Goldberg sparred with the guest host, who returned to the show with her conservative perspective, in a debate on reproductive rights.
Hasselbeck was one of The View's conservative voices from 2003 through 2013 and later went on to host Fox & Friends.
Despite Goldberg calling Hasselbeck the "first conservative" she's been able to have "the best conversations" with on divisive issues, the two came to blows over their views on abortion.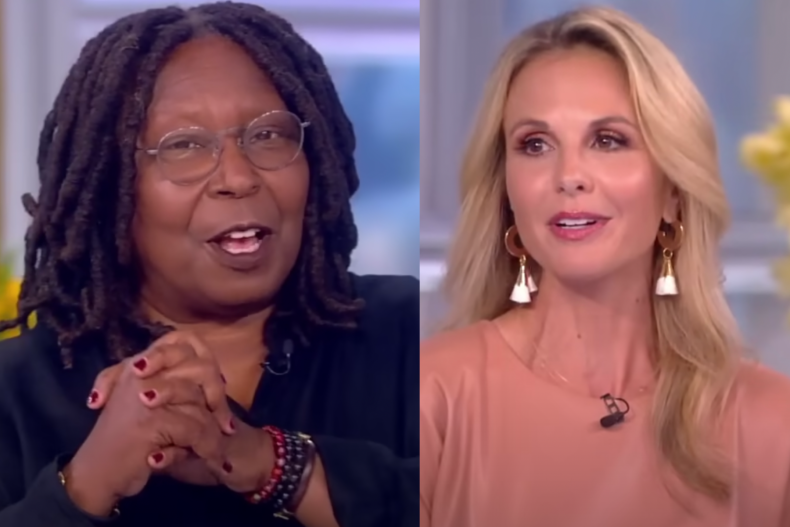 "As you know, God doesn't make mistakes," Goldberg said. "God made us smart enough to know when it wasn't going to work for us. That's the beauty of giving us freedom of choice."
The segment aired the morning after Kansas voted overwhelmingly voted to keep abortion legal in the state.
Goldberg continued: "I also know that God made me smart enough to know that if there are alternatives out there that can work for me, I will investigate them.
"I also know God said, 'Do unto others as you would have them do unto you.' I will not make that decision for anybody."
Hasselbeck disagreed with Goldberg and told her fellow panelist: "No."
She then argued that "life in womb" is also part of God's plan.
"What about the life in the womb? I will say this, that life has a plan and a purpose designed by God," she said.
Hasselbeck urged viewers to "look for the non-profits" that "help you create a birth plan and match you with an adoptive family" rather than choosing an abortion.
She then jokingly presented a dish towel she had been hiding under the table, which the slogan: "I'd agree with you, but then we would both be wrong."
Goldberg then added: "I say this with love in my heart. I don't ever think that I can make any decision for you and your family that you are not smart enough to make for yourself."
As the segment was ending, Goldberg concluded: "Just before we go, no one at this table is not pro-life. I just want to make sure we all know that. Nobody is happy about going to get an abortion. That's not pro-life, it's not fun."
Which prompted Hasselbeck to interject: "It's a hard, hard decision but that life has a plan and a purpose, and there are absolutely agencies out there that will help you keep that baby alive."
The debate follows a major victory for abortion rights in Kansas this week.
The surprising result saw Kansans vote to uphold a 2019 ruling that decided Kansas' state constitution grants a fundamental right to abortion.
It was the first referendum held on the matter since the U.S. Supreme Court overturned Roe v. Wade earlier this year.