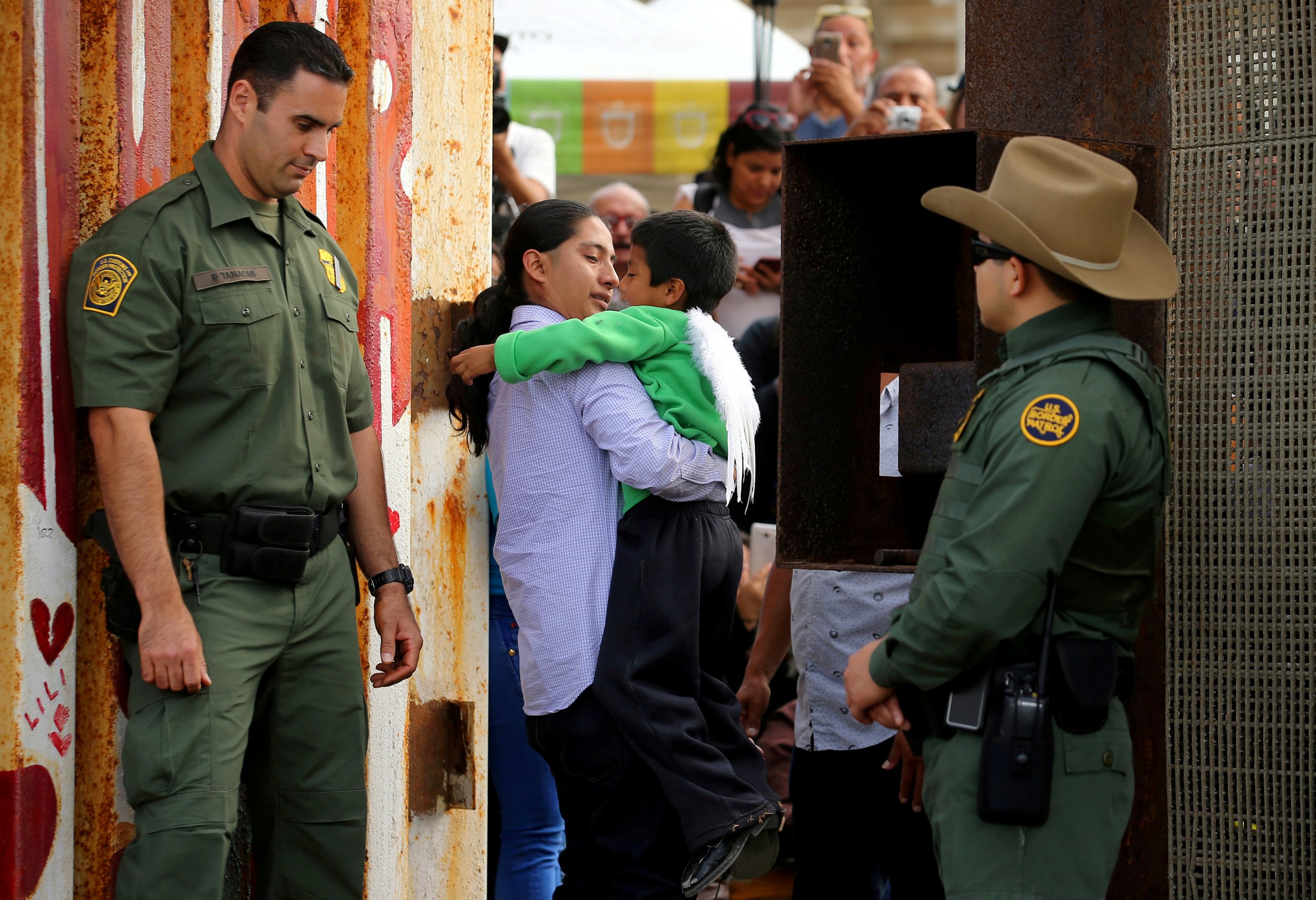 A new key detail about the night 10-year-old Rosa Maria Hernandez was stopped and ultimately detained by Customs and Border Protection agents, sparking international outrage and a social media campaign demanding her release, has emerged that differs drastically from the one her family attorney has told various media outlets.
Hernandez, who was brought illegally into the United States at three months of age by her mother and suffers from cerebral palsy, was riding in a white Nissan Centra en route to Driscoll Children's Hospital in Corpus Christi from her home in Laredo, Texas—not an ambulance, as was claimed by the family's attorney—on October 24 when she, an adult cousin and the vehicle's driver were stopped at a Customs and Border Patrol checkpoint, Customs and Border Patrol officials and the owner of the company that operates the fleet of nonemergency vehicles told Newsweek.
"For the welfare of the child, she was escorted by Border Patrol agents to the hospital to undergo surgery and [they] remained with the unaccompanied child as she was in their custody in the absence of a legal guardian until such time as she could be transferred to the Health and Human Services Office of Refugees and Resettlement," a Customs and Border Protection spokesperson wrote Newsweek in an email.
The family's attorney, Leticia Gonzalez, earlier told The Washington Post and Newsweek that Hernandez sat frightened in an ambulance on her way to the hospital for emergency gallbladder surgery when she was stopped. Numerous attempts by Newsweek to again reach Gonzalez, a San Antonio-based immigration attorney, were unsuccessful.
Hernandez's mother, Felipa De La Cruz, did not accompany her daughter to the hospital because she's undocumented and feared being detained at the checkpoint. She instead sent a cousin, Aurora Cantu, with Hernandez. Cantu had a notarized letter to present at the checkpoint to notify the officers that she was transporting an undocumented person to receive emergency medical services.
Although agents do stop ambulances at checkpoints, hospitals are able to coordinate with them if a patient is suffering a health emergency and must pass through quickly, a Customs and Border Protection spokesperson told Newsweek.
Ricardo Guerra, owner of Satx Guardian Transportation, confirmed that one of his drivers operated the vehicle Hernandez was in the night she was stopped. Satx Guardian Transportation's nonemergency services are covered by health insurance, Guerra told Newsweek.
"We don't own ambulances," he said. "They're just normal vehicles equipped with first aid kits."
In emergencies, Guerra's drivers can't transport a patient, he said.
"If it's something of that nature, we can't take that trip. We're not EMTs," he said.
A spokesperson for Driscoll Children's Hospital declined to comment on whether the hospital gives priority to patients using Satx Guardian Transportation.
U.S. Immigration and Customs Enforcement and Customs and Border Protection policy states that enforcement actions at sensitive locations—such as hospitals, places of worship, courthouses and schools—should generally be avoided. Only a supervisor's approval can preempt the policy if there's reason to believe an undocumented immigrant is a danger to the public or a flight risk, the policy states.
There were reportedly five armed and fully uniformed Border Patrol agents waiting outside Hernandez's door after her surgery was completed, Gonzalez has said, adding that hospital staff did not allow her to go into Hernandez's room. Gonzalez threatened the agents and the hospital staff that she would go on one of the city's popular Spanish radio stations and tell the public that she wasn't allowed to see her client. The hospital and the agents then let her in, Gonzalez said.
A Customs and Border Protection spokesperson could not confirm or deny Gonzalez's account.
Federal authorities on Friday freed Hernandez from the Bexar County Juvenile Detention Center in San Antonio following a lawsuit filed by American Civil Liberties Union demanding her release. "Rosa Maria should not have been detained for even a second," Andre Segura, legal director of the ACLU of Texas, said in a statement last week. "She was ripped from her family without authority by the federal government."
After her detainment, the hashtag #FreeRosa earned viral attention online, with social media users demanding her release. On Friday, users said their prayers for the little girl were answered.
ACLU attorney Michael Tan, who worked on Hernandez's case, told Newsweek Customs and Border Protection violated its policy on detaining undocumented individuals in sensitive locations when agents took Hernandez from her hospital bed. "The purpose of the policy is to ensure if Border Patrol is going to go into hospitals, they better have a good reason for doing so," Tan said.
While Immigration and Customs Enforcement and Customs and Border Protection policy on sensitive locations is clearly stated on each agency's website, the consequences for violating them are not.
"There needs to be internal accountability, and I think one question to be posed to the Department of Homeland Security is, are they investigating this?" Tan said. "Is the Office of the Inspector General investigating this? Are they going to look into what happened and make sure that whoever signed off on this is reprimanded and [will there be] steps taken to ensure that these kinds of arrests and detentions don't happen again?"
Rosa Maria's detainment represents a troubling precedent set by the Trump administration, which has initiated a crackdown on undocumented immigrants, Tan added.
"My fear is that we're going to keep seeing cases like Rosa Maria's because you have a situation where the folks up top are telling ICE and CBP that the gloves are off," Tan said. "We have this policy in place—sensitive locations—but the gloves are off. You are unleashed onto immigrant communities."
Rosa Maria's case is the latest in which immigrants in the country may have been detained illegally in areas previously off-limits under the Obama administration. A California father who was a citizen of Mexico was detained earlier this year, minutes after he dropped his daughter off at school.
Under Trump, immigration agents were accused earlier this year of stalking people outside courthouses, CNN reported.