Why Is the Alt-Right Attacking H.R. McMaster?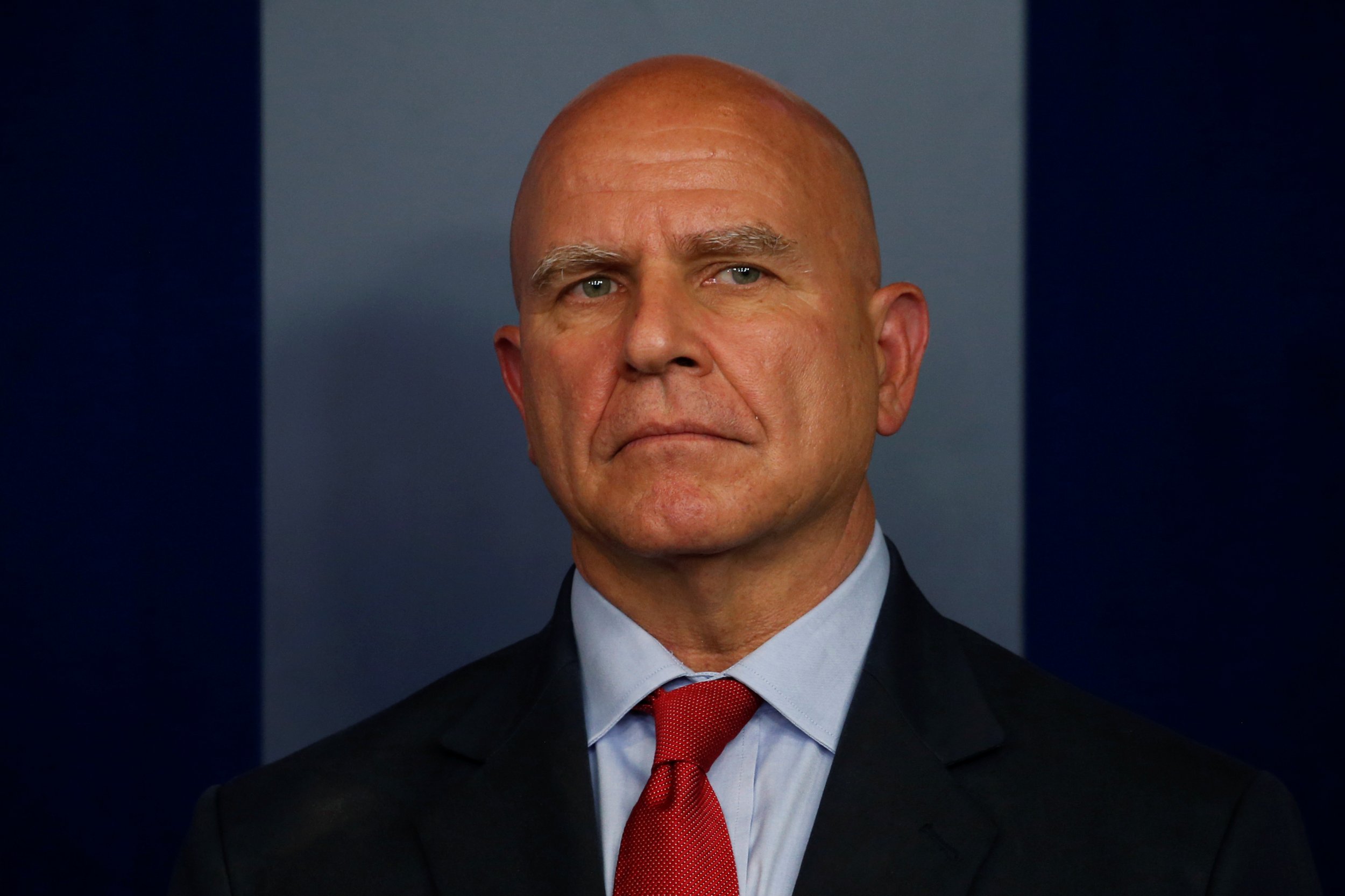 Far-right American nationalists have launched a campaign to smear President Donald Trump's national security adviser H.R. McMaster after he fired a number of their allies from the National Security Council.
Mike Cernovich, a figurehead of the so-called alt-right nationalist movement—a loose-knit group of racist white nationalists, conspiracy theorists and misogynists—launched the website McMasterLeaks.com Wednesday to solicit dirt on Lieutenant General H.R. McMaster from inside and outside the White House.
The website does not have a secure drop box to submit leaks or any comment space to post them and consists of a single post of mostly unsubstantiated claims.
The alt-right's beef with McMaster stems from his firing of Ezra Cohen-Watnick, the NSC's senior director for intelligence programs; Rich Higgins, the NSC's director for strategic planning; and Derek Harvey, the NSC's senior director for the Middle East.
"MCMASTER PURGES NSC STAFFER FOR WARNING OF ISLAMIST-LEFTIST THREAT," Cernovich tweeted Wednesday using the hashtag #McMasterFacts.
The hashtag and attacks against McMaster's character quickly began gaining momentum among alt-right figures. Jack Posobiec, known for his promotion of the Pizzagate conspiracy theory, a claim that Democrats were running a pedophile ring out of a Washington, D.C., pizza parlor, attempted to draw a connection between McMaster and the release of the Access Hollywood tape last October in which Trump said he could "do anything" to women, even "grab them by the pussy."
Related: The purge: White House official with ties to Michael Flynn fired
Cernovich's tear against McMaster follows the national security adviser's hand in firing Higgins, who was let go on July 21 after he argued in a May memo circulated in the NSC that Trump's agenda is being sabotaged by globalists and Islamists who are leading a "Maoist insurgency" that has led "Islamists [to] ally with cultural Marxists" in an effort to destroy America. The memo is excerpted in The Atlantic.
In March, CIA leaders also warned McMaster about Cohen-Watnick, who was a protégé of Trump's fired national security adviser, Michael Flynn, and derided in intelligence circles as one of the "Flynnstones." Cohen-Watnick was implicated in an intelligence leak by House Intelligence Committee chairman Devin Nunes to back up Trump's claim that former President Barack Obama wiretapped Trump Tower in New York during the election. The claim has been dismissed by former Director of National Intelligence James Clapper.
Trump's top advisers, Steve Bannon and Jared Kushner, blocked McMaster's initial attempts to remove Cohen-Watnick after the scandal. Bannon and Kushner got Trump to intervene to save Cohen-Watnick's job. Bannon, the former executive chair of the far-right news outlet Breitbart, said during the 2016 election campaign that Breitbart serves as a platform for the alt-right.
Last week, Derek Harvey, the NSC's top Middle East adviser and a Bannon ally, was also let go.
Flynn's son Michael Flynn Jr. has long criticized McMaster, who replaced his father, citing the general's aversion to the phrase "radical Islamic terrorism." Members of Trump's staff and alt-right supporters have criticized McMaster's push for Trump to curb his use of the phrase to avoid alienating Muslim communities. They say it is politically correct and too soft on Islam, which they see as responsible for the rise of extremist groups like the so-called Islamic State and Al-Qaeda.
Bannon, Flynn and members of the alt-right see the U.S. pitted in an existential global battle against Islam.
"McMaster seems out of sync with Trump, Trump's agenda, and the base. He has to go," tweeted Trump promoter Jeff Giesea recently. Giesea has criticized McMaster for not removing NSC staff that he sees as holdovers from the Obama administration, tweeting last week that McMaster's claim that "there is no such thing as a holdover" is "one of his more asinine remarks."
It is common for intelligence and military officials to serve across administrations. When he first became president in 2009, Obama kept many Bush administration officials, including Robert Gates as secretary of defense, and later appointed John Brennen, George W. Bush's National Counterterrorism Center director, to lead the CIA. Countless military and intelligence officials serve under Republicans and Democrats across administrations.
For the alt-right, McMaster's firing of their allies was the last straw in their campaign against him.
In the first post on his McMasterLeaks.com website, Cernovich published a comic by hard-right nationalist cartoonist Ben Garrison. It shows McMaster and Retired United States Army General David Petraeus being controlled like marionettes by Jewish financier George Soros.
"McMaster's 'butler' Joel Rayburn is running off the books intelligence operation against Trump loyalists," Cernovich claimed on Twitter late Wednesday. Cernovich also retweeted a picture of McMaster in silhouette in the position of Islamic prayer.
Cernovich accused McMaster of refusing "to get rid of Obama holdovers who spied in [sic] Trump" and firing other "pro-Trump loyalists." Cernovich also made a series of unsubstantiated and unsourced claims, including "McMaster has been leaking information to David Petraeus and has had direct contact with George Soros."