Why Are Natural Gas Prices Falling?
After an unexpected rise in January, gas prices have now taken an equally unforeseen dip this month, temporarily reducing fears of an incoming recession in the United States.
According to the American Automobile Association (AAA), the national average price for a gallon of gasoline in the country slipped by three cents this week to $3.47. The organization links the drifting of gas prices to the decision by OPEC+ last week to maintain current production levels instead of cutting them, which the AAA said led to lower oil prices.
But while the AAA said this drop could mean that fears of a recession are fading, the organization is concerned that the addition of 517,000 jobs in the U.S. reported last Friday together with the news that the country's unemployment rate has reached a 54-year low at 3.4 percent could bring to a healthier global economy and, in turn, to a growth in demand for oil and gas and thus higher prices.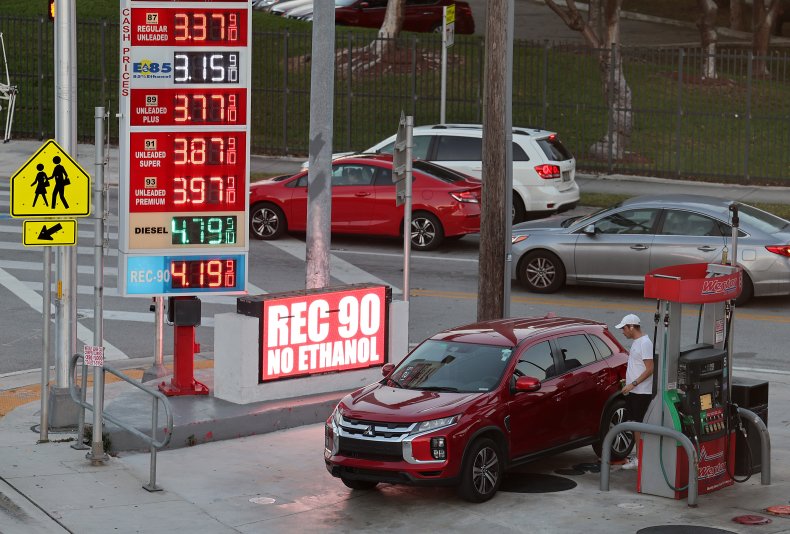 Patrick De Haan, head of petroleum analysis at GasBuddy, the fuel-price tracking service, told Newsweek: "For the first time in 2023, the national average price of gasoline has seen a weekly decline, primarily thanks to a sharp and sudden drop in the price of oil."
"While the decline in both gasoline and diesel prices is terrific, it's not unusual to see prices falling in February, which tends to be the month with some of the lowest gasoline prices of the year thanks to seasonally weak demand," he said.
Gas prices rose in January despite demand remaining flat in the middle of the winter season, with the national average price of regular gas creeping up to $3.51 a gallon.
Denton Cinquegrana, the chief oil analyst at the agency Oil Price Information Service (OPIS), predicts that price growth would slow down in February, while it might pick up again in spring.
"I think for the month of February you may not see too much change from current prices, I think the U.S. has the potential to range from about $3.45-3.60 a gallon," Cinquegrana told Newsweek last week.
"The spring is when you should expect to see prices start to creep up. I do think at some point retail prices reach $4 a gallon again. But the records of $5 or more nationally I don't expect to be touched in 2023 barring some unexpected event," he said.
The Wall Street Journal reported that analysts have changed their forecast for natural gas prices after an unusually warm winter followed an equally warm autumn, keeping demand low.
The newspaper said that natural gas prices have dropped by more than one-third this year, and are now lower than they were this time of the year in 2022 when Russia was preparing to invade Ukraine.
Analysts, who had expected supply to remain tight and production low, said they were wrong in their predictions.
"For diesel, we're likely to see potentially much more significant declines in the weeks ahead as imports of distillate have accelerated, leading to a sell-off," said De Haan.
"With warmer weather ahead, demand may struggle as well. However, especially for gasoline, high levels of maintenance and the eventual transition to summer gasoline could lead today's declines to reverse down the road. For now, motorists should enjoy the decline, but be wary as we're likely to eventually see increases again down the road."
On Thursday, the average national price for a gallon of regular gas was $3.437, according to AAA data. Prices remain higher on the west side of the country.
Update, 2/9/2023 9:40 a.m. ET: This article was updated to add a comment from expert Patrick De Haan.