Why Aren't Home Prices Falling as Fast as Mortgage Rates Are Rising?
The housing market usually follows a simple rule: when mortgage rates grow higher, demand slows down, eventually cooling down house prices. Then why do home values in the U.S. remain so high, even as the average rate on 30-year mortgages—the most-popular kind for American homebuyers—rose to the highest level since 2002?
"Mortgage rates have jumped with the high inflation and the Federal Reserve's aggressive tightening in monetary policy," Mark Zandi, the chief economist at Moody's Analytics, told Newsweek. "And they're hovering around 7 percent for a 30-year fixed-rate loan, which is more than double what it was at their lowest over a year ago."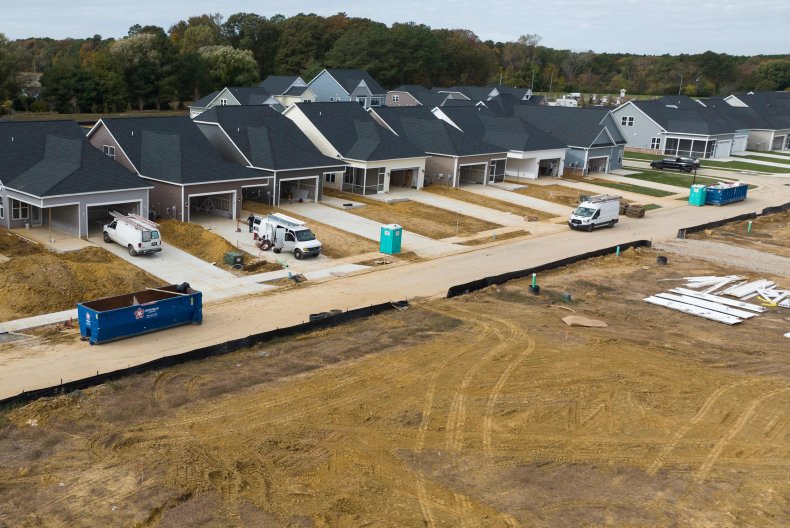 This record-high mortgage rate has pushed many potential homebuyers out of the market, which had been booming for the past two years of the COVID-19 pandemic as demand skyrocketed while inventory remained low.
"That higher mortgage rate—7 percent—and high house prices have resulted in a collapse in housing affordability," said Zandi.
"So first-time homebuyers just can't afford to buy a home, and trade-off buyers are very reluctant to do so because they have to sell their home, get a new one and a new mortgage at a much-higher rate."
As a result, housing demand "has been crushed," added Zandi, and analysts are now starting to see house prices come down.
"[Prices] peaked in June, and they are now falling in many parts of the country, particularly in places where housing is particularly unaffordable, where prices were previously very high—like California, particularly the Bay Area. But we're seeing price weakness in many, many parts of the country."
However, this cooling of home prices across the country -- this "correction" of the housing market, as analysts call it -- isn't happening at the same pace as mortgage rates are rising.
Existing home prices reached a record-high in June 2022, after soaring 45 percent from December 2019. On June 1, the monthly median sales price for total existing homes in the U.S., according to the National Association of Realtors (NAR), was $413,800.
Latest data by NAR, updated to September, set the median price at $384,800, and, in the same month, again according to NAR, existing home sales dropped by 1.5 percent.
"It takes time for sellers, potential sellers, to come to the conclusion that they're not going to be able to get the price they want and start cutting their price," said Zandi.
"And in many cases, what happens is they just take the home off the market, if they can't get the price they think their home is worth and they can wait, because most people don't need to sell right away. They're going to wait and see whether mortgage rates come back down or whether the market stabilizes. So it just takes a bit of time for sellers to cut their prices."
The other reason why we don't see dramatic changes in house prices yet has to do with the data available.
"It takes a while for actual transactions to get recorded and for the data to become available to calculate house prices," said Zandi. "So there's a two- to three-month lag between the reality of what's going on in the market and what it shows up in the house-price data."
Home prices are not going to freefall in the style of 2008, but most analysts are still certain that they will drop in the next couple of years. Moody's Analytics expects prices to fall 10 percent between 2023 and 2024, if the country avoids slipping into a recession.
Zandi said: "If we suffer a recession—and the same kind of a typical recession in length and severity to the average since World War II—I think prices will be down about 20 percent over the next couple of years. So it's going to take a couple of years to get to find a bottom in house prices."