Why Asian Americans Are Leaving the Democratic Party | Opinion
The U.S. Supreme Court just agreed to take on two college affirmative action cases, and will consider whether the undergraduate admission processes at Harvard University and the University of North Carolina discriminated against Asian American students. Many Asian Americans, including myself, have high hopes that the Court will finally eliminate racial preference in the college admission process and ensure equal opportunity for all students.
No issue takes a higher priority in the Asian-American and Pacific Islander (AAPI) community than education. Besides the cultural tradition of valuing education, most Asian-American parents believe that educational attainment is necessary to ensure their children have a successful life in the United States. Working-class Asian immigrant families especially regard education as a lifeline to lift their children from poverty and achieve their American dreams.
But on this critical issue, Democrats have chosen to embrace critical race theory (CRT), a neo-Marxist ideology that attributes all disparities in any group outcome to systemic racism. Adherents of CRT claim that they must dismantle the "racist" meritocracy-based education system to achieve equity in education outcomes. In the last two years, Democrats have pushed for education "reforms" such as the elimination of the merit-based admissions to elite high schools, phasing out gifted and talented programs, dumbing down math education and dropping SAT and ACT scores from the college admission process. Most recently, the Biden administration called on the Supreme Court to deny challenge to Harvard's anti-Asian race-based admissions policy.
Democrats have targeted the institutions where Asian students have thrived the most. Democrats argue that Asian students are "over-represented" in elite schools and should be excluded to make room for "oppressed people of color." San Francisco school board commissioner Alison Collins even accused Asian-Americans of using "white supremacist thinking to assimilate and 'get ahead.'" Proponents of critical race theory have even insisted that it is "disingenuous" to call Asian Americans "POC."
Many AAPI parents found these education "reforms" and the Democrats' justifications for them upsetting. Asian Americans have endured a long history of bigotry and racial discrimination in the United States, and have been part of the civil rights movement to help the United States become more just and fair for Americans of all races. The AAPI community's overall high level of educational attainment and economic success is a testament to our nation's progress in racial equality.
We recognize that the U.S. still has a lot of work to do to improve outcomes across different racial groups. The Democrats have not helped matters by openly endorsing a racial hierarchy system that values some races more than others, excluding our children from receiving a good education and punishing them for their hard work and success. This is not progress but the very definition of bigotry.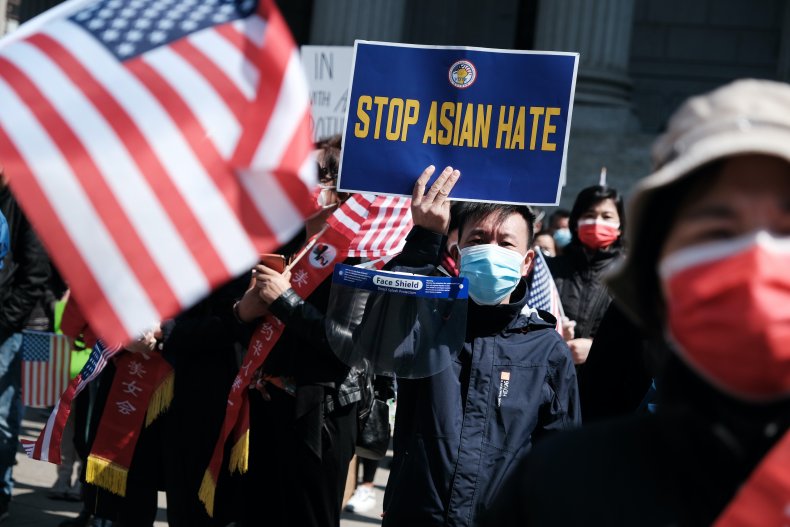 AAPI voters have been solid supporters of Democrats and their policies for decades. But these days, the AAPI community feels abandoned by the Democrats. We are not only disappointed about Democrats' education policies, but concerned about how soft-on-crime policies have affected our safety.
Asian Americans have been on edge about security due to the rising number of violent crimes against Asians in some of America's most progressive cities, such as Oakland and New York City. After a white gunman shot and killed eight victims, including six Asian women, in March 2021 in Atlanta, Asian Americans had hoped that the trending hashtag #StopAAPIHate and the outpouring of national outrage would compel Democratic leaders to tackle violent crimes against Asian Americans. Instead, the security situation for Asian Americans in major cities has gotten worse. New York City alone has seen anti-Asian crimes increase more than 350 percent from 2020 to 2021.
In Democrat-led cities, we continue to see Asian seniors shoved to the ground and beaten, and Asian people and businesses robbed. Most recently, a young Asian woman's life was cut short after a disturbed ex-con shoved her in front of an oncoming subway train at Times Square Station in New York City. Not all crimes were hate-driven, and some were part of the general trend of surging crimes and the deterioration of public safety in cities. There is a growing sense of despair within the AAPI community that our security situation wouldn't get better under Democratic leadership.
Feeling abandoned by the Democratic Party, some Asian Americans have taken their votes and loyalty elsewhere. Last November, in New York City's mayoral race, Republican candidate Curtis Sliwa beat Democratic opponent Eric Adams in 10 assembly districts where working-class Asian Americans are the majority. In Virginia's gubernatorial race, many Asian Americans switched sides and helped elect Republican Glenn Youngkin to the governor's office and Winsome Sears as the state's first black female lieutenant governor.
But it's this November's election that the Democratic Party should worry about most. This may be the year when it finally loses the support of the majority of AAPI voters. However, the Republican Party should not assume it will automatically benefit from Asian Americans' political shift. The Republican Party has done little to reach out to Asian American voters over the years. Although they currently represent less than 6 percent of voters, Asian Americans are projected to become the largest immigrant group in the U.S., surpassing Hispanics in 2055. This population trend means AAPI voters will play a critical role in shaping America's future. No party should either overlook Asian American voters or take their votes and loyalty for granted.
Helen Raleigh, CFA, is an American entrepreneur, writer and speaker. Helen is the author of Backlash: How China's Aggression Has Backfired and Confucius Never Said. Follow her on Twitter: @HRaleighspeaks and visit her website: www.helenraleighspeaks.com.
The views expressed in this article are the writer's own.