Joe Biden continued to expand his delegate lead over presidential primary opponent Bernie Sanders after it was projected Tuesday night that the former vice president would win Michigan over the Vermont senator as Democratic primary voters went to the polls in several states.
Sanders eked out a narrow victory in Michigan against Hillary Clinton in 2016. So why did he fail to secure the same outcome in the Mitten State this year?
The answer can be found in the exit polls.
They showed that younger voters failed to flock to the polls in the way that the Sanders campaign hoped for. In fact, younger voters accounted for less of the turnout than it did in 2016. His performance among younger voters was overshadowed by that of Biden's ability to win over older voters, who accounted for a larger slice of the overall electorate.
Sanders also received less support from white and male voters this time around.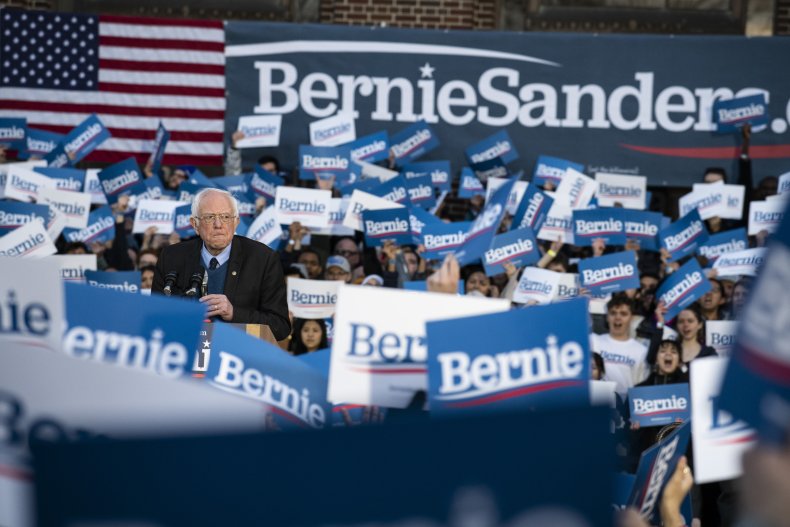 The dismal showing from younger voters is despite claims by Sanders that he has the ability to draw young, new voters to the polls. After a similar showing on Super Tuesday last week, surrogates for the self-described democratic socialist on Capitol Hill told Newsweek that he needs to broaden his support among the electorate and energize his base to turnout if he hoped to remain a viable candidate.
2020 Michigan exit polls based on age
Among 18-44 (38% of electorate): Sanders 64%, Biden 32%
Among 45+ (62% of electorate): Sanders 25%, Biden 66%
2016 Michigan exit polls based on age
Among 18-44 (45% of electorate): Sanders 65%, Clinton 32%
Among 45+ (55% electorate): Sanders 37%, Clinton 62%
Voters aged 18 to 29 years old only accounted for 15 percent of the state's electorate on Tuesday compared to 19 percent in 2016, a key sector of the electorate for Sanders.
Among men, Sanders received 10 percent less support this year with 45 percent than in 2016 with 55 percent. And with white voters, Sanders saw a 14 point dip this year with 42 percent compared to four years ago at 56 percent.
Michigan was the most important state to capture Tuesday night not just because it boasted the most delegates with 125, but because it has a strong blue-collar worker population and played a pivotal role in the 2016 general election. President Donald Trump's victory by roughly 10,000 votes in Michigan—coupled with narrow triumphs in Pennsylvania and Wisconsin—landed him in the White House.
The majority of Democratic voters in Michigan said they prefer a candidate who can beat Trump rather than someone who agrees with them on major political issues by 57-38. Those who indicated the former preferred Sanders while those who prefer the latter chose Biden.
Biden also won Mississippi, Missouri, Idaho, on Tuesday. North Dakota's caucuses were called for Sanders Wednesday morning. Washington state had yet to be called.
The graphic below, provided by Statista, illustrates the delegate count as of the March 11, 6 a.m. ET.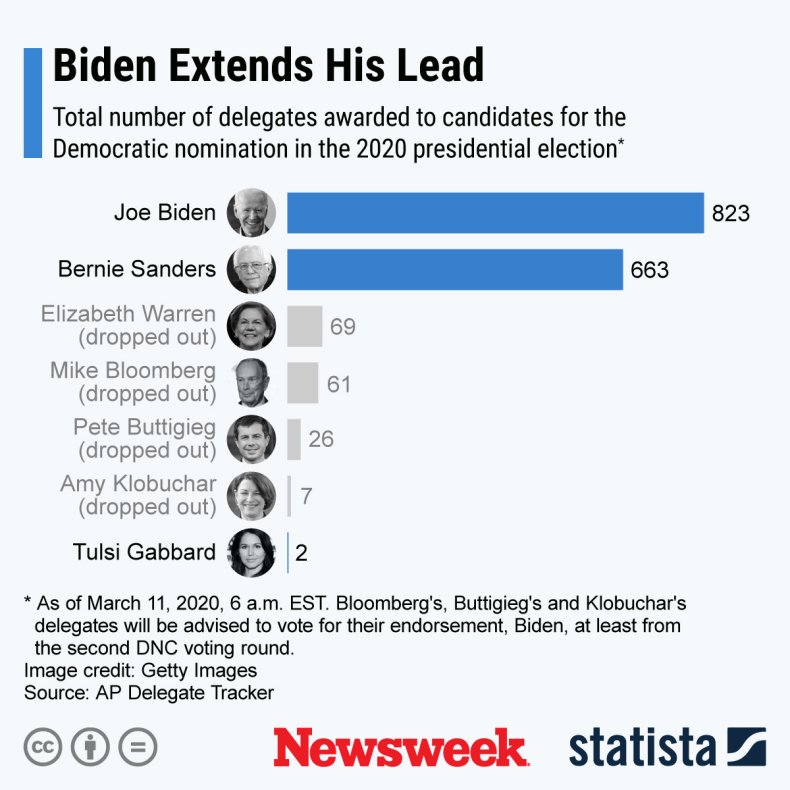 This article was updated to include an infographic and additional primary results in Idaho and North Dakota.