Why Biden Is Wrong About North Korea
President Joe Biden will welcome Japanese Prime Minister Fumio Kishida to the White House on Friday as the two countries look to strengthen their alliance amid concerns about China and North Korea.
On Wednesday, Secretary of State Antony Blinken and Secretary of Defense Lloyd Austin met Japanese Foreign Minister Yoshimasa Hayashi and Defense Minister Yasukazu Hamada to reaffirm the countries' alignment on issues including the recent North Korean missile launches.
Blinken accused North Korea, which is ruled by dictator Kim Jong Un, of "unlawful and reckless missile launches – including the launch of a long-range ballistic missile over Japan in October" and said the U.S. was "deepening our trilateral cooperation with the Republic of Korea to deter and, if necessary, defend against aggression."
Those missile launches are likely to be on the agenda on Friday, but the Biden administration may be taking the wrong approach, according to Frank Aum, the senior expert on Northeast Asia at the U.S. Institute of Peace.
The U.S. Institute of Peace is a nonpartisan, independent institute, founded by Congress.
"Over the last decade, various U.S. administrations have grown tired of Pyongyang's propensity for brinkmanship and its unwillingness to denuclearize. Today, Washington appears to have resigned itself to managing the North Korea problem rather than trying to solve it," Aum told Newsweek
He said that the Biden administration's "policy has been ineffective when measured against national security goals."
Diplomatic Relations
"North Korea is advancing its nuclear weapons capabilities both quantitatively and qualitatively through unabated missile testing and fissile material production," Aum warned. "Kim Jong Un has even called for an 'exponential increase' in the country's nuclear weapon arsenal."
At the same time, the U.S. is "failing at improving diplomatic relations and enhancing mutual understanding with North Korea."
"Between 1992 and 2008, the United States and North Korea used to have consistent, productive engagement at many levels – diplomatic, humanitarian, academic, cultural, and even parliamentary. Today, there is no diplomatic engagement and U.S. citizens are banned from going to North Korea with few exceptions," Aum said, noting that "there have been zero U.S. congressional delegations to North Korea since 2008."
"The U.S. military likes to define 'threat' as a function of intent and capabilities. If North Korea's capabilities have become intractable, then it is crucial that Washington intensify its efforts to mitigate North Korea's negative intent," he said.
Building Mutual Trust
Aum told Newsweek that Washington should be less focused on "hardline elements" of policy and show more openness to dialog.
"Since Pyongyang is insecure, isolated, and impoverished - but also nuclear armed - the United States should be doing everything it can to strengthen engagement, reduce misperceptions, and build mutual trust to lower the risks of a nuclear war," Aum said.
"For these goals, isolation, pressure, and deterrence are ill-suited tools. But it seems like Washington is overly focusing on these hardline elements – to poor effect," he said.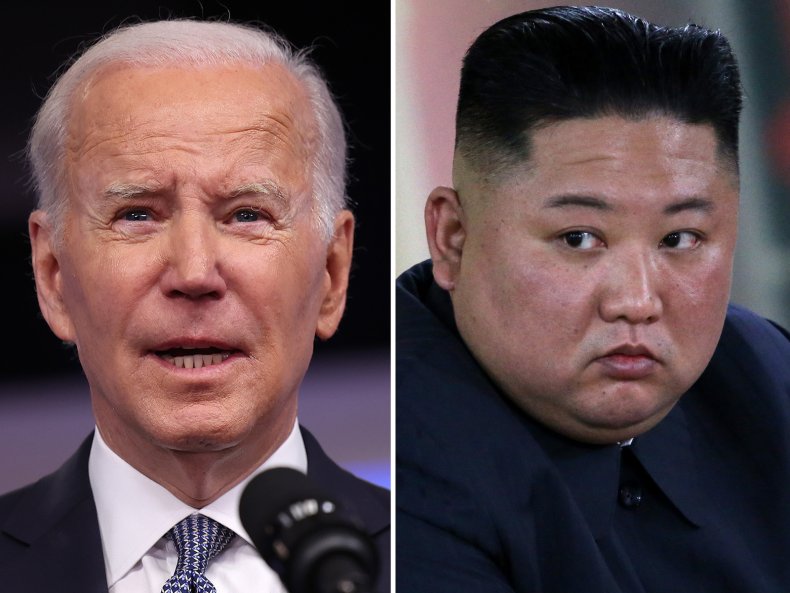 "The administration has stated that it is seeking diplomacy and deterrence with North Korea, and that it has reached out to Pyongyang multiple times to no avail," he went on.
"But U.S. outreach may appear disingenuous to North Korea when the overall U.S. posture signals hostility, " Aum said.
He pointed to the May 2022 summit between Biden and South Korean President Yoon Suk Yeol in Seoul, explaining that "the United States and South Korea agreed to expand the scale and scope of combined military exercises and redeploy U.S. strategic assets to the Korean Peninsula, measures that Pyongyang finds threatening."
"When asked during the May summit if he had a message for the North Korean leader, Biden replied tersely, 'Hello. Period.' This is a confusing way for the United States to express an interest in dialogue," Aum said.
"Of course, the blame does not lie only with Washington – Pyongyang deserves blame as well for not returning to talks when the United States has imposed no preconditions," he added.
An Olive Branch
When asked what the Biden administration could do better, Aum emphasized the need for diplomacy.
"The Biden administration needs to offer North Korea a more full-throated, less equivocal olive branch to transform the vicious cycle of provocation into a virtuous cycle of accommodation," Aum said.
"The administration could begin by announcing a new approach that explicitly reinvigorates the two countries' commitment in the 2018 Singapore Statement to establish new U.S.-North Korean relations," he suggested.
"This policy should be accompanied by unambiguous conciliatory gestures—for example, a moratorium on the deployment of U.S. strategic assets. Washington could also temporarily reduce military exercises, show a willingness to declare an end to the Korean War, offer sanctions relief in exchange for commensurate denuclearization measures, end the ban on U.S. citizens traveling to North Korea, and provide humanitarian aid and COVID-19 vaccines," he said.
A Summit With Kim
Former President Donald Trump met Kim Jong Un in 2019 and stepped inside North Korean territory, while Biden has previously said he would consider meeting Kim if the North Korean leader was "sincere" and "serious" about talks relating to the country's nuclear program.
Aum told Newsweek that Biden "could convey good faith and dangle the offer of a summit in a letter to Kim."
"Most of these measures were already implemented or on the table during the Trump negotiations, and none would materially undermine U.S. national security. This approach would also keep denuclearization as a long-term U.S. goal but would not require it as an immediate concession for U.S. accommodation," he said.
Aum said a "body of literature suggests that unilateral conciliatory gestures can help dissolve mistrust and spur rapprochement, especially when offered first by the stronger country."
He went on: "In the present case, the United States has the strongest diplomatic, economic, and military foundation in the world, especially when combined with South Korea's. This should allow it to take diplomatic risks."
The U.S.-Japan Relationship
Biden will meet Prime Minister Kishida on Friday and will almost certainly reaffirm the close relationship between the countries and their agreement when it comes to dealing with North Korea.
"The current governments in Washington and Tokyo seem fairly aligned in terms of how to deal with North Korea," Aum said. "They want to strengthen deterrence to prevent North Korean nuclear threats and use. They also want to use isolation, pressure, and sanctions to coerce North Korea back to the negotiating table on favorable terms."
"If Washington adopts a more conciliatory approach to North Korea, this would put it at odds with Tokyo," he said. "But ultimately, I think Tokyo would grudgingly go along with it – like it did during the engagement period between Trump and Kim in 2018-2019 – because it knows that it has no real leverage on the North Korea issue."
Aum said that the U.S.-Japan relationship "would remain strong because it is grounded in many other areas of common interest."
A National Security Council (NSC) spokesperson told Newsweek in a statement on Friday: "As we have said, we are committed to the defense of our Allies, the Republic of Korea and Japan.
"We are working closely with the international community, including with our allies and partners at the UN Security Council, to limit the DPRK's ability to advance its unlawful weapons programs that threaten regional stability.
"We continue to seek serious and sustained dialogue with the DPRK, but the DPRK refuses to engage," the statement added.
Update 01/14/23 3.03a.m. E.T.: This article was updated to include more information and a statement from the NSC.