Why Is Black Lives Matter Defending the Totalitarian Cuban Regime? | Opinion
The anti-government protests that have rocked Cuba in the last several days are the most dramatic expression of discontent seen on the island in six decades of communist rule. President Biden has sent a strongly worded message of solidarity with "the Cuban people and their clarion call for freedom" against "Cuba's authoritarian regime," praising the protesters' assertion of "fundamental and universal rights." Other Democrats such as New York Congressman and House Foreign Affairs Committee Gregory Meeks have stressed their opposition to Donald Trump's sanctions against Cuba, not yet lifted by the Biden Administration, but have also condemned the Cuban leadership's "corruption and mismanagement."
Yet not everyone was united in condemnation. Prominent voices on the Left seem to have sided with the totalitarian regime.
Most prominent among these is the Black Lives Matter movement, whose statement posted yesterday blamed Cuba's economic troubles on the United States embargo and hailed the Cuban regime's "solidarity with oppressed peoples of African descent." According to the BLM statement, "The people of Cuba are being punished by the U.S. government because the country has maintained its commitment to sovereignty and self-determination. United States leaders have tried to crush this Revolution for decades." Preposterously, the statement also accuses the U.S. of "undermining Cubans' right to choose their own government."
The "choice," in this case, is a one-party system in which all candidates for political office must be vetted by Communist Party-controlled committees.
But BLM was not alone. Democratic Socialists of America, whose membership includes four progressive House Democrats—Rep. Alexandria Ocasio-Cortez and Rep. Jamaal Bowman of New York, Rep. Rashida Tlaib of Michigan, and Rep. Cori Bush of Missouri—also declared its solidarity with "the Cuban people and their Revolution in this moment of unrest."
To be clear, the DSA's "Revolution" is the 63-year-old regime; the "Cuban people" are Communist Party loyalists, not the people taking to the streets; and the protests are mere "unrest." (The best response to the DSA's nonsense came from journalist and scholar Hussein Ibish on Twitter: "Drop the Democratic and go with SA.") So far, neither Ocasio-Cortez nor her progressive colleagues have commented on DSA or BLM support for the Cuban regime. But judging by replies to the DSA tweet, the group's activists strongly support its stance.
One can debate the merits of the U.S. embargo, partly eased under President Obama and tightened again by the Trump administration. But blaming Cuba's economic woes on the U.S. is ludicrous. The embargo's effects were always limited by the fact that no other countries joined in. Meanwhile, the Soviet Union poured massive subsidies into Cuba for decades until it collapsed.
Of course, sympathies for the Cuban regime from the American (and Western) left are nothing new: The Cuban revolution has long been romanticized as a symbol of both social justice and heroic resistance to U.S. power. Back in 1989, Bernie Sanders, then Mayor of Burlington, Vermont, praised Cuba's revolution as "very profound" and wrote that, besides providing free social services, "they are... creating a very different value system." Uniquely for his camp, Sen. Sanders this week affirmed "the right to protest and to live in a democratic society" and urged the Cuban government to refrain from violence, while also calling for an end to the U.S. embargo.
As with other communist regimes, this revolutionary romance has consistently ignored egregious abuses—including not only suppression of dissent but, at least until the 1990s, anti-gay persecution.
It has also ignored economic misery. One way the Trump sanctions have caused pain is by restricting remittances Cuban Americans can send to family in Cuba. But if loss of private aid from American relatives is so devastating, it does not say much for the Cuban economy's ability to ensure a decent life.
Even the widely praised achievements in health care in Cuba are heavily mythologized. The low infant mortality rate, for instance, may be an artifact of political repression in several ways: Doctors are pressured to record infant deaths as stillbirths to improve the statistics, while women with high-risk pregnancies are either pressured into abortions or forcibly hospitalized.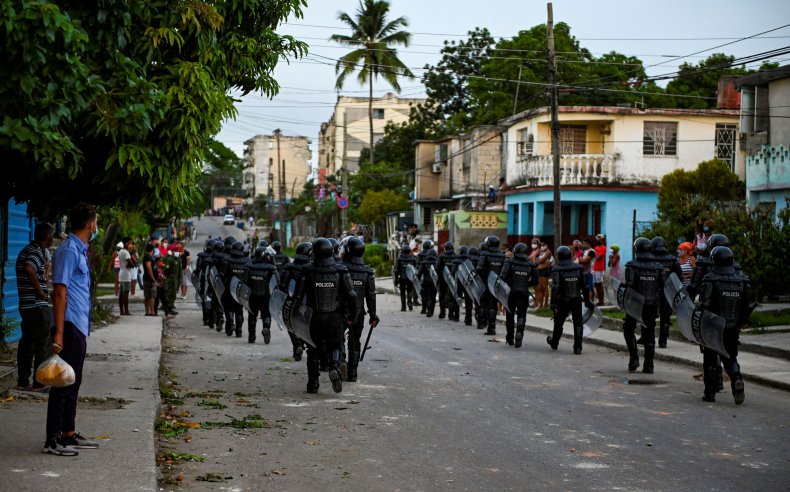 Yet the romance goes on, further fueled by claims that Cuban communism is a model of anti-racism. On a podcast two years ago, New York Times writer Nikole Hannah-Jones, of 1619 Project fame, asserted that Cuba is "the most equal multi-racial country in our hemisphere... largely due to socialism." Hannah-Jones, at least, corrected herself when she started saying "multi-racial democracy." In a 2008 article for The Oregonian after a trip to Cuba, she was far more effusive in praising the regime's alleged accomplishments, which she claimed were particularly valued by Black Cubans.
Maybe Hannah-Jones should meet the mostly Black members of Cuba's dissident art group, the San Isidro Movement, whose rap song "Patria y Vida" (Fatherland and Life) has become an unofficial anthem of the protests—and whose co-founder, Afro-Cuban rapper Maykel Castillo Perez, has been in jail since May for "contempt and public disorder."
Whether dissidents like Castillo can bring about meaningful change remains to be seen. But it's time to stop romanticizing a repressive regime as "the Revolution."
Cathy Young is an associate editor for Arc Digital and Contributing Editor for Reason.
The views in this article are the writer's own.