Why Britney Spears, Diane Sawyer Interview Left Fans Outraged
Britney Spears has blasted Diane Sawyer over the infamous 2003 interview in which the veteran journalist grilled her about her break up with Justin Timberlake.
In a now-deleted Instagram caption, the 40-year-old pop star alleged she was pressured into doing the interview and said that Sawyer made her cry.
"Do we dare forget the Diane Sawyer interview in my apartment almost 20 years ago?" she wrote. "What was with the 'You're in the wrong' approach?? Geeze... and making me cry???"
The "Toxic" hitmaker continued: "Seriously though... I lived in my apartment for a year and never spoke to anyone... my manager put that woman in my home and made me talk to her on national television and she asked if I had a shopping problem!!! when did I have a shopping problem?"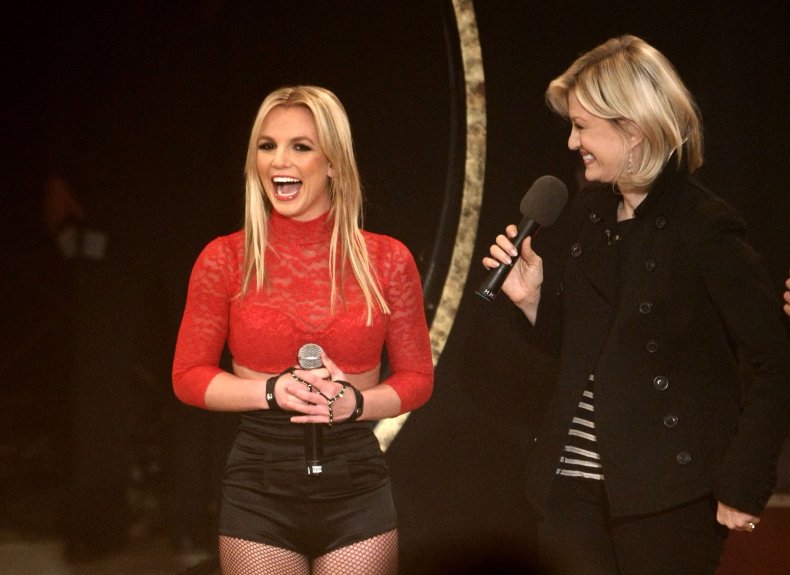 Spears continued: "Something I never shared when I had that break up years ago was that I couldn't talk afterward," she wrote, adding, "I was in shock... pretty lame of my dad and three men to show up at my door when I could hardly speak... two days later they put Diane Sawyer in my living room... they forced me to talk!"
The interview resurfaced earlier this year after the documentary Framing Britney Spears aired.
In the interview, Sawyer questions Spears about her sex life and relationships in a manner that many commentators have said was harsh and accusatory.
"You broke his heart. You did something that caused him so much pain, so much suffering. What did you do?" Sawyer asked the singer after her public split from Timberlake.
Sawyer also questioned Spears on a comment made by Kendel Ehrlich, who was Maryland's first lady at the time. In a speech at an anti-domestic violence conference that year, Ehrlich condemned Spears as a bad influence, saying: "Really, if I had an opportunity to shoot Britney Spears, I think I would."
The resurfaced interview was reexamined in 2021 and prompted widespread calls for Sawyer to apologize to Spears.
"I think it's time to have a conversation about Diane Sawyer being one of the media's greatest tools of misogyny in the aughts," tweeted actor Jeremy O'Harris at the time. "Her interviews w #BritneySpears #WhitneyHouston are truly some of the most vile from an era particularly vile to women in the limelight."
Newsweek contacted ABC and Sawyers' representatives at the time but neither responded.
Spears' father has denied any involvement in the Sawyer interview.
"Mr. Spears has no idea what Ms. Spears is talking about. Jamie never set up any interview with Diane Sawyer and was not present for any such interview," Jamie Spears' lawyer Alex Weingarten said in a statement to People.
"He had nothing to do with Britney's career at this point and was completely uninvolved in this interview. Jamie loves Britney very much, wishes Britney nothing but the best and hopes that she continues to seek the help that she needs to stay safe and healthy."
Now fans are urging Spears' to speak out after she deleted her caption.
"Let Britney speak her truth. SMH," celebrity Instagram account Deux Moi commented.
Another wrote: "Don't be afraid to express yourself Britney, we support you."