Why Is Crypto Crashing? These Stats Show How Much the Market Has Gone Down
The cryptocurrency market is still reeling from this week's sell off with nearly all major coins in the red in the early hours of Thursday.
At around midnight UTC+1 Wednesday the total cryptocurrency market capitalization was just over $2 trillion. At its lowest point that afternoon, it had fallen to around $1.44 trillion, according to CoinMarketCap data—a decline of nearly 30 percent.
Muyao Shen, a markets reporter for CoinDesk, called the market downturn the biggest sell-off since March 2020.
Bitcoin, the world's foremost cryptocurrency, has tumbled and hit its lowest price in three months this week, at one point threatening to drop below the $30,000 mark.
Its price has since rebounded to just under $40,000 at the time of writing, but it still represents a sharp drop from around $50,000 this time last week. The graph below from Statista shows the token's price through May, using CoinDesk data.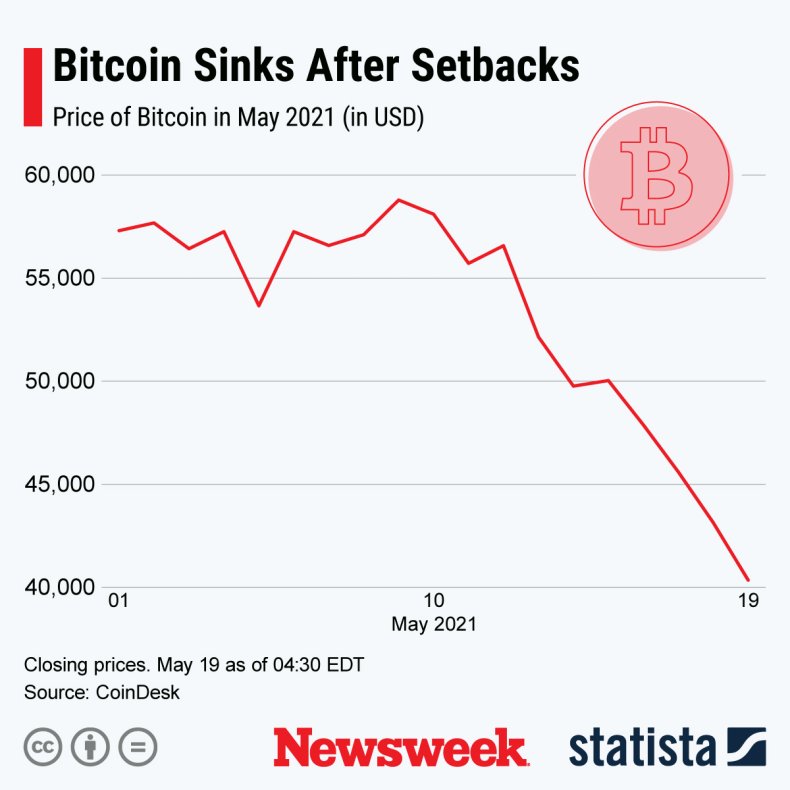 Bitcoin is not the only coin affected. Ethereum, the second highest-valued coin, has fallen over 30 percent over the past seven days and over nine percent in the past 24 hours.
Meme tokens such as Dogecoin and Shiba Inu, which had enjoyed recent popularity, have also not escaped. Dogecoin hit a high of $0.68 over the past seven days but crashed to a low of $0.21. It is currently priced around $0.36, down around 12 percent on the day.
And Shiba Inu is currently down 72.6 percent from the all-time high that it hit just nine days ago.
It is unclear if there is one particular cause behind the crypto plunge, though this week's regulatory crackdown in China may be one factor. Some have simply called it a correction.
On Tuesday, three Chinese finance agencies said that payment firms and other financial institutions in China should not carry out business related to what they called "virtual currency," including registration, trading, and settlement.
"Virtual currency has no real value support, and its price is extremely easy to be manipulated," the China Internet Finance Association, China Banking Association, and China Payment and Clearing Association said in a statement. "Related speculative trading activities have multiple risks such as false asset risks, business failure risks, and investment speculation risks."
Additionally, bitcoin particularly is thought to have been hit by last week's announcement from electric car firm Tesla and its CEO Elon Musk that it would no longer accept the cryptocurrency as payment, citing environmental concerns.
Jason Deane, Bitcoin analyst at Quantum Economics in London, told Newsweek on Monday: "The price drop was almost certainly caused by Musk's influence on the markets via the media."
Mark DeCambre, markets editor for MarketWatch, wrote on Wednesday that the wider crypto market may tend to follow bitcoin's direction.
Hunain Naseer, senior editor at OKEx Insights, a bitcoin trading platform, told CoinDesk that "altcoins" are more susceptible to sudden changes in the market—up or down—because they are even more speculative than bitcoin.
"This means they rise faster during bull runs and drop sharper during declines," Naseer said.
Bitcoin's market dominance, measured by how much of the combined cryptocurrency market capitalization it represents, was at its lowest level in around three years on Monday, CoinTelegraph reported.
It has also been a rough couple of days for the stock market. The Dow Jones Industrial Average—a stock index that is a way of measuring the market's overall direction—fell as much as 587 points on Wednesday morning, before recovering somewhat. It is currently down 164 points.