Why Democrats Refuse to Censure Rather Than Impeach Trump: 'There Has Never Been A Stronger Case'
House Democrats are pushing ahead with a new round of impeachment hearings next week against a backdrop of recalcitrant Republicans who oppose removing the president from office and an American public that remains split on impeaching him.
That begs the question: If impeachment is expected to meet certain death in the Senate, why not censure the president to officially rebuke him instead?
For Democrats, it's clear. They believe that President Donald Trump's actions to hold military aid to Ukraine in an effort to pressure the foreign country to announce investigations that would benefit him politically are far too grave to forego impeachment.
"There has never been a stronger case for the impeachment of a president," one House Democratic leadership aide said to Newsweek.
In a letter Tuesday, House Judiciary Committee Chairman Jerrold Nadler (D-NY) informed the president that the panel will hold a hearing December 4 called "The Impeachment Inquiry into President Donald J. Trump: Constitutional Grounds for Presidential Impeachment," and asked whether Trump or White House attorneys plan to participate in the public proceeding that opens the door for other potential witnesses to appear.
"We expect to discuss the constitutional framework through which the House may analyze the evidence gathered in the present inquiry," Nadler wrote. "We will also discuss whether your alleged actions warrant the House's exercising its authority to adopt articles of impeachment."
But a Republican willingness to entertain impeachment has not materialized, and GOP members have been reluctant to participate in the proceedings. Pundits have suggested that a censure vote would have the ability to draw Republican support that impeachment otherwise would not. A formal censure would come as a nonbinding, symbolic resolution that lawmakers would vote on and Republican defectors would be able to signal that while they don't believe Trump has committed impeachable offenses, they do believe his dealings with Ukraine were not appropriate. Fox News' Chris Wallace, for example, labeled it a "reasonable compromise."
Censuring is most commonly used by Congress to formally reprimand members, although the list of lawmakers who have received such a condemnation from their peers throughout U.S. history is short. The last time a representative was censured was in 2012. The list of censured senators is even shorter.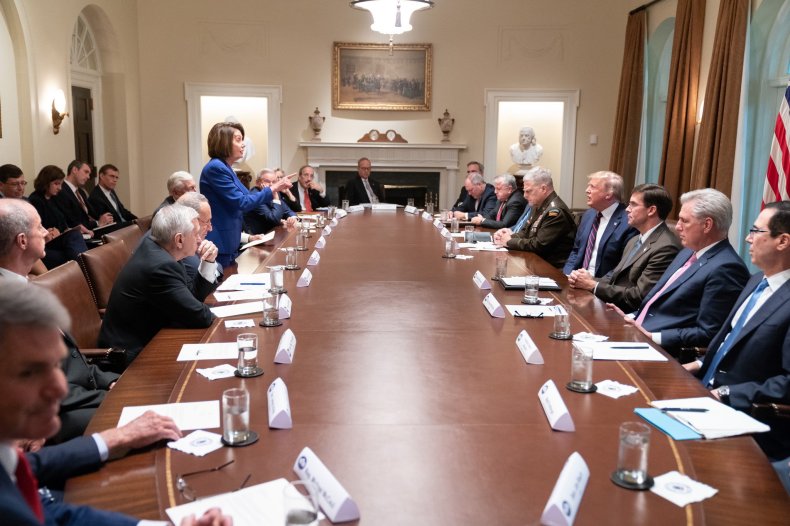 More recently, the House has voted on resolutions of condemnation, which, like censures, are symbolic and non-binding, and are considered a lesser rebuke than censuring. Reps. Ilhan Omar (D-Minn.) and Steve King (R-Iowa) were condemned in bipartisan House votes earlier this year for alleged anti-Semitic and racist comments, respectively. And in October, the House formally condemned Trump with a resolution for abruptly withdrawing U.S. troops from northern Syria.
Over the weekend, Rep. Brenda Lawrence (D-MI) suggested that censuring—rather than impeachment—was the more appropriate measure to take, citing the close proximity of the 2020 election.
"I will tell you, sitting here knowing how divided this country is, I don't see the value of taking him out of office, but I do see the value of putting down a marker saying his behavior is not acceptable," Lawrence said Sunday on No BS News Hour with Charlie LeDuff. "I want him censured. I want it on the record that the House of Representatives did their job and they told this president, and any president coming behind him, that this is unacceptable behavior and under our Constitution, we will not allow it."
But Lawrence later backpedaled, saying in a statement "I continue to support impeachment. However, I am very concerned about Senate Republicans and the fact that they would find this behavior by the President acceptable."
Democrats' response to the idea has been tepid. Rep. Steve Cohen (D-TN) said on CNN Tuesday that when he first raised the notion of censuring Trump during a Democratic caucus meeting in the spring, "the response was that it wasn't a strong enough measure for the conduct the president engaged in, even at a time when we weren't pursuing impeachment."
"I think it's even more so not a strong enough measure concerning the abuse of power which is exhibited with Ukraine, where the proof is so evident and conclusive," Cohen elaborated. "So, I think it's a mistake, and I think going on the House impeaching him—even if he's not convicted—is a stronger statement than censure would be. And I don't think we pick up any Republican votes, either."
By Tuesday, Democrats did not mince words. They emphasized their view that censure is a "slap on the wrist," as the House Democratic leadership aide said to Newsweek.
"The facts are clear and uncontested. Yes, Democrats believe that censure is a slap on the wrist and not fitting for a clear incident of abuse of power by a president who encouraged a foreign government to interfere in [a] U.S. election for his political benefit."
Rep. Adam Schiff (D-Calif.), the lawmaker who's spearheaded the impeachment inquiry as chairman of the Intelligence Committee, told NBC's Meet The Press over the weekend the evidence they've compiled of wrongdoing by the president "is already overwhelming."
"But the fact that Republicans may be derelict in their responsibility doesn't relieve us of our obligation to do our Constitutional duty," he added. "And we feel an urgency about that."
Polling may be on their side—although many surveys have signaled that voters' support for ousting Trump has stalled, even in the wake of House Democrats' public impeachment hearings. For example, FiveThirtyEight's calculation of impeachment support compiled from an average of polls shows voters' support for Trump being removed from office has remained unchanged since mid-October. Roughly 48 percent of voters say they back Trump's impeachment and removal from office while about 44 percent oppose. Among Independents, support topped out just shy of 48 percent at the end of October, compared with less than 43 percent of voters as of Tuesday.
In public remarks, top Democrats made unmistakable nods to those numbers.
"When we see a violation of the Constitution, we have no choice but to act," House Speaker Nancy Pelosi (D-Calif.) told reporters at her weekly press conference last week. "And the evidence is clear that the president—the president—has used his office for his own personal gain and, in doing so, undermined the national security of the United States by withholding military assistance to the Ukraine, to the benefit of the Russians; that he has undermined the integrity of our elections by what he has done, again, the Russian interference being ignored by him—and, third, he has violated his oath of office."
Why Democrats Refuse to Censure Rather Than Impeach Trump: 'There Has Never Been A Stronger Case' | Analysis