Why Is #DentureDonald Trending? Trevor Noah Mocks President Trump's Jerusalem Speech and Insists He Has Fake Teeth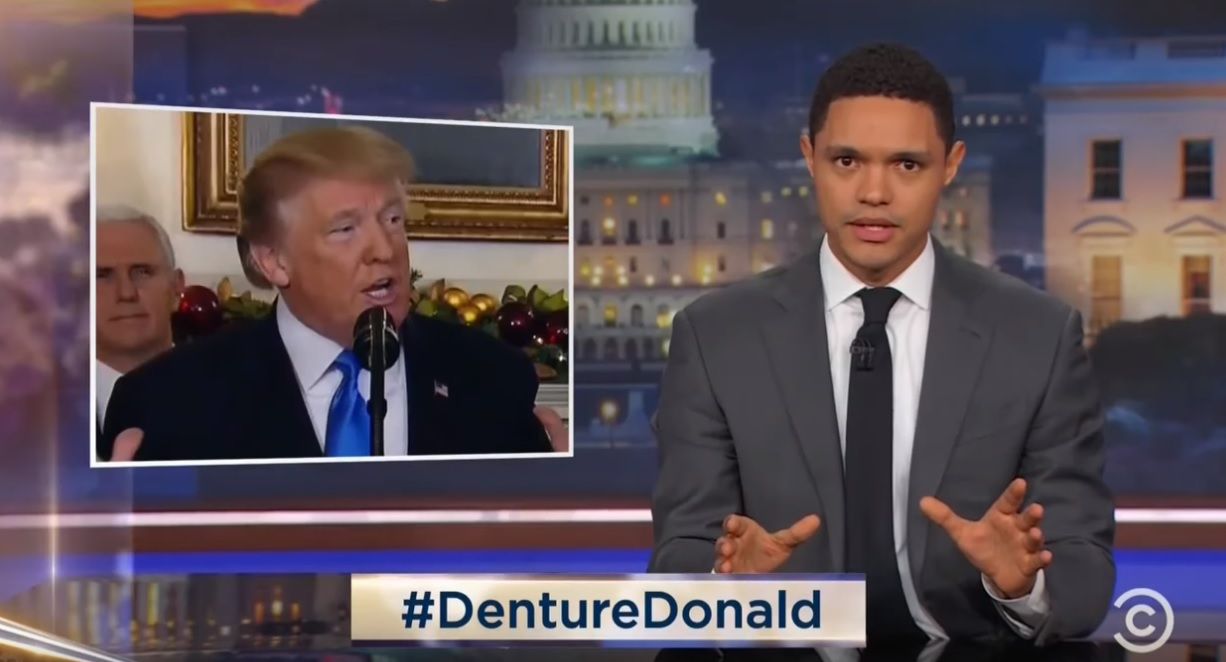 President Donald Trump's speech Wednesday recognizing Jerusalem as the capital of Israel got the entire world talking—and not just about the controversial decision.
On Twitter, the president's slurred speech, in which he appeared to mispronounce "United States," caused people to speculate that he may have false teeth. And by Thursday morning, #DentureDonald was among the top trends on the social media platform.
Here's why: Trevor Noah on The Daily Show.
"As disturbing as it was to watch Donald Trump add fuel to the Middle East conflict," Noah said on the Comedy Central show, "it was even more disturbing to watch the conflict between Donald Trump's teeth and his tongue."
Following a fit of laughter, Noah said: "You know what it seemed like—it seemed like someone hit him with a blowdart before he went out to make the speech. What the hell was going on?"
Watching Trump's speech once wasn't enough. Noah played it again and descended into hysterical laughter once more.
"He sounds like he just had a drink with Bill Cosby," he quipped.
Noah then deduced that the only possible explanation for Trump's slurred address is that he must wear dentures—even though he might not admit it.
The South African comedian said: "We all know what's going on here. President Trump is wearing dentures, people. This happened to my grandfather all the time...his dentures would start falling out, and he wouldn't be able to finish his sentence."
"Fake teeth, fake hair, fake tan—there's no part of his body that's real," Noah quipped.
"There's no shame in having dentures. But there is shame in Donald Trump having dentures, 'cause he's vain as hell. Could you imagine how he would feel if people started tweeting #DentureDonald?"
Noah concluded that instead of a Mueller investigation, we need a "molar investigation" to get to the bottom of Trump's bizarre speech.
On Thursday, the White House said it was just a case of dry throat, per the Today show.
Of course, it's not the first time Trump has butchered the English language. Noah showed this highlight reel of other Trump doozies: