Coronavirus Shutdown Has Left Many People 'Desperate For Food,' Hunger Nonprofit Says
A nonprofit organization dedicated to feeding those in need has warned that the coronavirus shutdown will cause a huge spike in hunger across the country.
WhyHunger has said that in the short time since restrictions were put in place across the states to curb the spread of COVID-19, there had been a sharp increase in calls to its national hunger hotline.
"The call volume has increased by 300 percent just in a short period. We have had people calling, desperate for food," WhyHunger's executive director Noreen Springstead told Newsweek. "They are in isolation, they can't get out of the house, they have no one to help them and are sobbing on the phone."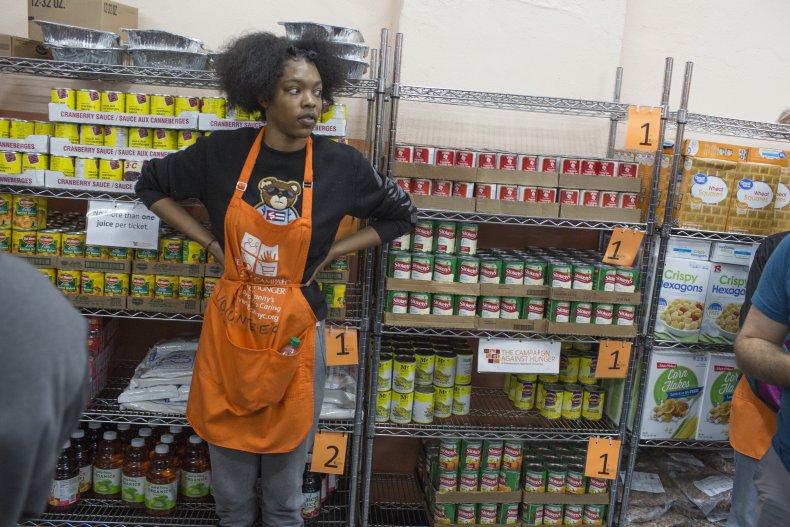 Before the coronavirus outbreak, there were an estimated 37 million people in the U.S. who needed help in getting enough food, half of whom were working.
Springstead expected the number of people needing the help of food banks, food pantries and soup kitchens will increase further, especially with more than three million people filing for unemployment since the shutdown, because, "we know when people are unemployed people go hungry."
"Now, you pull the plug from under millions of people because of the mandatory shelter-in-place and this is mostly affecting the food industry, there is going to be massive hunger."
She said the food banks were struggling not just because of increased numbers of needy people, but also because there were heavier sanitizing restrictions, and older volunteers are unable to help because they are more vulnerable to COVID-19.
"It feels like an airplane taking a nosedive. There is an emergency measure to pull us out of that nosedive and maybe this is a temporary shock to the system, but if restaurants go under and workers can't regain employment, that will absolutely lead to massive hunger."
The $2 trillion stimulus package agreed by the U.S. Senate this week gave an allocation for the Emergency Food Assistance Program (TEFAP) which connects the food that farmers produce to people facing hunger through emergency food providers.
Another organization which helps the needy, Feeding America welcomed the increased TEFAP investment but said that it feared it would not be enough and that it was "disappointed that the bill did not reduce the red tape required to distribute food during this crisis."
It also said that there should be an an expansion of benefits in the Supplemental Nutrition Assistance Program (SNAP), also known as food stamps, which is implemented by the U.S. Department of Agriculture (USDA). SNAP has the benefit of not just giving people the ability to buy their own food, every dollar spent on the program creates $1.70 of local economic activity.
"SNAP is not only vital to help families facing hunger but also is an economic multiplier, boosting the economy during times of crisis like this. The failure to increase benefits is a missed opportunity to safeguard families and local economies, and we look forward to working with Congress to continue to address these issues," Feeding America said in a statement. Newsweek has contacted the USDA for comment.
In a statement on Thursday, USDA said on its website that it was "working to be as flexible as possible to get food out to the people who need it during the COVID-19 National Emergency."
It said that the Families First Coronavirus Response Act allocates billions of dollars in nutrition assistance for children and families and that "U.S. Secretary of Agriculture Sonny Perdue is taking swift action to implement these new provisions and ensure children and families are fed."
The map below, provided by Statista, shows the number of COVID-19 cases in the U.S. as of March 27.