Why King Charles Should Take Royal Protesters Seriously—Podcast
King Charles needs to "think very seriously" about ways in which he can "forge his own relationship with the British public," as Queen Elizabeth did, amid anti-monarchy protests and the possibility of Commonwealth countries removing him as head of state, according to Newsweek's The Royal Report podcast.
On Monday, Charles faced a group of protesters from the anti-monarchy group Republic as he attended the Commonwealth Day service at London's Westminster Abbey. The group held placards reading "NOT MY KING" and has said it will stage a demonstration at the king's coronation on May 6.
The group has increased its activity in Britain since the death of Elizabeth last September. Some members booed Charles and Queen Camilla during their visit to Essex, England, earlier this month.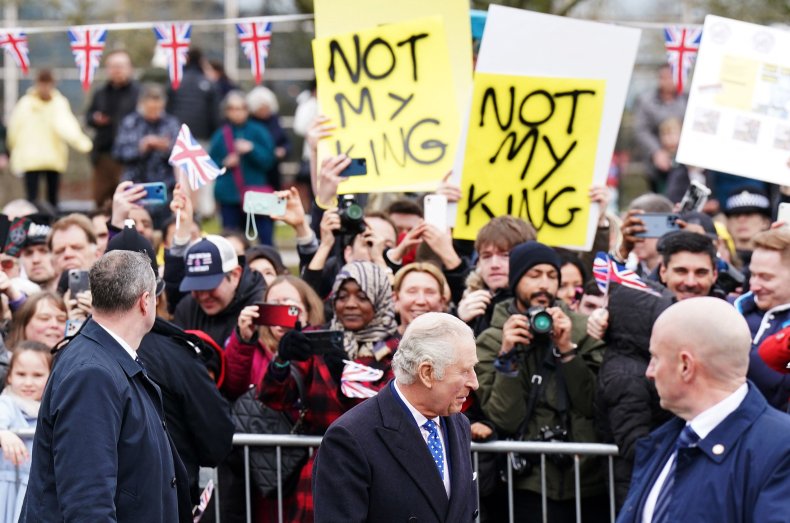 "We've known for a long time that the anti-monarchy-campaign group Republic planned to protest the coronation, and, in fact, we've known since before the queen died that they planned to target Charles once he was king," chief royal correspondent Jack Royston told The Royal Report.
"Now, though, their campaign is really heating up, and the king and Queen Camilla have been heckled twice in a week," he said.
This, Royston continued, places Charles in an awkward position, as it is unlikely he is able to address or acknowledge the demonstrators.
"This is obviously difficult for Charles," Royston said. "And there's not really a huge amount that you can do about it. The only thing you can really do is ignore it."
A grassroots push for Britain to abolish the monarchy and become a republic has existed in some form for centuries. But Charles will need to be vigilant, especially at the beginning of his reign, about Republic's views and whether they are representative of a growing number of Brits.
"If they are correct about that," Royston said, "then Charles has a massive problem on his hands, and it could potentially only grow as the years pass.
He went on: "Obviously, he got had a huge boost in his popularity in the eyes of Britain when he first became king because that was during the period of national mourning when everybody was grieving for the loss of Elizabeth II.
"As time passes, obviously some of those feelings dissipate. The nation is no longer looking to him for the kind of leadership that they were looking for during the period of national mourning. So I think the only thing you can do is just see where this goes."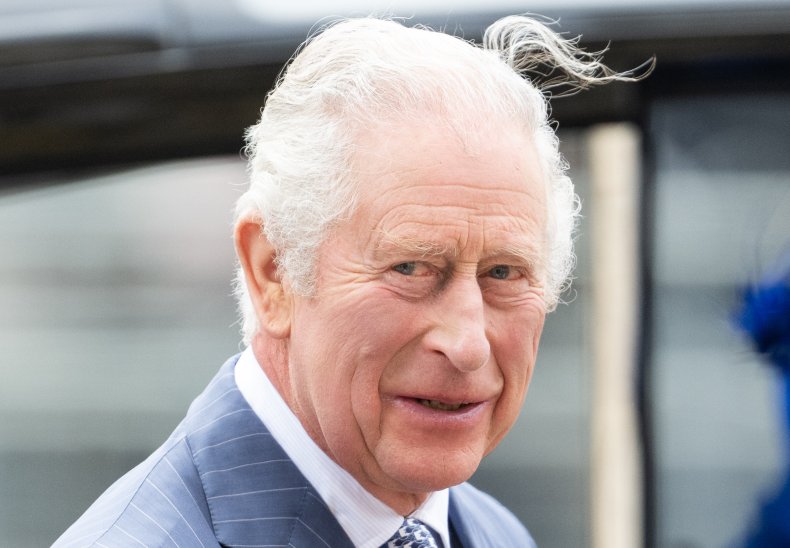 Aside from Republic's protests, a bigger issue facing Charles is the demonstrations and larger political discussions happening in Commonwealth realms around the world.
The Commonwealth realms are the 14 countries that count Charles as their head of state, in addition to Britain. For example, he is also the king of Jamaica, king of Canada and king of Australia.
In recent years, some nations have turned against allegiance to the monarchy, including Barbados, which removed Elizabeth as its head of state in 2021, although it remains a member of the Commonwealth.
In 2022, at the Commonwealth Heads of Government Meeting in Rwanda, Charles made it clear he believes it is up to each nation to decide how it wishes to structure its governance. He hinted that he accepts the likelihood that more republics may be formed.
"I want to say clearly, as I have said before, that each member's constitutional arrangements, as republic or monarchy, is purely a matter for each member country to decide," he said.
"The benefit of long life brings me the experience that arrangements such as these can change, calmly and without rancor, but as I said in Barbados last November, we should never forget the things that do not change. The close and trusted partnership between Commonwealth members, our common values and shared goals, and, perhaps most importantly, the strong and enduring connections between the peoples of the Commonwealth which strengthen us all."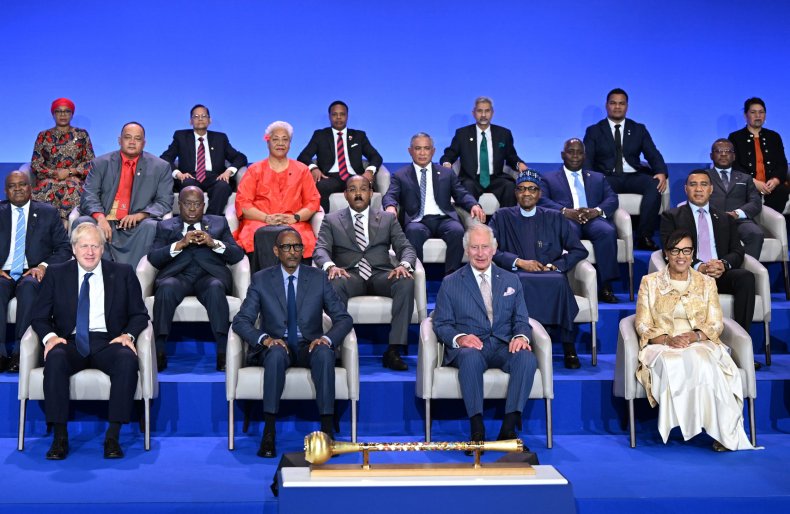 If some of the larger nations with strong links to Britain, such as Australia, were to decide to end their ties with the monarchy, this could spark calls for a referendum to remove Charles in Britain, Royston suggested.
If Brits voted to keep the monarchy, protests like the ones at Westminster Abbey on Monday may be contained, he said. But if they don't, Charles will face a battle to win the public's favor.
"The queen's relationship with the public was incredibly strong," Royston said. "It was built partly on her kind of having lived through the Second World War in the same way that the people around her did. She was evacuated to Windsor Castle in the same way that children were evacuated around Britain or from British cities out to the countryside.
"But, also, it was forged during decades that followed, and she was a source of leadership. As recently as, you know, the coronavirus pandemic, [she gave], I would say, one of her best speeches so close to the end of her reign.
"Charles needs to kind of find some way to forge a similar connection with British people in order to cement his role as the current head of state."
James Crawford-Smith is Newsweek's royal reporter based in London. You can find him on Twitter at @jrcrawfordsmith and read his stories on Newsweek's The Royals Facebook page.
Do you have a question about King Charles III, William and Kate, Meghan and Harry, or their family that you would like our experienced royal correspondents to answer? Email royals@newsweek.com. We'd love to hear from you.