Why King Charles III Isn't Wearing a Crown on His New Stamps
King Charles III has approved the first stamps to feature a new British monarch in over 70 years, which will enter circulation ahead of his coronation on May 6.
The set of "definitive" or "everyday" first and second-class stamps feature a stylized image of Charles, which has been adapted from the portrait designed by sculptor Martin Jennings for The Royal Mint for new coins.
Charles is the seventh monarch to feature on a definitive stamp, the first being Queen Victoria in 1840.
The design of Charles' stamp is somewhat unique in that the king is shown without any royal regalia, notably the crown.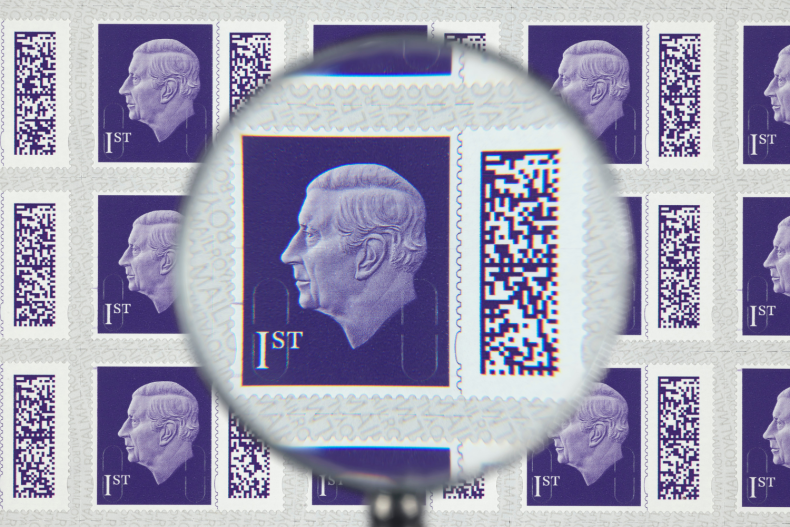 Why Is There No Crown on King Charles' New Stamps?
King Charles is the first sovereign to feature on a British definitive stamp without a crown or royal regalia.
This decision has a number of influences—the first being that it appears to have been Charles' decision to keep his stamps simple in their design without regal symbols.
Royal Mail director of external affairs, David Gold, said, per the BBC: "The feedback we got back [from Charles] was that he wanted it to be simple. It's a very human image, with no embellishment."
This is a break with tradition. Previous kings have all had crowns present on their stamps, though are not depicted wearing them in their portraits.
Charles' grandfather, King George VI, and his great-uncle, King Edward VIII (later the Duke of Windsor), both had portraits similar to Charles on their stamps, but a depiction of the crown was included.
Importantly, Charles could not be shown wearing a crown for a portrait at this point in his reign, even if he wanted to. He has not yet been crowned at his coronation and therefore will not have any official photographs or portraits wearing the Imperial State Crown or St Edward's Crown until he has.
Another likely factor for the absence of a crown on Charles' stamps is that Queen Elizabeth II streamlined the design of her stamps in 1967, featuring a portrait by the artist Arnold Machin.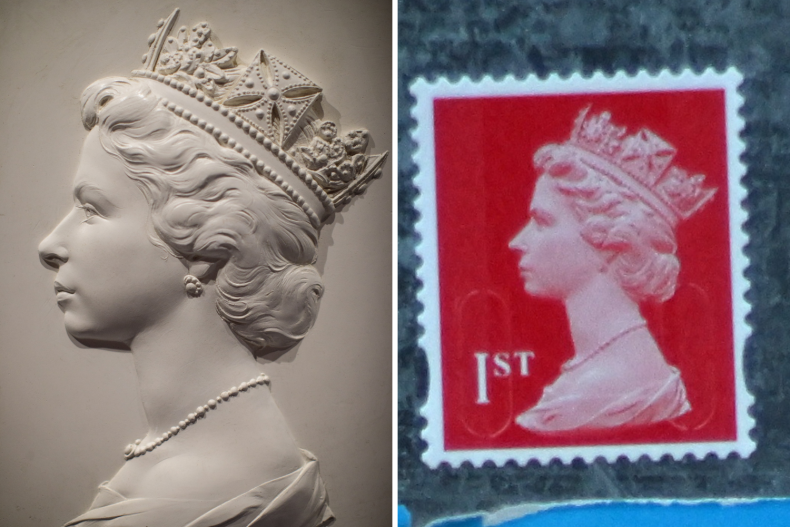 Machin's stamp design simply featured the effigy of the monarch in a side profile against a plain-colored background with the class of the stamp and price.
Unlike Charles, Elizabeth was depicted wearing a piece of royal regalia in her stamp portraits—but this was not a crown and instead, a diadem. The tiara-like jewel, known as the Diamond Diadem, has traditionally been worn exclusively by Britain's queens since the reign of King George IV.
Queen Elizabeth approved so highly of Machin's stamp portrait that she kept the design for the rest of her reign for Britain's definitive stamps, and it is reported to be one of the most reproduced artworks in history.
When Will King Charles III's Stamps Enter Circulation?
In accordance with King Charles' well-established environmental causes, his new stamps will not be sold until the existing stock of stamps printed during the reign of Queen Elizabeth II featuring her portrait is exhausted.
The new stamps will go on general sale in the U.K. from April 4, 2023, in time for the May 6 coronation.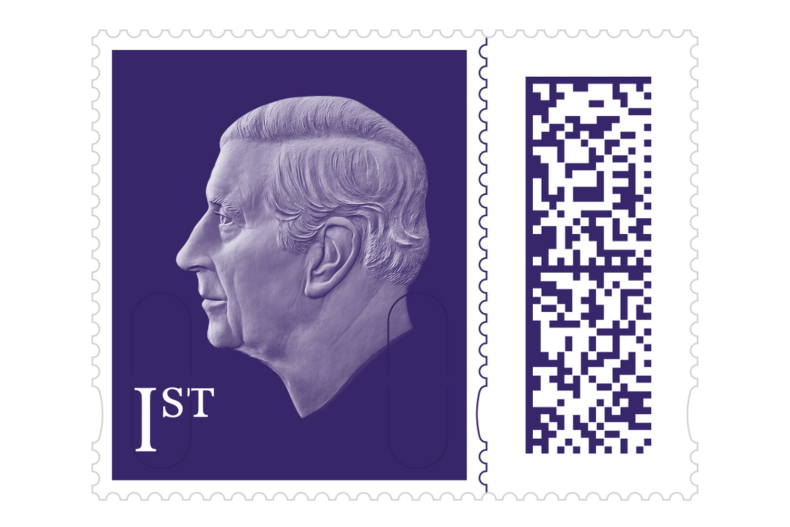 James Crawford-Smith is Newsweek's royal reporter based in London. You can find him on Twitter at @jrcrawfordsmith and read his stories on Newsweek's The Royals Facebook page.
Do you have a question about King Charles III, William and Kate, Meghan and Harry or their family that you would like our experienced royal correspondents to answer? Email royals@newsweek.com. We'd love to hear from you.