Why Martin Shkreli Was Arrested, the Definitive Explainer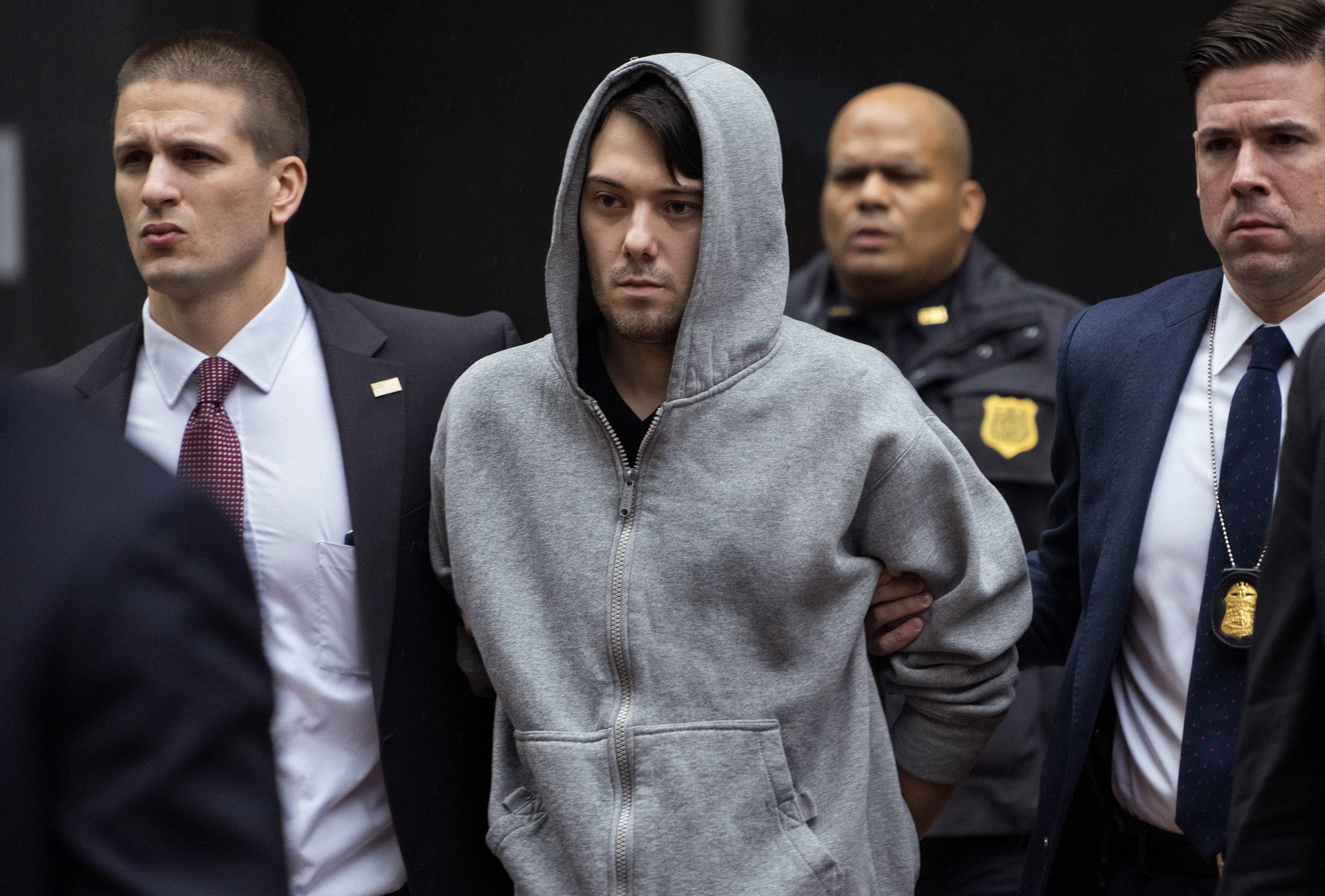 Updated | Controversial pharmaceutical company CEO Martin Shkreli resigned from his post on Friday morning, Turing Pharmaceuticals announced. Ron Tilles replaces Shkreli as Turing CEO after the latter was arrested on Thursday on a litany of charges announced by the Department of Justice. A seven-count indictment unsealed later that day details exactly what the government accuses the notorious pharmaceutical kingpin of doing.
Who Is Martin Shkreli?
Shkreli, 32, came into the spotlight earlier this fall after he raised the price of a drug acquired by Turing to $750 a dose from $13.50. He was widely criticized for this decision and the BBC at one point said he "may be the most hated man in America."
But Shkreli's arrest is not tied to this recent pricing shenanigans. He is facing securities fraud charges that stem from his time with Retrophin, the hedge fund MSMB Capital Management and a health care company. Retrophin raised pharmaceutical prices in a similar manner to Turing.
In the unsealed indictment, authorities referred to Shkreli's actions as threefold: the MSMB capital hedge fund scheme, the MSMB health care hedge fund scheme and the Retrophin misappropriation scheme.
Shkreli's charges include securities fraud, securities fraud conspiracy and wire fraud related to three schemes.
Related: Martin Shkreli Out as Turing Pharmaceuticals CEO After Arrest
The Capital Hedge Fund Scheme
The first of the three interconnected fraud schemes the Department of Justice accuses Shkreli of occurred between September 2009 and September 2011. Authorities allege "Shkreli and his co-conspirators falsely represented to potential investors" the nature of MSMB capital. These alleged false representations include:
"(i) MSMB Capital was a transparent investment vehicle for sophisticated investors with monthly liquidity;
"(ii) Shkreli would only receive a one percent management fee per year based on net assets of the partnership;
"(iii) Shkreli was entitled to receive twenty percent of the limited partners' net profits for the year; and
"(iv) MSMB Capital had retained independent certified public accountants as auditors who would issue an audit report on the annual financial statements."
In addition, the government charged Shkreli for failing to disclose the collapse of Elea Capital, a hedge fund he managed before MSMB and failure to disclose a $2.3 million default judgment Lehman Brothers, a now defunct bank, held against him.
There's also the matter of what Shkreli did, and didn't, have in the bank. The Justice Department offered this explanation: "Shkreli lied to his biggest investor telling him that MSMB Capital had $35 million in assets under management, when in fact MSMB Capital had less than $700 in its bank and brokerage accounts."
Authorities also allege that Shkreli withdrew over $200,000 from MSMB Capital, a misappropriation of funds and an amount far greater than the management fee would allow for.
MSMB Capital collapsed in February 2011. Here's how that went down, according to the authorities:
"In February 2011, MSMB Capital failed to settle a short position of more than 11 million shares of Orexigen Therapeutics, Inc. (OREX) that Merrill Lynch ultimately closed at a loss of over $7 million. At this time, MSMB Capital also suffered more than $1 million in other trading losses. Based on these trading losses, the value of assets in MSMB Capital's bank and brokerage accounts, not including the OREX losses at Merrill Lynch, declined from more than $1.12 million on January 31, 2011 to $58,500 at the end of February 2011."
The Health Care Hedge Fund Scheme
Following the end of MSMB Capital, MSMB Healthcare came to be. Authorities allege Shkreli raised investments for the company between February 2011 and November 2012. During that investment period, the Justice Department says Shkreli concealed from investors "his disastrous past performance manager for MSMB Capital and Elea Capital and the $7 million liability that Shkreli owned Merrill Lynch."
At the time, the government alleges Shkreli represented the health care company to have $55 million in assets.
Authorities believe MSMB Healthcare was, in ways, a repeat of MSMB Capital:
"Shkreli provided MSMB Healthcare investors with performance updates that were based, in large part, on an internal inflated valuation of Retrophin, his private biopharmaceutical company that had received investments from MSMB Healthcare."
As with MSMB Capital, its alleged Shkreli took a largest cut than the management fee allowed for.
The Retrophin Misappropriation Scheme
Evan Greebel, an attorney, was arrested on Thursday as well in connection with these charges. He's mentioned by the Department of Justice in the explanation of this scheme:
"Between March 2011 and September 2014, Shkreli and Greebel, together with others, engaged in a scheme to defraud Retrophin by misappropriating Retrophin's assets in an effort to pay off Shkreli's personal and unrelated professional debts and obligations."
Here's what authorities allege Shkreli and Greebel did:
"(i) transfer Retrophin shares to MSMB Capital even though MSMB Capital never invested in Retrophin;
"(ii) enter into settlement agreements with defrauded MSMB Capital and MSMB Healthcare investors to settle liabilities owed by Shkreli and the funds; and
"(iii) enter into sham consulting agreements with other defrauded MSMB Capital, MSMB Healthcare, and Elea Capital investors as an alternative means to settle liabilities owed by Shkreli and his hedge funds."
Greebel and Shkreli are also charged with backdating transactions to "create the appearance of an investment by MSMB Capital in Retrophin."
There were further issues of fraud between Retrophin and both MSMB companies during February 2013 and August 2013, authorities allege. The Justice Department writes:
"Shkreli and Greebel, together with others, caused Retrophin to enter into settlement agreements with MSMB Capital and MSMB Healthcare investors to resolve their claims and threats of claims which were based on Shkreli's false representations about the exceptional performance of the funds. Notably, Shkreli and Greebel did not seek authorization from the Board prior to entering into these fraudulent settlements. Shkreli and Greebel caused Retrophin to pay more than $3.4 million in cash and RTRX stock to settle claims with seven MSMB Capital and MSMB Healthcare investors."
The Civil Suit
There's also a civil lawsuit against Shkreli in the works. The suit, reviewed by The New York Times, alleges Shkreli funneled funds from Retrophin to MSMB. A civil suit filed by Retrophin against Shkreli states:
"Shkreli was the paradigm faithless servant. Starting sometime in early 2012, and continuing until he left the company, Shkreli used his control over Retrophin to enrich himself and to pay off claims of MSMB investors (who he had defrauded)."
Shkreli has previously addressed the lawsuit with Bloomberg, telling the business publication: "The $65 million Retrophin wants from me would not dent me. I feel great. I'm licking my chops over the suits I'm going to file against them."
The Co-Conspirator
In addition to Shkreli, Evan Greebel, a 42-year-old attorney who served as outside counsel for Retrophin, was also arrested.
"As alleged, Martin Shkreli engaged in multiple schemes to ensnare investors through a web of lies and deceit. His plots were matched only by efforts to conceal the fraud, which led him to operate his companies, including a publicly traded company, as a Ponzi scheme, where he used the assets of the new entity to pay off debts from the old entity," United States Attorney Robert L. Capers said in a statement. "When regulators and auditors questioned Shkreli's decisions, he joined forces with Evan Greebel, who used his law license and training to conceal and further the scheme."
Jail Time
If convicted, Shkreli could be sentenced to up to 20 years in prison. Greebel faces the same sentence if convicted.
The Documents
Shkreli-Greebel Takedown Press Release (12!17!15)
This story has been updated with Shkreli's statement and new information.