Why Meghan Markle and Her Sister's Libel Lawsuit Could Get Even Messier
Samantha Markle wants to depose her daughter in a libel lawsuit against half-sister Meghan Markle, who she has accused of stonewalling.
The Duchess of Sussex told her Netflix show Harry & Meghan that she was secretly close with Samantha's daughter Ashleigh Hale.
And Hale told the docu-series how she was brought up by her grandparents, not Samantha, before forging a strong relationship with Meghan in later life: "There is a sister element, there's a maternal... she's my friend... she's kind of all the things.
"After the news first broke, Samantha pretty quickly began expressing a lot of angry words about Meg, and towards me.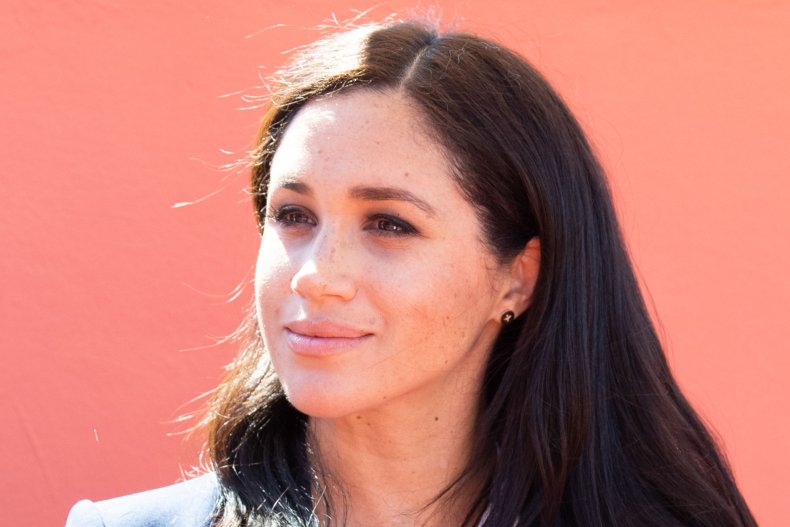 "What was communicated to me, was maybe some resentment and it felt like no matter what I said you know her perspective didn't change and seemed to get angrier and bigger, and we stopped talking. Just some people you can't reason with."
Now, Samantha wants to depose her seemingly estranged daughter in a lawsuit built around an allegation that Meghan lied about the nature of her childhood family life—allegations the duchess denies.
Hale is also not the only family member dragged into the dispute, as Samantha also wants to depose Thomas Markle, father to her and Meghan.
On the off chance anyone thought that might be straightforward, Markle Sr. told his YouTube channel in March 2022: "I've been trying for almost four years to get to see my daughter and her ginger husband in a courtroom face-to-face.
"I haven't seen them face-to-face. I haven't seen my grandchildren. I'd be thrilled to come to court and talk and defend my oldest daughter [Samantha]."
"There are so many obvious, obvious lies," he continued, "that are immediately challenged that I can't imagine Meghan even going into the court with this. I think she should settle because she can't defend the things she said."
A court filing by Samantha's team, seen by Newsweek, read: "On January 3, 2023, at 10:11 a.m., the undersigned requested the depositions of the following individuals: Meghan Markle, Duchess of Sussex, Prince Harry, Duke of Sussex, Thomas Markle, Ashleigh Hale, Jason Knauf and Christopher Bouzy."
Knauf is a former Kensington Palace communications secretary who accused Meghan of bullying two PAs out of the royal household in an October 2018 email. This email was leaked to U.K. broadsheet The Times in the days before the March 2021 Oprah Winfrey interview.
He handed a trove of Meghan's private emails and texts to the Court of Appeal, in London, during a lawsuit between the duchess and The Mail on Sunday over a letter she sent her father.
Bouzy is the founder of data analysis firm Bot Sentinel and investigated troll accounts on Twitter and YouTube that targeted Meghan.
However, it is still possible the case will not go ahead at all as Meghan's side have asked for it to be thrown out. A judge is yet to rule on the application.
Samantha's lawyers have also accused Meghan's team of stonewalling, including in relation to a series of questions they have asked her that she has refused to answer. A filing seen by Newsweek read: "Taken one by one, the Duchess' responses to the individual discovery requests are not all that troubling, however, given that the Duchess has failed to produce any documents responsive to the First Request for Production nor has she answered one single interrogatory, one single admission, or coordinated one deposition, it is clear that the Duchess' is willfully withholding evidence and stonewalling discovery."
The case revolves around Meghan's account of her relationship with Samantha during her March 2021 Oprah Winfrey interview: "I think it'd be very hard to tell all when you don't know me.
"And I mean, this is a very different situation than my dad, right? When you talk about betrayal, betrayal comes from someone that you have a relationship with, right?
"I don't feel comfortable talking about people that I really don't know. But I grew up as an only child, which everyone who grew up around me knows. And I wished I had siblings. I would have loved to have had siblings."
A July 2022, court filing by Samantha's team read: "During the course of the show which aired on March 7, 2021, and was subsequently replayed on numerous televisions and online media platforms, the Duchess stated that she was 'an only child,' who only met Mrs. Markle 'a handful of times,' and that Mrs. Markle only changed her surname to 'Markle' after the Duchess started dating Prince Harry so that Mrs. Markle could cash in on her newfound fame. None of these statements were true."
They have also complained about material about Samantha published in the biography Finding Freedom, written by Omid Scobie and Carolyn Durand. Meghan's team argued she did not write the book and therefore is not responsible for its contents.
When Samantha's case was first filed, Meghan's attorney, Michael Kump, said in a statement: "This baseless and absurd lawsuit is just a continuation of a pattern of disturbing behavior. We will give it the minimum attention necessary, which is all it deserves."
If the trial does go ahead a date has been set for October 2.
Jack Royston is chief royal correspondent at Newsweek based in London. You can find him on Twitter at @jack_royston and read his stories on Newsweek's The Royals Facebook page.
Do you have a question about King Charles III, William and Kate, Meghan and Harry, or their family that you would like our experienced royal correspondents to answer? Email royals@newsweek.com. We'd love to hear from you.