Senate Majority Leader Mitch McConnell conceded Monday that if the House votes to impeach President Donald Trump, he would have "no choice" but to address the matter and hold a trial in the chamber—as is currently required.
"Well, under the Senate rules, we're required to take it up, if the House does go down that path, and we'll follow the set of rules," the Kentucky Republican said on CNBC. "It's a Senate rule related to impeachment that would take 67 votes to change. So, I would have no choice but to take it up."
The chances that McConnell may soon have to face that reality have become increasingly likely, as House Democrats are surging forward with their newly launched impeachment proceedings amid news that Trump pressured the Ukrainian president to investigate a political rival, former Vice President Joe Biden and his son Hunter. As of now, there remains little-to-no likelihood the GOP-controlled Senate would either change the rules or convict Trump and oust him from office.
Republicans have said they would work to quickly defeat any impeachment efforts in the Senate, something McConnell alluded to.
"How long you're on it is a whole different matter, but I would have no choice but to take it up based on a senate rule on impeachment," he continued.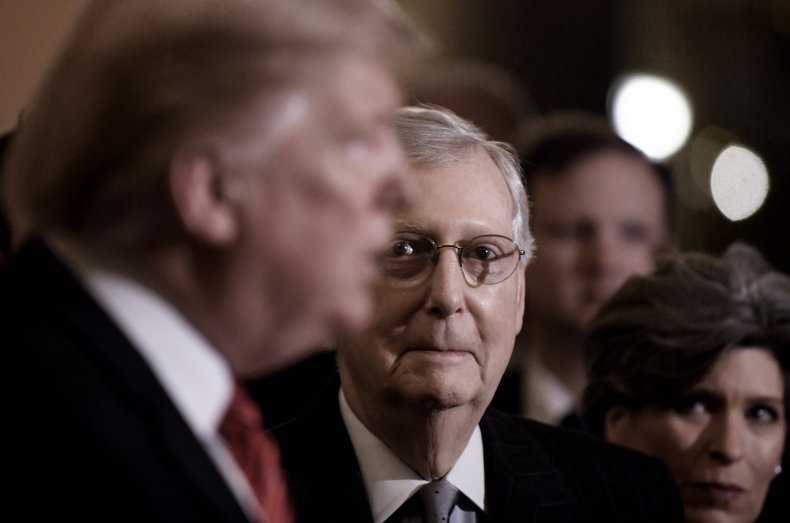 Prior to House Speaker Nancy Pelosi last week declaring the chamber was conducting an "official impeachment inquiry," McConnell told reporters he wasn't "going to address all of these various hypotheticals that have been aired out about what may or may not happen in the House, and I think all of that's quite premature."
The Constitution states the "Senate shall have the sole Power to try all Impeachments," a trial that the chief justice of the Supreme Court would preside over. And, as McConnell mentioned, there is no standard timeline as to how long the proceedings must last. At least two-thirds—or 67 votes—of the members would be needed to convict Trump.
Most notably and most recently, former Presidents Bill Clinton and Richard Nixon faced impeachment proceedings. The House impeached Clinton, but he was not convicted in the Senate, while Nixon resigned from office before the House could impeach him.
House Democrats are working to accelerate their proceedings, with some members and committees working through a congressional recess for the next two weeks. On Friday, House Intelligence Committee Chairman Adam Schiff (D-Calif.) subpoenaed Secretary of State Mike Pompeo over his panel's probe of Trump's actions involving Ukraine, in addition to saying the president's personal lawyer Rudy Giuliani is next.