Carolina Hurricanes: Amid Florence, Examining Sports Teams's Natural Disaster Nicknames
At least 41 times per year, a small hurricane siren in Raleigh, North Carolina, is hand-cranked—it howls a war-cry that bounces off walls and ceilings and, in turn, sends a mass of people into chaotic whoops and screams.
But this is not a hurricane. Not really. It is not Florence, a Category 2 bearing down on the Carolinas, threatening a dangerous storm surge and devastating flooding upon landfall early Friday.
No, that siren is a key part of the pump-up ritual for a hockey team and its stadium of fans. This is what the Carolina Hurricanes have done as they take the ice for every home game since 2008.
If you think about it, it's an odd thing to name a team after a natural disaster. Yet, the American sports landscape is full of such teams. To name a handful: the San Jose Earthquakes, the Colorado Avalanche, the Chicago Fire, the Miami Hurricanes, the Iowa State Cyclones and, of course, the Carolina Hurricanes.
Team names are usually pretty innocuous. They represent the team, sure, but in a vague way—you typically don't, for instance, think of the New England Patriots as especially American or the Cleveland Cavaliers as a swashbuckling group. The nickname is the nickname and that is that.
But with a hurricane approaching the Carolinas—if you take a moment to think it over—it's curious that a number of franchises choose to associate themselves with natural disasters that bring heart-breaking destruction, injury and even death to the very people the teams wish to win over.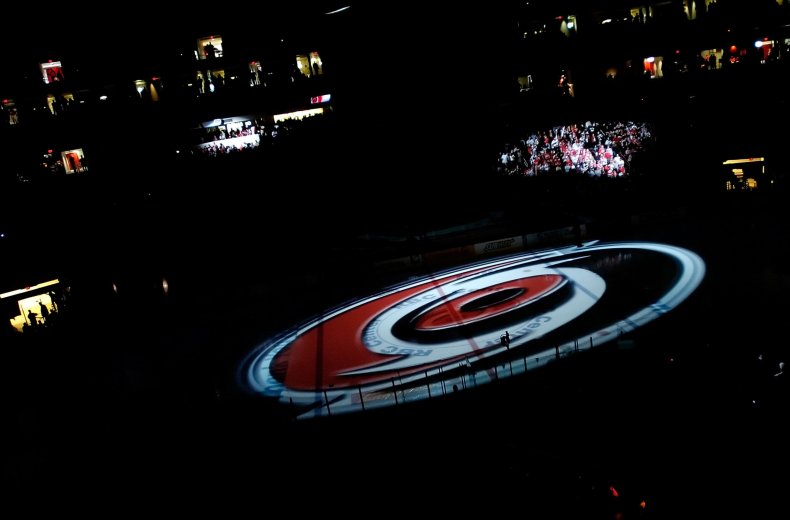 The Hurricanes got their name in 1997, shortly after moving from Hartford, Connecticut, where they were the Whalers. The new owner picked it out.
"Hurricanes Bertha and Fran hit North Carolina in 1996, and the powerful storms were fresh on everyone's mind when owner Peter Karmanos, Jr. chose the new nickname of Hurricanes prior to their debut in 1997-98," reads a 2016 NHL.com article.
So... why? What would make someone name their team after a natural disaster?
"It's a force of nature … it's powerful, you're equating the team's power with that kind of natural strength and not the disastrous aspect of it," sports marketing expert Bob Dorfman told Newsweek.
Dorfman, creative director at Baker Street Advertising, added that there's also the regional-nature of natural disasters—it's something we, specifically, go through.
"That's the rationale behind picking those names, but now hurricanes are all over the place these days," he said. "[The name is] becoming more and more of a negative thing."
In essence, there's typically a cognitive dissonance with a team being named after a disaster until the disaster strikes. But that's not say there hasn't been pushback in the past.
There was a minor brouhaha when the Avalanche chose their name—avalanches kill people, afterall—but a marketing consultant involved in the naming process reportedly dismissed concerns by saying: "Hey, Cougars and Bears kill people, too. People shouldn't get so excited about Avalanche being a disrespectful name or something. It's just a name."
Lots of teams are, of course, named after animals—for most pro sports leagues it feels like animal names are at capacity. It almost necessitates something else. And how sports teams get their names is interesting. University of North Carolina history professor Matt Andrews has researched sports history in American culture and described different periods of sorts in team names. Before the turn of the century, he said, teams were often given their monikers by journalists looking for interesting ways to reference the franchise. The Cincinnati Reds, for example, wore red-stockings and the Pittsburgh Pirates stole players from another team.
Nowadays team names are mostly an exercise in branding: The New York Red Bulls, for instance, are a soccer-playing energy drink ad. But at some point, natural disaster names became a thing.
"I can't think of any names like this until the '70s or '80s, [before] it was animals like tigers and bears," Andrews said.
What follows is not a notable exception but it's interesting... so: In 1913, there was, for a single year, a minor league baseball team called the Zanesville Flood Sufferers.
But, funnily enough, the Flood Sufferers do hint at another element of a team being named for a natural disaster. It's tough to bore out with hard evidence but there is an odd regional pride for the specific hardships suffered in that area. Think of West Coast natives telling East Coasters they don't truly understand earthquakes. Or Midwesterners describing what a real tornado looks like. Or ask any person from the Northeast about the greatest snowstorm of their life.
As powerful storms like Florence continue to hit—where people potentially lose houses and have their lives altered—might there come a time when we re-examine natural disaster monikers?
"[A team name] isn't something you usually tie-in to a specific hurricane disaster," Dorfman said, but added, "As more and more of these destructive hurricanes happen, more people are going to start thinking of these team names in those terms."