Nevada is Trying to Abolish the Death Penalty—Democrats Stand In the Way
When Monique Normand's elderly uncle, Willie Normand, was murdered in 2017, the death penalty wasn't something that occurred to her.
"My family was completely devastated," Normand, 39, told Newsweek. "I remember my dad calling a couple of days later, after they found the woman who murdered him... one of the things he shared was, 'I don't want to see the death penalty.'
"I wasn't even thinking about that. And I sat with that and I was like, 'Yeah, he's right.' It just made me anxious even thinking about it."
She added: "We felt it would be more traumatizing to then put this person to death."
Normand said she later discovered that Shaunice McKinley, the young woman who fatally stabbed her 80-year-old uncle and stole his car, had endured trauma throughout her life as well.
"Not that that justifies anything that she did," Normand said, "but for me, it was helpful to understand."
Normand was studying mass incarceration at the time, and is now a therapist and activist who serves on the board of the Nevada Coalition Against the Death Penalty.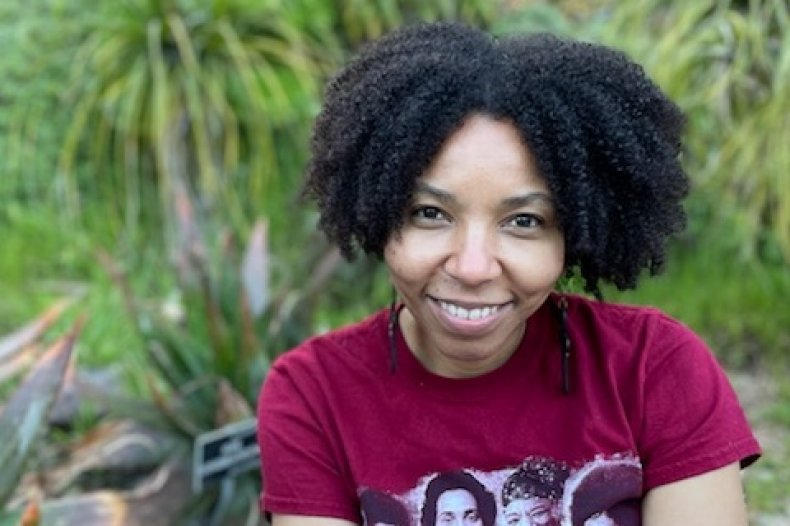 Her hopes for an end to capital punishment in the state were buoyed after the Nevada Assembly recently voted to advance a bill to repeal the death penalty. Every Democratic member of the chamber approved the bill, sending it to the state Senate, where Democrats also hold a majority.
Similar bills have been introduced several times over the past 20 years, but had never passed a policy committee before.
In its current form, Assembly Bill 395 would commute the sentences of inmates on death row to life imprisonment without the possibility of parole, and bar future death sentences.
'An uphill battle'
"We're going to do everything in our power to ensure that we get it through the Senate as well," Holly Welborn, the policy director of the American Civil Liberties Union of Nevada, told Newsweek.
But according to non-profit news website The Appeal, two Democratic state senators who work as prosecutors when the legislature is not in session are stalling the effort.
AB 395 needs to pass the Senate Judiciary Committee, which has yet to hold a hearing or vote on the bill, by next week, before the entire legislative session winds down at the end of this month.
Nicole Cannizzaro, the Senate majority leader, has reportedly not committed to giving the bill a hearing. Both Cannizzaro and Melanie Scheible, who chairs the Judiciary Committee, have day jobs at the Clark County District Attorney's Office.
Cannizzaro and Scheible have been contacted for comment.
Even if the bill passes the Democrat-controlled state Senate, Nevada's Gov. Steve Sisolak, also a Democrat, has suggested that he may not sign it into law. At a news conference last month, he said he "has a hard time with the idea of a complete abolishment of the death penalty."
Sisolak's office has been contacted for additional comment.
"It's going to be an uphill battle," Welborn told Newsweek. "We're very aware of the challenges ahead of us, but we do have a broad coalition that's ready to face those challenges and insist that we push this through this year."
There are 70 inmates on Nevada's death row, according to the Death Penalty Information Center, but the state has not executed anyone since 2006, partly due to difficulties in procuring lethal injection drugs.
But time is running out for some. The Associated Press reported that prosecutors have proposed Zane Michael Floyd, a mass murderer, be executed in late July.
Still, Normand says she is "feeling positive" that Nevada will soon follow in the footsteps of Virginia in abolishing the death penalty. "I definitely think this is the year, this is the year for change," she said.
'Rife with racial bias'
She believes the push in Nevada has been accelerated by the racial justice protests that took place across the nation following the murder of George Floyd, a 46-year-old Black man killed by a white police officer, in Minneapolis almost a year ago.
Many Americans were "just not seeing the discrimination, the racial bias that has been taking place in this country for years," Normand, who is Black, said.
"There's been lots of people that have been saying that for years, but it took this horrific thing to happen for people to see how biased our systems are, especially when it comes to mass incarceration and especially when it comes to policing."
The application of the death penalty in Nevada is "rife with racial bias," Welborn explained. Around 40 percent of those on Nevada's death row are Black, she said, though Black people account for about nine percent of the state's population.
"When district attorneys pursue the death penalty, they do so in a racially biased manner," she said, adding that three innocent people in Nevada have been released from death row.
"We can trace the origins of the modern death penalty to slavery, and to the Restoration era, and to the lynching of Black Americans," Welborn added.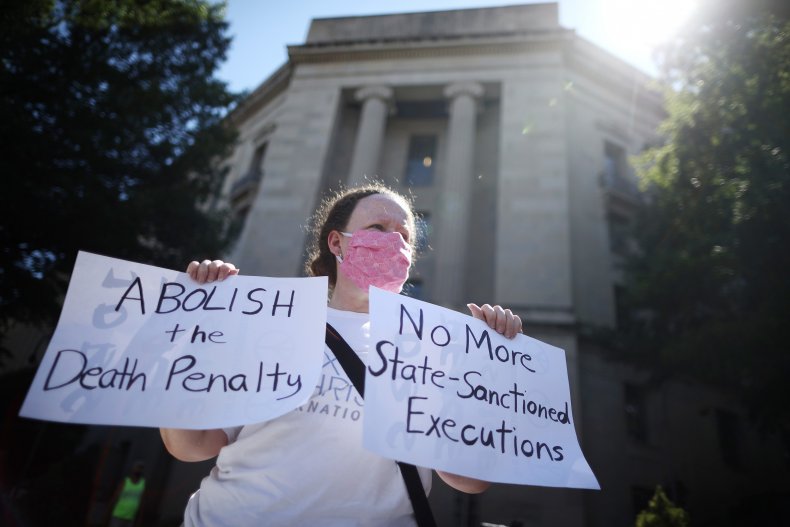 "If we're really fighting toward racial justice, we cannot move toward that goal while having the death penalty available to prosecutors. It's well past time to put this behind us."
Cassandra Stubbs, the director of the ACLU Capital Punishment Project, told Newsweek that the situation in Nevada is playing out amid a national movement towards the end of capital punishment in the U.S.
"Now, for the first time in this country, we have a majority of states that prohibit executions," Stubbs said.
"Not coincidentally, this comes at a time when public support for the death penalty is just continuing to crater," she added, citing a 2019 Gallup poll that saw a majority of Americans say life imprisonment without parole was a better punishment for murder than the death penalty.
"I think there's no question that Nevada is part of this national rejection of capital punishment," Stubbs said. "There hasn't been execution west of Texas in the last five years. The majority of states in the West are both not executing anyone and seriously considering repeal legislation."
Stubbs added that the spree of federal executions during the last months of Donald Trump's administration, amid the raging coronavirus pandemic, led to increased support for abolition.
"The Federal executions were a barbaric spree that crystallized for many so many of the problems that we see with the death penalty," she said.
"We saw that the application of the federal death penalty is just so fundamentally unfair and broken. People with serious mental illness who were incompetent to be executed were executed without fair process. We saw the racial bias and racism of the federal death penalty on full display."
The graphic below, provided by Statista, shows which U.S. states have the death penalty in 2021.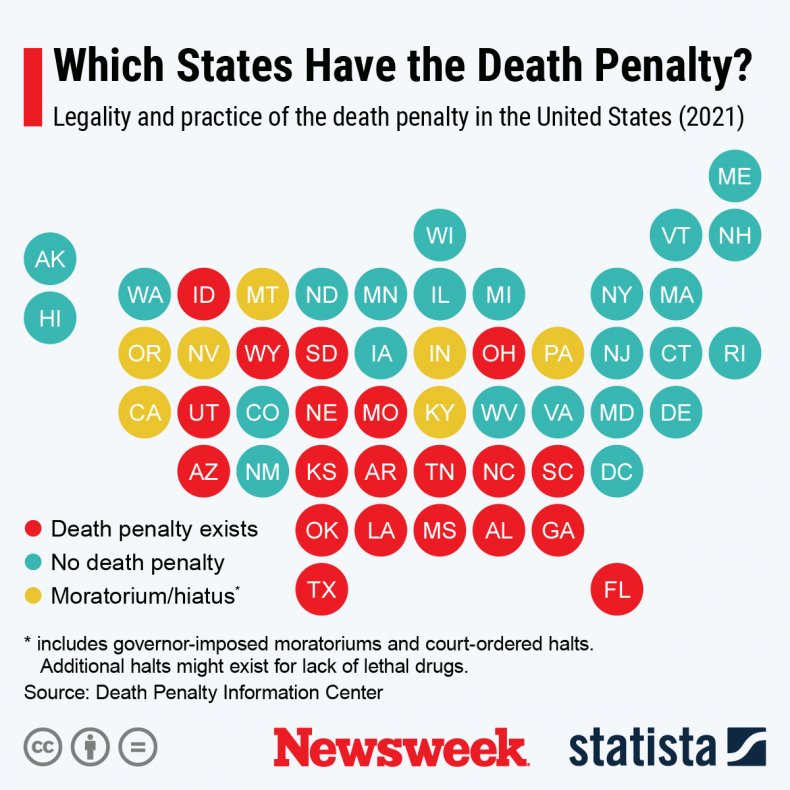 Update 5/11 7 a.m. ET: This article was updated to include a graphic.