At a time when many Americans were desperate for financial relief, the U.S. government spent millions of taxpayer dollars putting federal inmates to death amid the coronavirus pandemic.
The Trump administration resumed federal executions last summer, despite criticism over the risks posed by the pandemic. 11 inmates have been put to death since federal execution resumed.
Five of them were executed in July and August alone—Daniel Lewis Lee, Wesley Purkey, Dustin Honken, Lezmond Mitchell and Keith Nelson.
The estimated cost of executing those five men was more than $4.61 million, according to details of expenditures provided by the Bureau of Prisons (BOP) in response to a Freedom of Information Act request by the American Civil Liberties Union (ACLU) and obtained by Newsweek.
The amount does not include costs that were redacted by the BOP.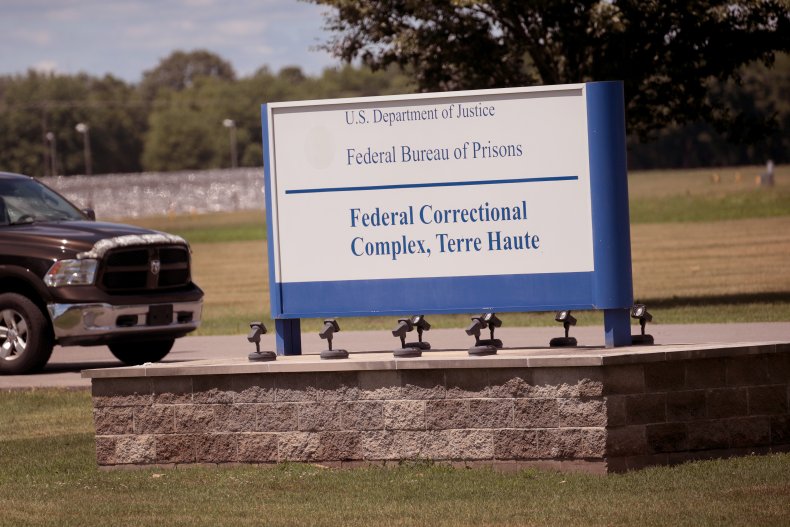 The BOP has estimated that each execution draws between 50 and 125 people to the prison complex, including a 40-person execution team.
And because executions also draw prison staff away from other duties, the prison is placed under modified lockdown and pre-packaged meals are served.
Rick Winter, an attorney for the BOP, detailed in a declaration that about 200 employees are "pulled away from their normal duties" to provide support during executions at the Terre Haute prison. As a result, alternative meals must be prepared for around 2,600 inmates around the time of the executions "at a greatly increased cost to the BOP."
He also said the BOP intended to arrange and pay for the travel and accommodation of the execution team, a number of BOP administrators, as well as family members of victims.
Lee, Purkey and Honken were put to death in the same week in July. According to the data proved by the BOP, $79,508 was spent on hotel rooms and a further $2,361 on flights for those executions.
Around $21,168 was spent on box meals while transport costs amounted to $11,010. The BOP also purchased coolers and shade tents for $1,839.
In August, Mitchell and Nelson were executed days apart. A breakdown of the cost reveals $28,372 was spent on hotel rooms, as well as $6,594 on bottled water and more than $30,000 on meals.
Another $6,480 was spent on "chips for lockdown meals."
The BOP also spent almost $4,000 on snacks and refreshments from Sam's Club for staff, visitors and outside law enforcement.
But the single largest expense was more than $3 million to institutions for the BOP execution team.
Cassandra Stubbs, the director of the ACLU's Capital Punishment Project, told Newsweek that it isn't clear if those payments were to individuals or facilities.
She also said the data provided so far is believed to be an underestimate—and she is confident the true cost of the executions is far higher.
She added that it was also difficult to put the amount spent into perspective because federal executions had not taken place for almost two decades when the Trump administration started them up again last year. "We don't have information about costs during a time that's not a pandemic," she added.
"Certainly some of these expenses are COVID-related," she said, citing hand-washing stations that were set up, "but there's no baseline because we haven't had a recent federal execution."
Federal executions cost far more than state executions due to the need to bring reporters, lawyers, family members and witnesses to the federal penitentiary in Terre Haute, Indiana, Robert Dunham, the executive director of the Death Penalty Information Center told Newsweek.
"But here, the costs may be further inflated by the no-bid secret contract with private executioners and the huge execution teams the Bureau of Prisons have imported from out-of-state federal facilities to participate in the executions," he said.
Dunham agreed that the numbers are thought to "significantly understate" the true cost of executions.
"Those include the medical and social costs from spreading the pandemic throughout the Terre Haute community, the prison facility, and beyond," he said. "They also include the added cost of piecemeal litigation and appeal of a number of legal issues related to the adoption of the federal execution protocol."
Stubbs described the executions as a "gross misplacement" of resources at a critical time. "It's just morally repugnant that the federal government has spread the threat of serious illness and death in the name of trying to carry out and rush through executions," she said.
"There was no need to restart executions and certainly no need to carry out so many executions during a pandemic when each execution brings together and poses an enormous risk to so many circles of people.
"At the same time, it shows a gross misplacement of resources at a time when there are staffing shortages, crises and lack of personnel because so many BOP staff are becoming sick, that they're going to double down and pull desperately needed staff to carry out executions and potentially make more individuals sick and unable to go to work—and to do it all on the taxpayer dime."
Dunham added: "It is astonishing that the federal government has spent so much money to carry out executions in the pandemic, and at the same time failed to take necessary precautions against spreading the virus. It is yet another example of backwards priorities."
Lisa Montgomery became the first woman executed by the federal government in almost 70 years early Wednesday.
Two other federal executions are scheduled for this week, despite a coronavirus outbreak at the Terre Haute prison and just days before President-elect Joe Biden, a death penalty opponent, is inaugurated on January 20.
A federal judge had halted the executions of Dustin Higgs and Cory Jonhson because both are recovering from COVID-19, but the stays were vacated by the U.S. Court of Appeals for the District of Columbia Circuit on Wednesday night.
The BOP and the DOJ did not respond to requests for comment.