The estranged wife of Dr. Dre, Nicole Young is seeking a $2 million monthly repayment as part of their divorce proceedings.
Young filed for divorce from the rapper and producer in July of this year after nearly two and a half decades of marriage.
New court documents, according to Page Six, now show that Young is seeking nearly $2 million per month in spousal support as part of the monumental divorce battle.
Why such a large sum? Young's attorneys claim that Dre, whose real name is Andre Romelle Young, should pay $1,936,399 in monthly support because she having trouble paying her bills as her husband controls all of their assets. He is also said to have stopped her Am Ex charges.
The court papers also allege that the producer kicked Young out of their 43,000-square-foot mansion in Brentwood in April. They claim that the incident occurred "in the middle of the night" and "in a drunken rage."
Young has been living in their Malibu beach home, but Dre has allegedly threatened to sell it, and texted Young: "Do not spend one more cent... You can't be mean and disrespectful and spend my hard-earned money. F*** that!"
It was previously reported that the former couple's prenup agreement may mean Young won't be entitled to half of her husband's $800 million fortune.
The new documents reference the prenup agreement, that Young was alleged to have been asked to sign under duress on their wedding day.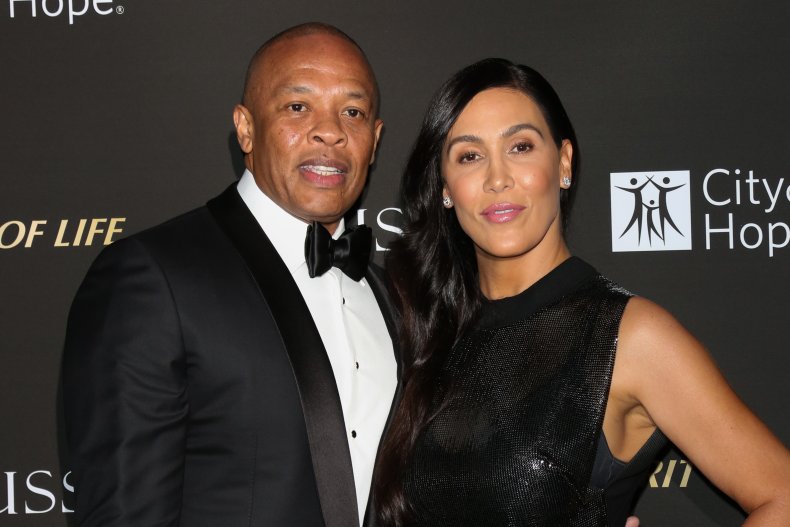 Young states she is entitled to the $2 million a month payment because she claims she "played an important role" in her husband's career and "was integral" to naming his hit record label Aftermath.
Among their assets are their five Los Angeles homes, several luxuries cars, a private jet and numerous staff including 12 security guards, seven housekeepers and a private chef.
Dre's initial response to the divorce filing earlier this year was that he agreed to pay Young's spousal support but he says any distribution of property should be governed by their prenuptial agreement.
Before he and Young got married in 1996, Dre's fortune climbed due to him finding fame in rap group N.W.A. before releasing his solo debut studio album The Chronic in 1992 under Death Row Records, which he co-owned before founding his own label.
Dre lists the date of separation as March 27, 2020. The couple share two children together: son Truice, 23, and 19-year-old daughter Truly.
He is also dad to four kids—daughters Tyra Young and La Tanya Danielle Young as well as sons Marcel and Curtis—from previous relationships. His son Andre Young Jr. died at age 20 in 2008.