North Korea's foreign minister Ri Yong Ho is visiting Sweden for high-level talks with his counterpart Margot Wallström, spurring speculation over the Scandinavian country's role in arranging proposed talks between the U.S. and Kim Jong Un's regime.
The diplomat departed Pyongyang on Thursday, flying to Stockholm via Beijing. He had dinner with Wallström upon his arrival before heading to the North Korean Embassy, but talks continued on Friday, The Associated Press reported.
The North Korean minister was due to return home on Saturday, but prolonged his stay until Sunday, according to Swedish broadcaster SVT.
According to the channel's foreign policy analyst Erika Bjerström, the meeting between Ri and Wallström meeting had been scheduled for months, but the agenda changed to accommodate recent diplomatic developments involving proposed talks between the North and South Korean leaders in late April and between Kim and President Donald Trump by the end of May.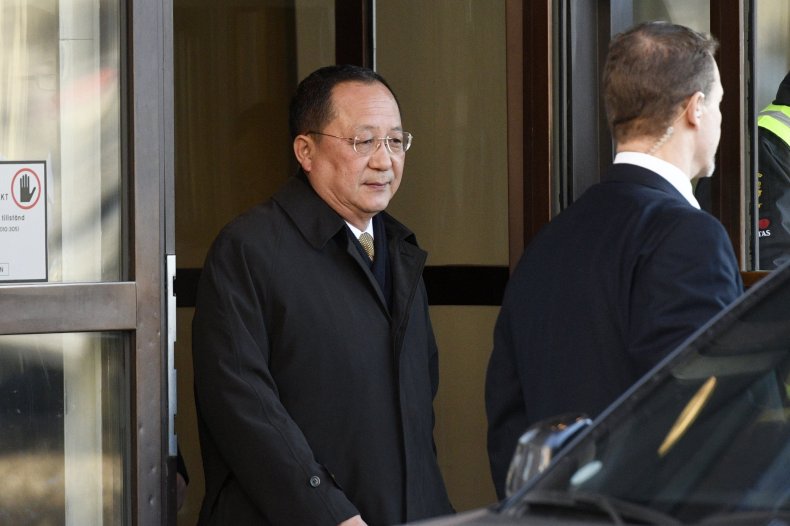 During a joint press conference at the White House on March 6, Swedish Prime Minister Stefan Löfven offered his country's help in facilitating talks between the U.S. and North Korea, highlighting his country's 45-year diplomatic presence in Pyongyang.
"We can be a channel or do whatever we can to see that the dialogue is smooth," he said, adding that "with that relation with North Korea, I believe that they trust us, We are a non-aligning country, and—on military, non-aligning country."
A Swedish government statement on this week's meeting did not provide a detailed agenda. "The talks will focus on Sweden's consular responsibilities as a protecting power for the United States, Canada and Australia. They will also address the security situation on the Korean Peninsula," it read, highlighting the country's position as a non-permanent member of the U.N. Security Council in 2017-18.
In a short and vague statement reporting on Ri's trip on Thursday, North Korea's state-controlled news agency KCNA wrote the purpose of the visit was "to exchange views on the bilateral relations and issues of mutual concern." The North Korean media have yet to publish any reference to the possible U.S.-North Korea summit.
After a parliamentary session on Friday, Wallström highlighted the importance of talks related to security in the Korean peninsula, but said her country had a realistic expectation of the role it can play. "We are not naive in believing we can solve the world's problems. It is up to the parties to decide which way we are going," the Swedish minister said, according to the Associated Press.