Why Post-Fascist Parties Are Gaining Power in Europe
Italian voters go to the polls on Sunday with a right-wing coalition dominated by the Brothers of Italy party, which can trace its origins to a post-World War II neofascist movement, widely expected to win.
Following the 2022 success of the Swedish Democrats (SDs) and Marine Le Pen's National Rally, this is sparking fears that parties with neofascist origins, even if they now reject the label, are becoming embedded within European politics.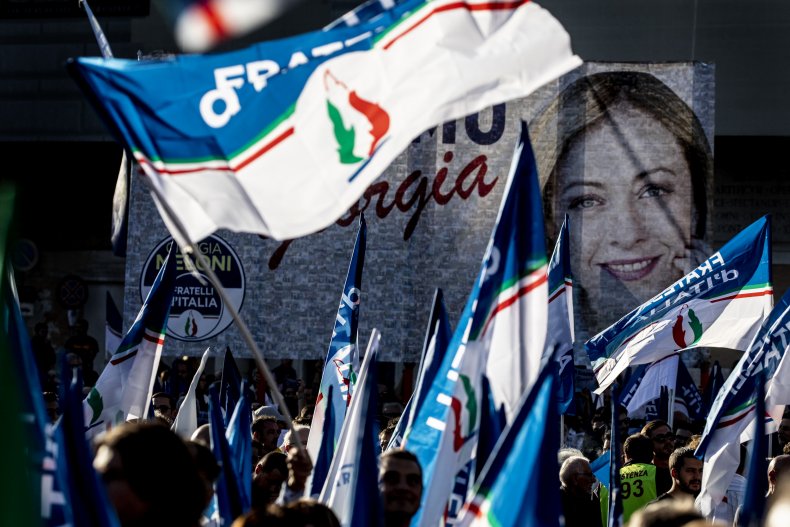 The Brothers of Italy are led by 45-year-old Giorgia Meloni, who is on track to become both Italy's first female prime minister and its most right-wing since World War II.
Its origins can be traced to the Italian Social Movement (ISM), which was founded by a group of Benito Mussolini's supporters in December 1946.
The ISM merged with a more mainstream right-wing party in 1995, repudiating overt fascism to form the National Alliance. This was rolled into Silvio Berlusconi's The People of Freedom party in 2009, before a 2012 breakaway including Meloni formed the Brothers of Italy.
Meloni has pledged to defend "God, country and family," calling for a "naval blockade" to prevent illegal migrants reaching Italy. As a youth she called Mussolini a "good politician, the best in the last 50 years," though she has since disowned this stance.
The Brothers of Italy strongly denies that it is fascist, though it maintains the ISM's tricolor flame as its logo and had to suspend a candidate who compared Meloni favorably to Hitler.
Over the past four years, the Brothers of Italy party has seen an explosion in popularity, going from just 4 percent of the vote in 2018 to polling at 24 percent early in September.
The party has been assisted greatly by the collapse in support for two other radical parties, the anti-establishment Five Star Movement and Matteo Salvini's hard-right Lega, following spells in government.
Meloni has gained support by pledging to tackle migrant crossings of the Mediterranean, which saw nearly 60,000 arrive in Italy between January and November 2021.
Meloni is also benefiting from Italy's worsening economic situation, with growth forecast to shrink sharply in 2023 after Putin's invasion of Ukraine caused energy prices to soar.
Notably, however, the Brothers of Italy do not support leaving the Euro or EU, back NATO and are in favor of arming Ukraine to fight Russian aggression. These more mainstream policies have helped detoxify the party for traditional conservatives.
Speaking to the U.K. newspaper The Guardian, Petros Fassoulas, secretary-general of European Movement International, said the party had learned from Brexit: "Meloni, just like other far-right populist leaders, has learned from the example of the U.K. and the chaos that leaving the EU has caused.
"Their intention isn't so much to attack the EU; their intention is to take over from within and transform it into something closer to their ideas – a nightmare for all of us here in Brussels."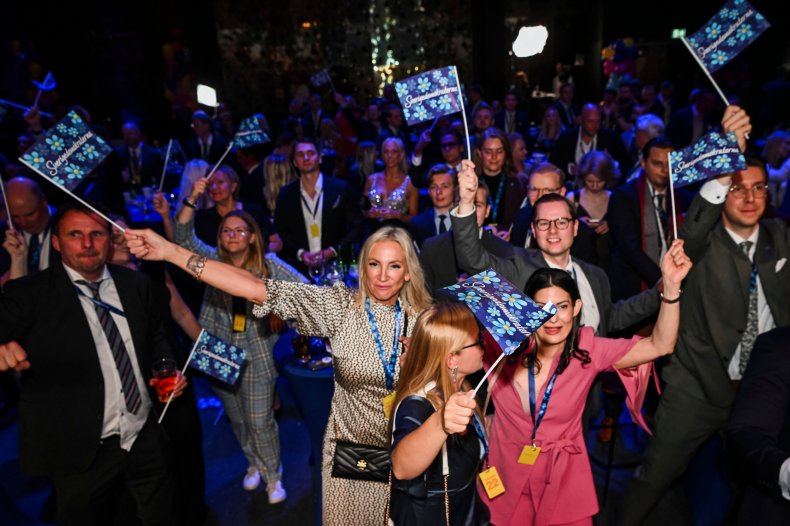 Earlier in September, the hard-right SDs came second in Sweden's parliamentary elections, taking 20.5 percent to the Social Democrats 30 percent. As the overall right-wing bloc was bigger, this could see the SDs enter government, if they can agree a deal with the Moderate Party and other factions.
The SDs were founded in 1988, with a number of its early lead figures coming directly from the far-right. Gustaf Ekström, the party's first auditor, was a Waffen-SS member during World War II, while Anders Klarström, the SDs' first chairman, had been a member of the neo-Nazi Nordic Realm Party.
However, like the Brothers of Italy, the SDs worked to rehabilitate their image, while benefiting from growing public concern about immigration, Islamist fundamentalism and surging fuel prices after the Russian invasion of Ukraine.
The party has also benefited from a surge in violent gang crime, which it links to immigration and failed integration efforts. In 2022, up to the election, Sweden recorded 273 shootings that killed 47 and injured another 74, some of whom were random bystanders.
The country has also been hit by a wave of crime related explosions, many caused by hand grenades, with 100 attacks reported in 2019 alone.
Speaking to London's Financial Times newspaper, Mattias Karlsson, the SDs ex-leader and chief ideologue, said: "We have accepted more immigrants than we could integrate and in its place, an American-inspired gangster culture has taken root."
After the election results were announced, SD leader Jimmie Åkesson wrote: "We have had enough of failed social-democratic policies that for eight years, have continued to lead the country in the wrong direction. It is time to start rebuilding security, welfare and cohesion. It is time to put Sweden first."
In June, Marine Le Pen's hard-right National Rally saw an explosion in support during French parliamentary elections, from 7 seats to 89 in the National Assembly.
The party, then called the Front National, had been run by Marine's father, Jean-Marie Le Pen, who was convicted of Holocaust denial after calling the gas chambers a "detail" of World War II.
Marine Le Pen sought to moderate the party after taking over in 2011, expelling her father in 2015. She also toned down her party's Euroscepticism after Britain's 2016 Brexit vote, ending a plan to take France out of the euro.
In April, Le Pen secured her party's best-ever result, losing the presidential election to Emmanuel Macron by 58 percent to 42 percent.