Why Pregnancy Is Not an April Fools' Joke
April Fools' Day is today, which means it's likely that you may likely come across pregnancy pranks on social media. Announcing a fake pregnancy has long been a go-to joke on April Fools' Day, but in recent years, people have been raising awareness about just why that joke isn't funny.
Fake pregnancy announcements occur year-round. The #pregnancyprank hashtag on TikTok has 83.8 million views, with many of the top videos involving women telling their boyfriends or husbands that they are pregnant when they are not.
However, pregnancy pranks are particularly popular on April Fools' Day.
For example, on April Fools' Day in 2019, Justin Bieber came under fire for posting a sonogram on Instagram, followed by photos of his wife Hailey Bieber holding her belly while being examined by doctors.
Bieber later came clean and said: "There's always gonna be people offended, there's also people who don't take jokes very well, I am a prankster and it was APRIL FOOLS.
"I didn't at all mean to be insensitive to people who can't have children. A lot of people I know, their first go-to prank on April fools is telling their parents they are pregnant to get a big reaction."
Bieber's prank was criticized for being insensitive to those who cannot get pregnant as well as those who have suffered miscarriages.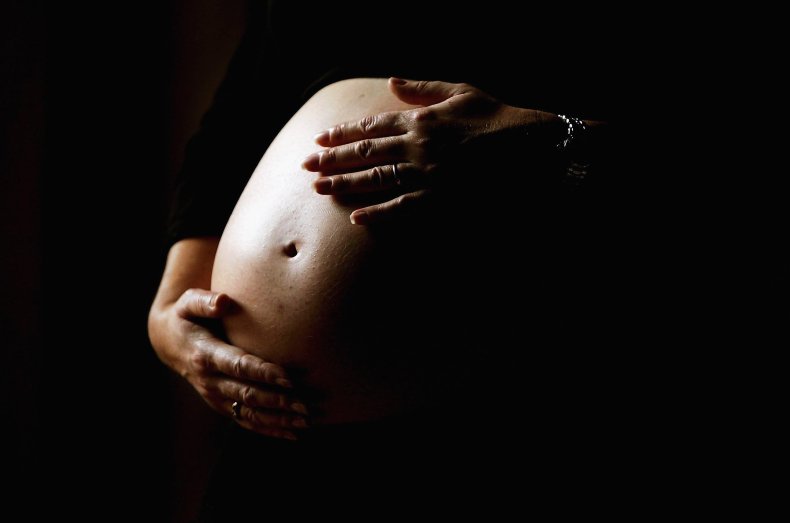 The Centers for Disease Control and Prevention (CDC) says that around 6 percent of married women aged 15 to 44 years old in the U.S. are unable to get pregnant after trying for one year, while around 12 percent of women have difficulty getting pregnant or carrying a pregnancy to term, regardless of their marital status.
Infertility also affects men, as the CDC says that in around 35 percent of couples with infertility issues, a male factor is identified along with a female factor, and around a male factor is the only identifiable cause in around 8 percent of cases.
Additionally, nearly nine percent of men aged 25 to 44 in the U.S. reported that they or their partner had seen a doctor for issues related to infertility.
American Adoptions discusses the impact these pregnancy pranks or jokes can have on people who are trying to get pregnant, saying: "Try for a moment, if you can, to put yourself in the shoes of someone who is trying to get pregnant and can't.
"Then imagine seeing someone else use pregnancy as a gag, a prank, a joke. Imagine the pain, and even shame, that could bring up."
American Adoptions also asks people to consider the impact fake pregnancy pranks can have on women who have experienced miscarriages, saying: "The grief caused by a miscarriage is often heavy and long-lasting. The weight of unfulfilled hopes and dreams crashes hard on hopeful parents.
"Women in your social circles could have experienced a miscarriage you don't know about days, weeks, or months ago. It's a pain that lingers, and seeing a 'Gotcha!' fake pregnancy post drags that pain up for many women."
In 2018, Endometriosis News wrote about the impact of pregnancy pranks and said: "Just stop for a moment and think of the emotional impact your 'joke' could have on those around you.
"Those who face infertility, pregnancy, or baby loss don't have big stickers on their foreheads or flashing signs pointing toward them. Much like chronic illness, these situations are invisible."
Women have been speaking out on social media in recent days asking people to not joke about being pregnant on April Fools' Day.
Television personality Malin Andersson said: "April fools is approaching so please don't lie about being pregnant please."
Writer Gillian Brockell said: "Reminder: April Fools' jokes about being pregnant are not funny. They are hurtful to the many women you know who are secretly struggling with infertility and recurrent miscarriage.
"(To be clear, this has not been my struggle, but I listen to friends for whom this is true.)"
News anchor Stacey Skrysak said: "As a woman who faced infertility and child loss, please think twice before posting a joke this April Fools' Day. Many couples face infertility or pregnancy/infant loss.
"There are lots of ways to get a laugh, but pretending to be pregnant on April Fools' Day is not one of them."
American Adoptions also gives advice for those who see pregnancy jokes on April Fools' Day and says: "You can do something to advocate for women experiencing infertility.
"If you see someone post a fake pregnancy announcement, you can gently and kindly ask them to consider how it may affect people who have experienced difficulties getting pregnant or miscarriages."