South Korea Welcomed Trump With 'We Go Together'—But Not Because Leader Moon Jae-In Is a 'Grease' Fan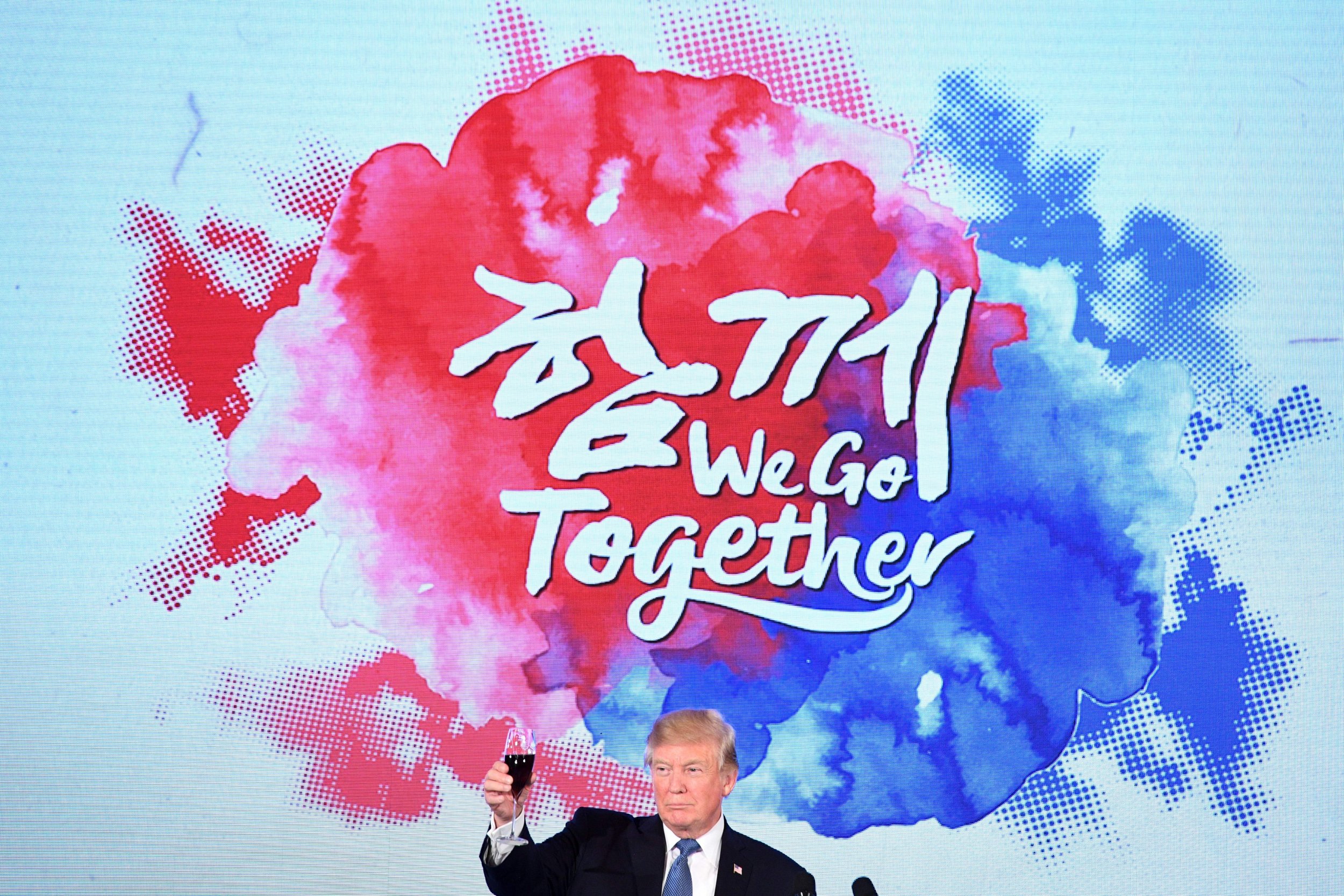 President Donald Trump was the first U.S. leader in 25 years to be honored with a state visit in South Korea, the highest a country can pay to a foreign dignitary, and South Korean President Moon Jae-In made sure the occasion would be a memorable one.
South Korean protocol limits state visits to only one foreign leader per presidential five-year term and Moon, who was only elected in May, arranged for the special event to be heavily-imbued with meaning.
At a lavish state dinner, Trump was given traditional Korean stone bowls—a symbolic gift awarded to those who have accomplished remarkable achievements—brass spoons and chopsticks engraved with the date of the visit and the phrase "We go together," South Korea's news agency Yonhap reported.
Americans may remember "We go together" as the title of the catchy song ending the classic movie Grease, but in South Korea it has a much deeper meaning. Known as "Katchi Kapshida" in Korean, the slogan honors the six decade-long military alliance between the U.S. forces and the South Korean army.
The phrase featured in both Korean and English on a large screen that was used to show a slideshow of pictures of Trump and Moon together (the two leaders have met four times so far this year) during the dinner, which was attended by around 120 guests and featured traditional Korean dishes chosen with Trump's culinary preferences in mind.
"We have taken into consideration the preferences of the leaders while trying to provide a traditional Korean taste," South Korea's presidential official said, quoted in the Korean Herald. According to the Korean publication, the menu included Korean beef ribs marinated in a special soy sauce and stir-fried glass noodles with prawns caught near the Dokdo islands, which South Korea disputes with Japan.
At the dinner, Moon also honored Trump in a toast commemorating the one-year anniversary of his election victory on November 8. The orchestra even played "My Way," the song to which the president and the first lady danced at the Liberty Ball on inauguration day in January.
Trump thanked his hosts in his own toast, wishing for "freedom to flourish on this peninsula," CNN reported. The president will have one more opportunity to lay out his strategy to contain the North Korean threat before departing towards China, the third leg of his five-country trip to Asia, as he is due to address the South Korean parliament on Wednesday—the first U.S. leader to do so since Bill Clinton.