Why Starbucks' Pumpkin Spice Tastes Different This Year: Barista Explains
On August 30, Starbucks officially ushered coffee lovers into the fall season with the return of its pumpkin spice latte; however, the return has left some customers feeling disappointed, as they believe the iconic drink tastes different this year than in years past.
Posting to TikTok on Thursday, a purported Starbucks barista named Maria confirmed that the drink does, in fact, taste different this year because the company "changed" its pumpkin spice recipe. The video has amassed over 860,000 views and more than 1,400 comments.
The PSL's Popularity
Though it's only offered seasonally, the pumpkin spice latte is one of Starbucks' most popular drinks, said CNBC. The chain has reportedly sold more than 600 million pumpkin spice lattes since the drink's debut in 2003 and continues to sell more than 20 million per year. But why is it so beloved? Madelyn Fernstrom, NBC News Health and Nutrition Editor, believes there are several reasons as to why that is.
Speaking to Today in 2016, Fernstrom said the combination of the drink's fat and sugar are a big "draw" to consumers. Further, the drink's spices—cinnamon, nutmeg and cloves—are "a real treat to the taste buds" and are often associated with happy memories.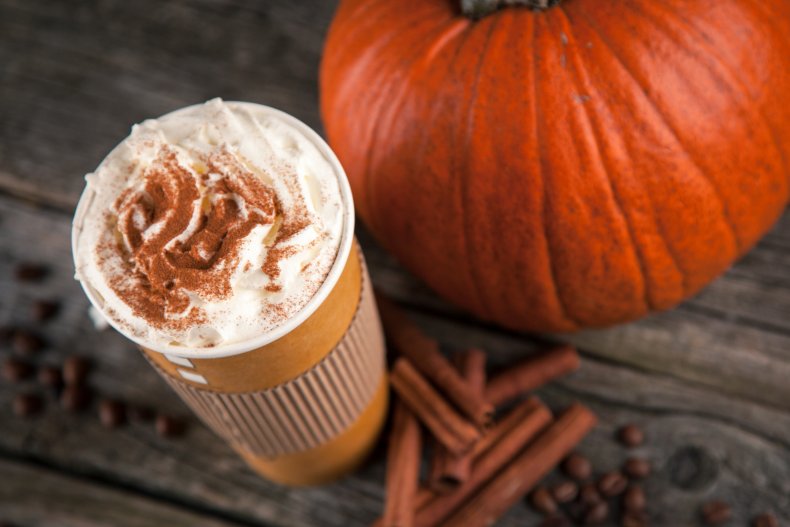 "The spices you associate with fall—nutmeg, cinnamon and cloves—help bring all those happy thoughts and memories to mind," she said.
And last but not least, the drink contains caffeine—the "most commonly used mood-altering drug in the world," she concluded.
Unfortunately, some customers aren't enjoying the pumpkin spice latte as much as they used to, and Maria says this is because the recipe has changed.
Major Changes
"So if you didn't know, I'm a Starbucks barista and [Starbucks] changed the pumpkin spice latte," Maria said at the beginning of her video.
According to her, the company's pumpkin spice drinks taste different for two reasons—the syrup now contains "real pumpkin ingredient" and the syrup bottles' pumps have changed.
"Apparently it's not the same, like, full pumps, so you're getting technically less [syrup]," Maria said. "And since they changed the recipe, it's going to taste different regardless."
As several viewers pointed out, however, Starbucks added real pumpkin to its recipe back in 2015. At that time, the company also removed the added "caramel coloring" and other artificial flavors, USA Today reported.
In response to the correction, Maria commented: "[So] they took out artificial [ingredients] like a long time ago LOL but the recipe still did change for sure."
Many purported baristas also claimed that their syrup pumps haven't changed, leading Maria to conclude: "A lot of stores do it differently evidently."
Starbucks, meanwhile, says nothing about the recipe has changed. A representative for the company told Newsweek: "Our pumpkin spice latte is the same delicious recipe as previous years."
Viewers React
In any case, many commenters agree that the Pumpkin Spice Latte does taste different. In fact, some think the drink tastes better.
"It's so much better this year," said Alexandra Hachey.
"I had one yesterday and I said, 'Oh I think I like it a lot more than I did,'" Maryec525 wrote.
Bria added: "I'm happy for the change, it used to taste like air freshener."
Others, however, are disappointed with the drink's "new" taste.
"I noticed [the taste difference] yesterday. I was so confused as to why I didn't like it." Kealey Kiser commented.
"I just had one this morning, couldn't even tell it was a PSL," Autumn wrote.
AngelaLuisetti said: "It's so bad this year."
More Viral Posts
In July, a Starbucks barista shared his tip for how customers can actually get light ice when they ask for it on a coffee run.
In June, a Starbucks barista revealed little-known facts about the coffee chain that most customers have no idea about.
And in March, a Starbucks worker revealed one way customers are able to make their job easier while ordering a drink.
09/02/2022, 2:30 p.m. ET: This article has been updated to include a comment from Starbucks.