Why Taylor Lorenz's Libs of TikTok Expose Has Outraged Conservatives
As news that Washington Post columnist Taylor Lorenz was about to publish a piece revealing the identity of the creator of Twitter account Libs of Tik Tok started spreading, outraged conservatives accused the journalist of "doxxing" and harassing the anonymous account holder.
The conservative account Libs of Tik Tok, which mostly shares content attacking liberals as well as school teachers accused of the alleged "grooming" and "indoctrination" of children on LGBT rights, has become a social media sensation in the past two years, achieving a follower base of some 648,000 on Twitter, over 66,000 on Instagram and over 9,000 on YouTube.
The account was also once active on TikTok but was deactivated, the anonymous creator told the New York Post in an interview in February.
In her piece published on Tuesday, Lorenz named the person behind the popular account as Chaya Raichik, who had worked as a real estate agent in Brooklyn in late 2020 when Libs of Tik Tok was first created.
Lorenz's intention to reveal the identity of the then-mysterious account holder on the Washington Post became public knowledge when Florida's governor Ron DeSantis' press secretary Christina Pushaw shared a screenshot of an email allegedly sent by the Washington Post journalist asking her for comment on the story.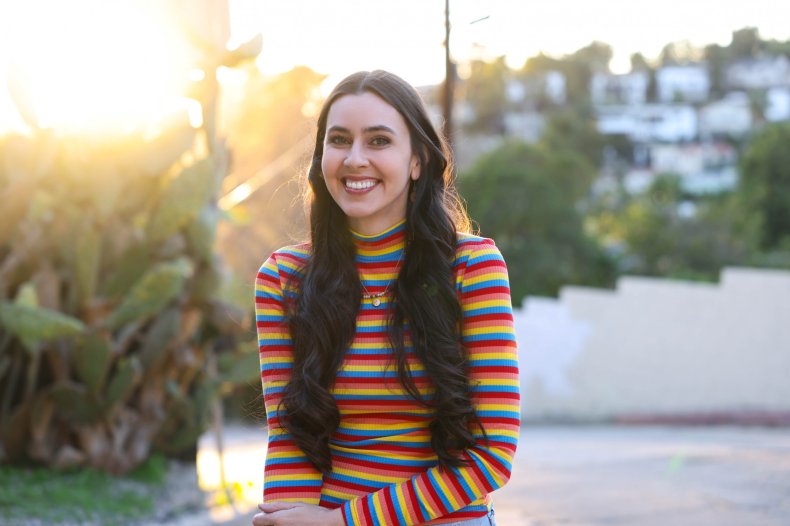 In Pushaw's tweet, Lorenz is allegedly working on a story exposing "the woman" behind Libs of Tik Tok.
Pushaw's comment in response to Lorenz's request is, in her tweet, a clown emoji.
Pushaw's tweet sparked a social media storm among conservatives on the platform, who accused Lorenz of "doxxing" (publishing someone's private information with malignant intent) and harassing the Libs of Tik Tok's creator.
Many accused Lorenz of hypocrisy for allegedly exposing another woman to the same type of online harassment the Washington Post's columnist had complained of receiving in a recent interview with MSNBC.
New York Post writer Emma-Jo Morris wrote: "Taylor Lorenz is a 43-year-old woman who has a byline at one of the most powerful outlets in media—which she uses to dox private people on twitter—and then cries on MSNBC about her self-proclaimed victim status."
Lebanese-American conservative writer Brigitte Gabriel accused Lorenz of "doxing a teenager."
"No one involved in this story is remotely a teenager," responded Lorenz.
"Taylor Lorenz is about to 'expose' the private citizen behind some anonymous account on Twitter, and when people criticize her for it, she and her friends will claim Taylor is the Real Victim™ and anyone criticizing this type of 'journalism' will be guilty of causing her trauma," wrote journalist Glenn Greenwald.
"This has nothing to do with journalism: just politics," the journalist added.
"Journalism isn't about just exposing things for the sake of it. It's about exposing matters in the public interest about *powerful institutions*: CIA/NSA, Wall St, oligarchs, politicians. Using Jeff Bezos' money to expose private citizens for having bad politics is gross," he wrote.
In a long thread, he accuses Lorenz of being "aroused" by exposing "teenagers," "obscure women on the internet" and now "this anonymous Twitter user."
In response to the conservatives' backlash, Lorenz simply responded with her own take on a popular meme.
Lorenz was also accused on social media of showing up at the house of relatives of the Libs of Tik Tok's account holder. However, this information has not been confirmed by Lorenz or the Washington Post and there has been no independent confirmation.
Libs of Tik Tok is one of the most influential accounts in the conservative landscape on social media, and its tweets receive thousands of likes.
Its content regularly misgenders non-binary and transgender people and has called civil right protesters criminals.
Last weekend, it emerged that the person tweeting from the Libs of Tik Tok account said they had attended the January 6 protests at the Capitol in tweets now deleted but recorded on several screenshots.
At the time, the Twitter handle of the account was @shaya_ray.
While conservatives have lashed out at Lorenz, others on social media have sided with The Washington Post journalist.
Replying to Greenwald's Twitter thread, user Jeffrey Sachs wrote: "I'm not sufficiently in the weeds to parse the Taylor Lorenz angle or all the alleged hypocrisies, but the underlying story is definitely legit news. LibsofTikTok is an important account. It makes news. It shapes events and drives policy. Of course it's fair game."
"This person, who has not been "doxxed" or anything like it, btw, is playing victim bc@TaylorLorenz is about to put out a story about them. The story must be pretty damning for them and all conservative media to be so aggressive in getting out ahead of it," wrote another Twitter user.
Libs of Tik Tok posted on Twitter thanking her supporters for standing by her.
"Thankfully I'm currently holed up in a safe location," she wrote. "I'm confident we will get through this and come out even stronger."
In late March, the account launched its own newsletter saying "it's a matter of time before I get suspended."
Newsweek has reached out to Libs of Tik Tok and Taylor Lorenz for comment.
Update 04/19/22, 9:13 a.m. ET: This article was updated with additional information.