Why Is There an Ammunition Shortage in the U.S.?
Firearms sales in the U.S. soared in 2020. Whether the broad spike in purchases was motivated by the new coronavirus pandemic, anti-racism protests, upcoming election or something else is debated, but both vendors and researchers have reported rising demand for the better part of this year.
Additional analyses note ammunition sales rose more significantly than gun sales alone. Ammunition manufacturers are reporting backlogs as a result of elevated demand, and some suggest shortages could last until at least January.
Ammo Incorporated, an ammunition manufacturer based in Scottsdale, Arizona, is one of the most recent vendors to confirm a significant backlog due to heightened demand from consumers. Last week, the company said its backlogged orders amounted to $80.1 million in purchases as of August 31, which set a new record after months of increasing numbers.
"Our record backlog has continued to grow, with booked orders coming in across all channels, including commercial, export, military, and law enforcement," said Fred Wagenhals, the CEO at Ammo Incorporated, in a statement released on September 28.
"In fact, [the Federal Bureau of Investigation's National Instant Criminal Background Check System] data shows federal background checks for purchasing firearms have increased 72% year-over-year and we don't anticipate consumer demand for firearms or ammunition slowing anytime soon," Wagenhals' statement continued. "As a result, our facilities continue to operate at near maximum capacity to meet customer needs and we are continuing to expand our production capabilities."
Other ammunition manufacturers reported similar upticks in purchases over the summer. Jacob Long, a spokesperson for Widener's Reloading and Shooting Supply, told the National Rifle Association's (NRA) news outlet Shooting Illustrated that "inventory [was] extremely tight" in July. At the time, Long said, "it's clear suppliers are struggling to keep up with demand right now."
According to the National Shooting Sports Foundation (NSSF), retailer surveys indicated that U.S. ammunition purchases increased by 139 percent during the first half of 2020 compared to the same time period in 2019.
Survey responses also suggested firearms sales increased by 95 percent during the first half of this year compared to last year. NSSF estimated 5 million people purchased guns for the first time between January and July. The foundation collects ongoing data related to national firearms purchases through the Federal Bureau of Investigation's National Instant Criminal Background Check System (NICS), which is used to determine if an individual is legally able to purchase or own a gun.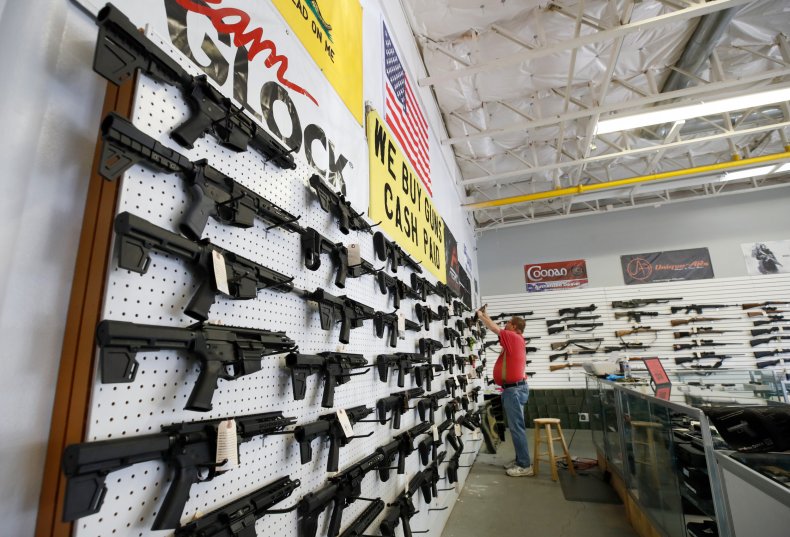 The most recent data regarding firearms background checks, released by the FBI at the end of September, showed 28.8 million background checks were initiated through NICS during the first eight months of 2020. That figure exceeded total background checks initiated through the system during any previous year.
Newsweek reached out to NSSF for comment but did not receive a reply in time for publication.