Why is There a Chick-fil-A Sauce Shortage? Chain Limits Number of Dips Per Customer
Chick-fil-A customers who love their extra sauce will be limited on the number of dips they receive due to an industry wide supply shortage.
The Atlanta, Georgia based fast food chain cautioned its customers on Monday about not being able to receive some of their menu items such as their wide array of dipping sauces, KSL reported. Customers will be rationed only one sauce per entrée, two for each meal and three for an order of 30 chicken nuggets.
"Due to industry-wide supply chain disruptions, some Chick-fil-A restaurants are experiencing a shortage of select items, like sauces. We are actively working to make adjustments to solve this issue quickly and apologize to our Guests for any inconvenience," Chick-Fil-A said in a statement to Newsweek. The company also announced the shortages online.
The fast food chain is working as quickly as possible to solve their lack of available sauces.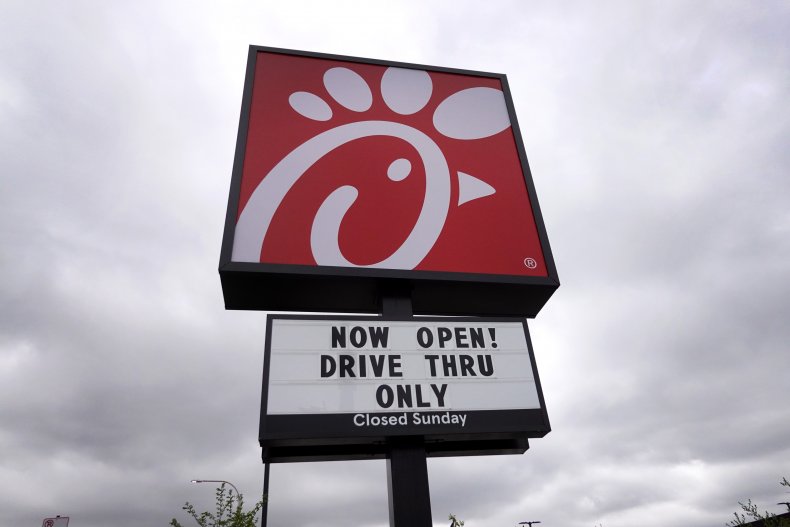 Chick-Fil-A offers condiments in a variety of flavors such as their classic Chick-Fil-a sauce, polynesian sauce, honey mustard sauce, zesty buffalo sauce and more.
The rationing of sauces comes amid a nationwide shortage of poultry as companies like KFC, Wingstop Inc. and Buffalo Wild Wings Inc. are paying higher prices for chicken, the Wall Street Journal reported Thursday. Some restaurants are restricting the amount of tenders, filets and wings sold. Wingstop Chief Executive Charlie Morrison said chicken suppliers are struggling to attract more workers which is contributing to the lack of chicken production.
However, Chick-Fil-A's supply of their famed poultry is still steady.
The news of the sauce shortage at Chick-fil-A has prompted an array of social media reactions and viral memes.
"Me and my wife going to Chick-fil-A to snag as many sauces as we can before the shortage hits," Twitter user Neal Surrena wrote alongside a photo of a man and woman stocking up on gallons of gas as gas stations in the southeast run out of fuel after a recent cyberattack put the nation's biggest fuel pipeline on pause. His tweet received almost 2,000 likes and more than 200 retweets.
"The gas shortage is one thing, but a shortage on CHICK FIL A SAUCES? This is the last straw!," user @misscooperrr tweeted.
Chick-fil-A's founder S. Truett Cathy began the business with his brother Ben in 1946 in Atlanta by opening a diner called The Dwarf Grill, according to the company's website. In 1967, Cathy established the first Chick-Fil-A restaurant at the Greenbriar Shopping Center in Atlanta.
The company prides itself on being "the largest quick-service chicken restaurant chain" in the U.S. based on their annual system wide sales.