"Why Is This Now the Priority?' Parents Baffled as Girls School Removes Gendered Language
The recently adopted changes to its use of gendered language by an elite girls' prep school in Boston has some parents scratching their heads as to why the institution has focused so heavily on the modifications. They're also questioning how the school will continue to market itself as offering education in an all-girls setting.
Winsor School is a private college preparatory day school teaching girls in grades five through 12. It was last fall that the all-girls institution, which costs parents approximately $50,000 a year and is routinely ranked as one of the 50 best private day schools in the United States, released what it called its Diversity, Equity, and Inclusion (DEI) report dubbed "Lift Every Voice."
While administrators described the new document as "an outcome and self-reflection of the school's work in diversity, equity and inclusion" it was also explained as "a touchstone for the Winsor community and a blueprint for the work ahead," according to its website.
Yet, some parents who are only recently catching on to the changes are questioning portions of the more than 55-page report's content that stresses inclusive language and its noted adoption of gendered language and pronouns. They say the degendering of language undermines the very purpose of an all-girls school.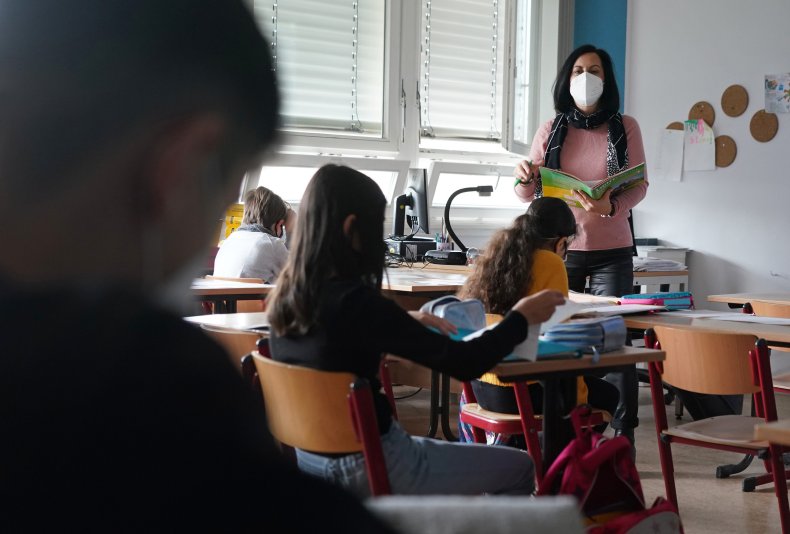 Specifically, faculty and staff are discouraged from addressing groups of students as "girls" and "ladies" and teachers now address students by their preferred pronouns.
Consideration is also taken when it comes to terms describing family structure. For instance, in the case of school admission, interviews are now called the "Adult family member interview" rather than "Parent/guardian interview." That's as school external publications and communications have replaced "she, her, hers" and "your daughter," replacing the former with "they, them, their" and the latter with "student."
"Schools have been pushing a lot of social justice agendas around for some time but it looked different," said Ashley Jacobs, a parent of a recent Winsor graduate who told Newsweek that in the past there seemed to be less urgency behind these types of movements. "It seemed less dangerous but now there is a negative incessant focus on identity as something inherently malleable and divides students based on immutable characteristics."
Throughout Winsor's "Lift Every Voice" report, emphasis on diversity, equity and inclusive language is pervasive from classroom norms to athletics. The athletics department is in the process of revising its handbook so that coaches will move toward avoiding addressing student athletes in gender binary terms. That's while an emphasis on racial equality seems to have also come to the forefront with the mention of phrases in the report like "white supremacy."
"The biggest argument for why it's important to have a diverse people and school that is not normed on white supremacy is that we're just poorly educating students if we don't," said Teresa Rodriguez, director of family relations, in a highlighted quote on the report.
The focus on DEI has also left parents wondering why, after students were kept at home during the COVID-19 pandemic, the attention by administrators and teachers on other programs like STEM (science, technology, engineering and mathematics) hasn't been their focus.
"Why is all work around identity taking a higher priority?" said Jacobs. "Why this plan—the school in a pandemic didn't have kids on campus full-time but had time to dedicate resources on 55 pages of a DEI plan. I don't see this level of detail around STEM. Why is this now the priority?"
That's while Winsor continues to promote the school as for "girls" providing it with the reputational benefits of being labeled as such while internally the school administration seeks to do away with "girls" as a term.
Founded in 1886 by Mary Pickard Winsor, the prep school has had a reputation for academic excellence and is routinely at the top of national rankings with one-third of its graduates going on to attend Ivy League universities. Winsor held a clear philosophy that students should be taught to think independently, be self-sustaining life-long learners and become strong, confident women.
In the past two decades, the school has made multiple "best of" lists including being identified by The Wall Street Journal in 2007 as one of the world's top 50 prep schools for students entering the best American universities. Forbes named it one of the top 10 prep schools in America in 2010 and in 2018, the online review site Niche ranked Winsor as the best all-girls school in the U.S.
"At Winsor, we strive to create a supportive and inclusive environment for all of our students. And we remain committed to our mission of preparing young women to pursue their aspirations and contribute to the world," Winsor Head of School Sarah Pelmas told Newsweek in a statement. "As a dynamic and responsive community, Winsor continuously evaluates and seeks to strengthen its diversity, equity, and inclusion work. The Lift Every Voice report is an outcome of that self-reflection. By collecting and synthesizing the practices, policies, and initiatives that exist in each department of the school, we sought a wider and deeper understanding of the totality of our DEI practices."
Added Pelmas, the report is offered to share where the school is and as a way to point where it is going as it continues to create a truly welcoming and inclusive school community.
Still, Jacobs said this emphasis has taken many parents of private school students off guard. That's while others recognize it's been an ongoing movement for some time.
"This really was in private schools before—in fancy schools, this has been in the works for years but it was the events of George Floyd and BLM where it just exploded," activist, author and founder of family search engine igokids, Andrew Gutmann, told Newsweek.
Gutmann pulled his daughter out of New York City's all-girls private school Brearley last year and authored "The Brearley Letter," which shared his reasoning for leaving that community after his child had attended the school for seven years.
"This was going to happen because it's been in process for years but absolutely they were able to use Covid to completely accelerate it," said Gutmann, also noting the changes that have taken place in public education. "The mission of public schools changed from the traditional mission of educating kids to training social justice warriors. Literally overnight their mission changed. They didn't tell parents, they just did it."
"They used COVID and were able to completely change the missions of these schools and actually changing the entire curriculum," he added.
Jacobs is concerned about the effects of non-gendered language on school-age kids trying to simply grow up.
"Children grow, they struggle with who they are...there's middle school angst, but usually you're grounded in something like family, gender, things you knew were true—a sport or other thing that defined identity. For example, you played baseball or you were a ballerina or a pianist. Those are no longer identities they want to ground you," said Jacobs.
"You don't ground yourself in anything so you question everything about your identity and accept everything they teach you," she continued. "Imagine being in middle school, trying to figure all this out then add on the social contagion of being asked to consider this layer of gender ideology?"