Why Is Tom Brady Unhappy with the Patriots?
The New England Patriots' strange offseason took an even more bizarre turn on Monday night, with Tom Brady strangely non-committal over his relationship with the franchise.
Appearing at the Milken Institute Global Conference on Monday, the three-time MVP was asked by Jim Gray whether he felt appreciated by the Patriots. Considering Brady has spent his whole career in New England and has played an instrumental role in each of the five Super Bowl the Patriots have won in that 18-year spell, the answer might have seemed obvious.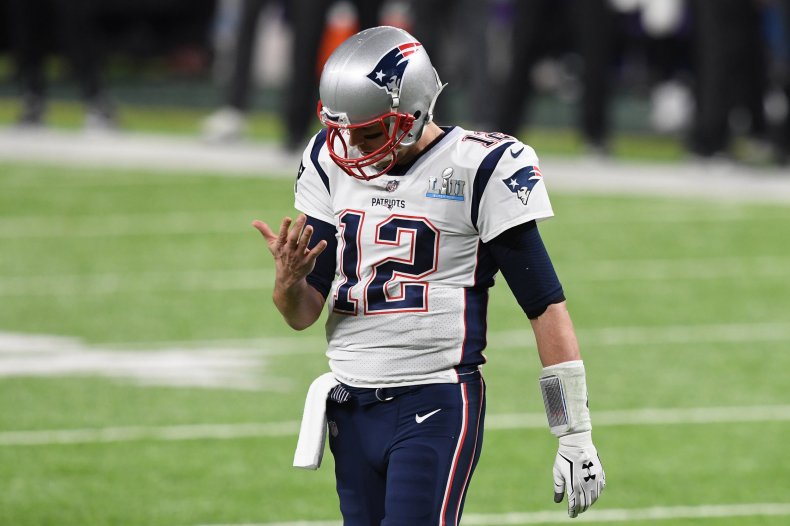 However, it was anything but.
"I plead the fifth," Brady said, suggesting it was a "tough question" to answer and declining to give a response.
"I think everybody in general everyone wants to be appreciated at work."
When pressed further by Gray on whether he was happy or not, Brady's answer was just as vague.
"I have my moments," he explained.
The California native was a lot happier to answer questions over his future, confirming that he is committed to play this year even though he will not take part in the Patriots' voluntary offseason program.
"Part of this offseason for me is certainly about still preparing for what's ahead in my next journey, my next mountain to climb with this group of teammates, but it's also [acknowledging] that a lot of people are getting the short end of the stick in my life—certainly my wife and my kids," he told Gray.
Throughout his career, the 40-year-old has repeatedly discussed the possibility of playing well into his fifth decade, but last month that determination was brought into question after it was revealed he had not yet committed to playing in 2018.
However, Brady dismissed suggestions his career could be coming to an end, insisting he was as motivated as ever, despite entering a 19th year in the NFL.
"I have personal goals," he added.
"I want to keep playing. I've said for a long time I want to play to my mid-40s. I was told three years, when I was 36-37, 'You can't keep playing; no one wins Super Bowls [at that age].' It's a great challenge for me. I think I've been challenged my whole life. I feel like I can do it."
The news will come as a relief for the Patriots, who have banked on Brady's desire to play well into his 40s, so much so that they opted to trade Jimmy Garoppolo—14 years younger than Brady—to the San Francisco 49ers in October last year.
New England's offseason has hardly been smooth sailing, with Brady's passive-aggressive comments coming just days after the saga surrounding Rob Gronkowski finally came to an end.
The tight-end's future had been subject to speculation since he admitted he was contemplating retirement after the Patriots lost the Super Bowl against the Philadelphia Eagles in February.
However, last week, Gronkowski and his agent met New England coach Bill Belichick and confirmed the 28-year-old will be available this season.