President Yoweri Museveni recently signed Uganda's Anti-Homosexuality Act into law, a monstrous measure which calls for a death sentence in some instances. In Kenya, we knew this moment would come. Since the Ugandan Parliament passed this measure, we've been girding ourselves for the aftermath. Its hateful influence, however, has been reverberating for months.
We saw it when protests erupted across Kenya after our Supreme Court ruled that LGBTQ rights groups could register as nongovernmental organizations (at one rally, a young boy could be heard shouting, "Behead LGBT people."). We saw it when politicians took to social media to condemn same-sex relations (already illegal in Kenya). And we see it in the egregious anti-LGBTQ bill now making its way through our parliament—the latest sign that another wave of homophobia is sweeping across East Africa.
This bigotry is not homegrown. It is fueled by Western conservative Christian groups. In fact, the organizers behind the recent protests here have been linked to the passage of Uganda's Anti-Homosexuality Act as well as an orchestrated push for other African nations to follow suit.
Grassroots activists in Kenya are banding together to protect the LGBTQ community, but we cannot fight this battle alone. We need allies to take bolder steps and hold our political leaders accountable for their discriminatory actions and apply pressure to those enabling this hatred and violence. Only then can we hope to gain basic freedoms and equity.
LGBTQ people have long faced violence and discrimination in Kenya. Still, only a few years ago, it seemed our nation was making affirming strides. In 2014, the High Court granted a trans activist the right to remove the "male" gender designation from her official school records. In 2018, a Court of Appeal declared the use of forced anal examinations to prove same-sex relations unconstitutional. And in 2019, the Kenya became the first nation in Africa to recognize intersex people on the national census.
When the pandemic hit, however, Kenya's march toward progress ground to a halt. Reports of attacks spiked. LGBTQ people were fired from their jobs, evicted from their homes, and denied health care. In 2022, President William Ruto took office and condemned same-sex relations, flouting our constitution's guarantee of human rights for all Kenyans. And over the last year, several gay rights advocates were brutally killed.
After the Supreme Court handed down its ruling about LGBTQ groups, a targeted misinformation campaign went into overdrive. The anti-LGBTQ movement equated the ruling with legalizing same-sex marriage, championed "African values" on radio stations in local dialects, publicly accused the LGBTQ community of being a cult, helped install chaplains in schools to reinforce "family values," and influenced pastors to vilify us from the pulpit.
Their latest gambit is the Family Protection Bill. It was introduced by a parliamentarian with known ties to Family Watch International, a U.S. based group funding anti-LGBTQ campaigns across Africa. This bill seeks to further criminalize consensual same-sex relations, same-sex marriages, and limit sexual health education. It even penalizes businesses that provide social services to LGBTQ persons. Penalties range from 10 years in prison to death.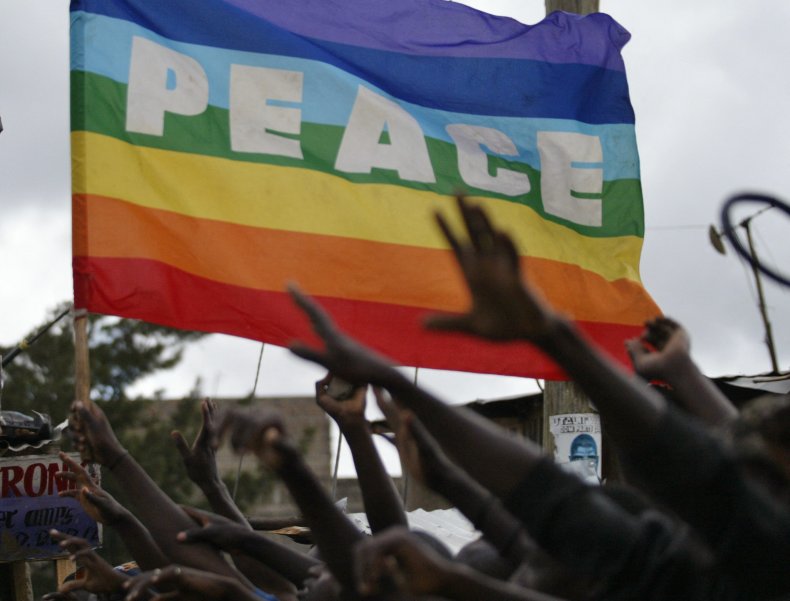 While these tactics have sown fear across Kenya, they also fueled our resolve. LGBTQ activists organized into collectives to defend against these injustices. We've created situation rooms to strategize; we've spread word throughout the community of our hotline for emergencies; and we've put our security teams on high alert to respond to assaults. We are disseminating safety guides as well as providing pro bono legal aid, relocation services, and therapy. And we are meeting with local independent church leaders to dispel falsehoods.
The LGBTQ community is fighting for the right to exist, but we can only do so much at the grassroots level. We need the power of international diplomacy. The United States revoked the visas of top Ugandan parliamentarians in response to the new law. That is a good start. We believe world powers can reverse this tide of hate by:
—Further sanctioning individuals—from parliamentarians to foreign institutions—responsible for developing these egregious laws.
—Freezing bilateral trade agreements.
—Applying a human rights lens when developing such agreements to protect LGBTQ persons.
—Defunding and restricting the online presence of organizations leading homophobic misinformation campaigns.
—Encouraging African nations with progressive constitutions to nullify homophobic colonial laws left behind by the British.
This wave of hatred sweeping across Kenya, Uganda, and other African nations is not just an LGBTQ issue, it is a human rights issue. This crusade will not end at our doorstep. These zealots will target more fundamental freedoms—from reproductive rights to civil and political rights. And so, we cannot remain in our silos. We must come together and answer the calls of oppression with even louder calls for equity, inclusion, and justice for all.
Ivy Werimba is a communications and advocacy officer at galck+.
Rebecca Odhiambo is a programs director at Western Kenya LBQT Feminist Forum (WKLFF).
Melody Njuki is a communications officer at Initiative for Equality and Non-Discrimination (INEND).
The views expressed in this article are the writers' own.