Warren Buffett has long touted the importance of giving to those need—and after donating nearly half of his fortune this week, it seems the billionaire is more than willing to put his money where his mouth is.
Buffett, 87, has donated as much as $3.4 billion of Berkshire Hathaway Inc. stock to five charities, representing the largest donation he has made in his bid to give away his fortune.
The lion's share of the funds went to the Bill & Melinda Gates Foundation, while the rest of the money was distributed between Buffett's own foundation, named after his late first wife Susan, and charities run by his children, Susan, Howard and Peter.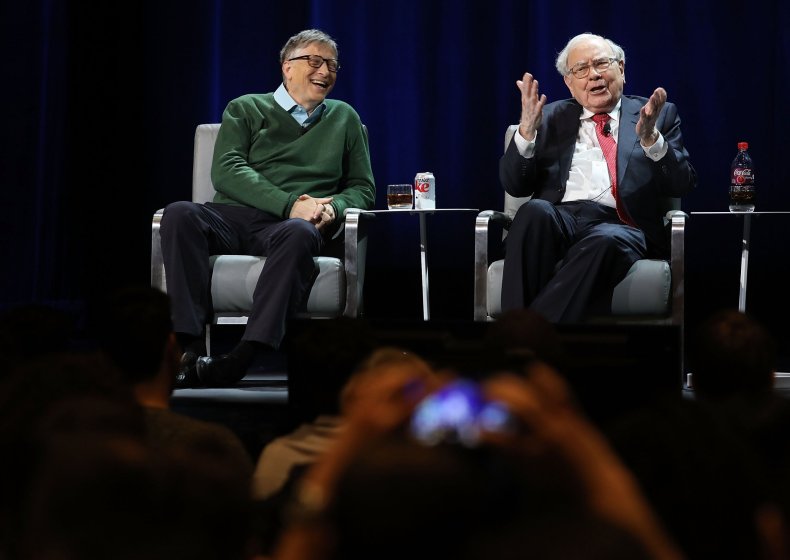 Each of Buffett's three children run their own foundations. Susan Buffett heads the Sherwood Foundation, which promotes equity through social justice to enhance life in Nebraska.
Howard Buffett runs the Howard G. Buffett Foundation, which works to improve the standard of living for impoverished and marginalized populations. Peter Buffett, in partnership with his wife, Jennifer Buffett, has launched the NoVo Foundation, which focuses on advancing girls' rights around the world.
A longstanding tradition
Since 2006, Warren Buffett has dontated more than $30.9 billion to the separate charities, with roughly $24.5 billion going to the Gates Foundation over the years, according to Reuters.
The billionaire's annual tradition of donating a lump sum stems from a longstanding belief in sharing wealth with those in need, rather than keeping it for oneself and one's heirs.
Buffett, known as the "Oracle of Omaha," laid out his plans at the recent Forbes 400 Summit on Philanthropy in San Francisco last month.
"Every single share of Berkshire I own will be diverted into philanthropy 10 years after my estate is executed for future philanthropists who can see future needs," Buffett told his audience, according to Forbes.
"I might be able to think outside the box, but when the box is 6 feet under, I'm not so sure," said the billionaire, whose multinational conglomerate owns more than 60 companies, including insurance company Geico and battery maker Duracell.
Family fortunes?
Buffett has long suggested that while he intends to leave some of his fortune to his children, it will only be a small share of the sum.
"You should leave your children enough so they can do anything, but not enough so they can do nothing," he advised at the summit.
The philanthropist said he also plans to be open with his children about the contents of his will, saying: "Why surprise them after you've already passed away?
"They have two things to decide. First, do they understand their responsibilities, and second, do they think what I've done is fair," Buffett said.
Read more: Warren Buffett, Bill Gates Blast Bitcoin as 'Non-Productive Asset,' Bad Investment
The billionaire, who co-founded the Giving Pledge with Bill and Melinda Gates in 2010, has already committed to donating nearly all of his estimated $82.6 billion net worth to charitable initiatives, including those run by his children.
The Giving Pledge asks billionaires to donate more than half of their wealth to charitable causes.
Bill and Melinda Gates, who run the world's largest private charitable foundation, which is aimed at improving global health, have also committed to donating the bulk of their wealth.
Other billionaires who have made the pledge to donate more than half of their fortune include Richard and Joan Branson, Michael R. Bloomberg, Mark Zuckerberg and Priscilla Chan, Judy Faulkner and Sara Blakely.