'Why Would Someone Shoot Me?' Stray Bullet Hits 7-Year-Old on Scooter
A 7-year-old girl was struck in the arm by a stray bullet Saturday afternoon while playing outside her grandmother's house, according to local news station WNBC4-New York.
Witnesses at the scene in Hempstead, New York, told PIX11 News that the alleged shooter fired a gun toward a group of people, who were standing on a street corner, after he walked out of a deli where a family community center and playground are located nearby.
"We saw somebody down the street. He looked suspicious. He ran up and started shooting. I shielded my face from breaking glass [and] told my daughter, 'run baby, run!'" the girl's mother, Radiah Simmons, said according to PIX11 News.
"She's on the ground screaming, 'I'm hurt! I'm hurt!'" Simmons said of her daughter.
The girl's grandmother, Patricia Murphy, said that the child was riding her scooter and was playing with her 3-year-old brother when the shooting happened, according to WNBC4-New York.
"She was screaming 'Help me! Help me! Why would someone shoot me? Why would someone shoot me?' There was a bullet hole in her arm—it went through her coat," she said. "It's disgusting. That's a little girl. That's going to be a mark on her for the rest of her life. How do I explain that when she's 7 years old?"
Simmons rushed her daughter to a nearby hospital where she was later released after being treated.
"The gun violence over here is horrible, I cannot live here anymore. I have to move, because they can't come here anymore. She doesn't want to come here anymore, she's frightened," the girl's grandmother said.
Police officers spread across the neighborhood Saturday to search for the suspect and to look for the motive behind the shooting, but have made no arrests and have not revealed any description of the suspect.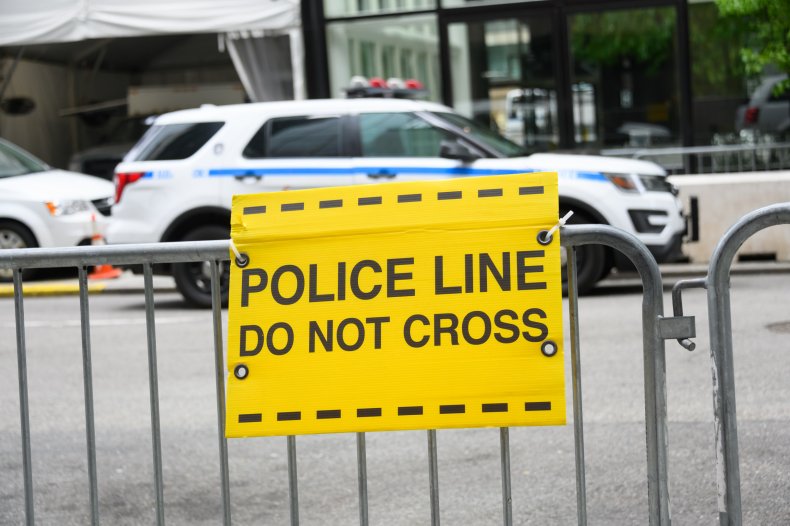 "Whoever did it, he will be found. He will be apprehended and go to jail. And I hope they find him before I do," Murphy added.
A similar incident was reported in January in Chicago where an 8-year-old was killed after being shot in the head by a stray bullet. The alleged shooter stepped out of a vehicle near the child and her mother, who were out for a walk, and opened fire.
Also in January, a toddler was shot in the face by a stray bullet as she was sitting in a parked car with her mother waiting for her father who was inside a nearby deli in the Bronx. The bullet was meant for a man who was in an altercation with the alleged shooter, but it flew into the car and struck the 11-month-old girl in her left cheek.
Newsweek contacted the Hempstead Police Department for comment and will update the story once a response is received.