Widespread COVID Vaccinations in U.S. May Not Mean an End to Travel Restrictions
Vaccinating large swaths of the American population is the best defense against COVID-19 mutations, but the United States reaching herd immunity might not be enough to allow people to travel around the world free of restrictions.
Bringing a true end to the pandemic will take a global vaccination effort because the virus spreading anywhere gives room for mutations to take place. Vaccines have largely been believed to be effective against variants so far, but the possibility that one could escape the vaccine and take hold in the U.S. raises the possibility of needing to keep travel restrictions in place until the world is vaccinated.
"It's not an unreasonable thing to request that people either be vaccinated and perhaps also test negative," Ruth McDermott-Levy, director of Villanova University's Center for Global and Public Health, told Newsweek. "I can see that until we get this under control."
Mutations occur when infections run wild, making the need to vaccinate millions of Americans even more vital, according to Dr. Anthony Fauci, director of the National Institute of Allergy and Infectious Diseases. The more people who receive the COVID-19 vaccinations that are already available, the fewer susceptible people there are for mutations to find.
However, we live in a global world and viruses can travel across borders. If a person travels to a place where vaccinations aren't widespread and a mutation takes hold, it can wind up in America. Usually, a variant won't have any clinical implications, according to Dr. Ashish Jha, a dean of the Brown University School of Public Health, but variants can be more transmissible or deadly or escape vaccines, and that could "make everyone vulnerable again."
"In a future where [the] U.S. is vaccinated but others are not, we could see a rise of variants that can infect, cause outbreaks here and other vaccinated places, requiring us to update our vaccines and vaccinate everyone again," Jha explained on Twitter. " It's the nightmare scenario of a never-ending pandemic."
While we know vaccines protect against disease, we don't "fully understand" how protective they are against infection, Jon Andrus, a professor of global health at the Milken Institute School of Public Health at George Washington University, told Newsweek. So a person who's protected against getting seriously ill may still be able to transmit the virus.
There's debate over whether travel restrictions are an effective means of slowing down a pandemic, but both Presidents Donald Trump and Joe Biden have utilized the tool. While some of Trump's restrictions were rescinded before he left office, Biden reinstated many of them and added South Africa, where a concerning variant was spreading, to the list.
Fighting COVID-19 is a "moving target," Andrus said, and testing requirements for travel could be "helpful," especially if technology improves to minimize "shortcomings" with regard to false negatives.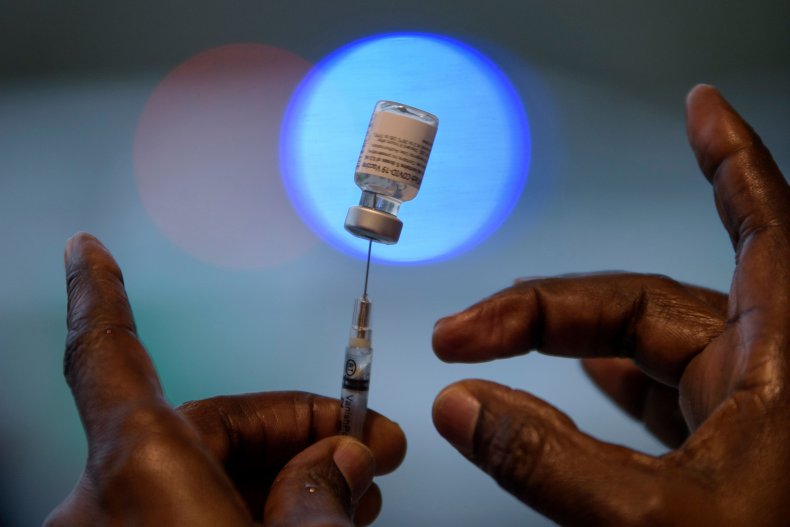 As of January 26, anyone entering the United States by plane will need to have either a negative COVID-19 test, taken within three days of departure, or proof of recovery from the virus within the last 90 days, according to the Centers for Disease Control and Prevention (CDC).
A White House spokesperson told Newsweek the Biden administration's guidelines and restrictions were based on what they know about slowing the spread of the virus and some variants. There's no definitive end for the ban, and press secretary Jen Psaki said the restrictions would be in place as long as experts believe they're necessary to keep the public safe.`
"This virus demonstrates that we are a global community, and it also demonstrates that we can't move forward unless we all move forward together," McDermott-Levy said. "We need to consistently look at this as a global issue and work collaboratively."
Proof of vaccination for certain viruses is already required for some international travel, but implementing a requirement for COVID-19 would require the vaccine to be widespread, CDC spokesperson Jasmine Reed told Newsweek. And right now, the effort is focused on getting it to high-risk populations. It would also create a need for developing data standards for proof of vaccination, like a digital health certificate.
Vaccines from Pfizer and Moderna are believed to provide protection against variants from South Africa and the United Kingdom. But, a recent study showed AstraZeneca's vaccine had a "minimal" effect on the strain from South Africa, prompting the country to halt its rollout.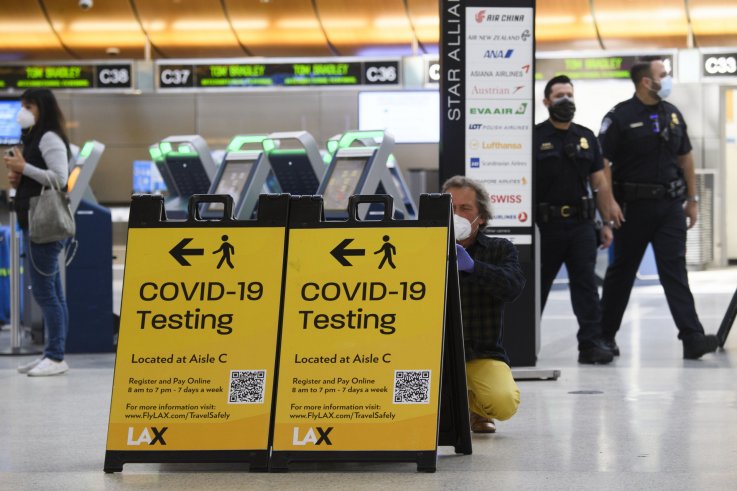 A traveler takes a photo of a COVID-19 testing sign at the Tom Bradley International Terminal (TBIT) amidst travel restrictions during the COVID-19 pandemic at Los Angeles International Airport (LAX) on February 4 in Los Angeles.
Patrick T. Fallon/AFP/Getty
"These results confirm we must do everything possible to reduce the circulation of the virus, prevent infections and reduce the opportunities for the SARS-CoV-2 to evolve resulting in mutations that may reduce the efficacy of existing vaccines," COVAX, a global vaccination effort, said in a statement.
As of Monday, 42.4 million Americans have received at least one dose of the vaccine, according to the CDC, about half of which were done since Biden took office. This puts the president about 25 percent of the way toward his goal of 100 million vaccinations in 100 days. Worldwide, 131.5 million people have received at least one dose of the vaccine, according to a Brown University tracker.
Applying Fauci's belief that 70 to 85 percent of Americans need to be vaccinated to reach herd immunity to a global scale, about 7 million people worldwide may need to be vaccinated.
"We have to ramp up production and make sure we're making the vaccines as accessible to the global population as possible," Andrus said. "It's gotta be a global response, there's no other way."