WikiLeaks: Julian Assange Sought Russian Visa, Leak Shows
Leaked documents taken from inside the whistleblowing outfit WikiLeaks, published today, revealed new information about the inner workings of the anti-secrecy platform—including an alleged appeal for a Russian visa and a so-called "escape plan" from 2010.
The Associated Press (AP) said Monday that it had obtained "tens of thousands" of files, chat logs and even "secretly recorded footage" linked to the Julian Assange–led operation.
One leaked document, dated November 30, 2010, was a letter to London's Russian consulate containing a copy of Assange's passport. It reads: "I, Julian Assange, hereby grant full authority to my friend, Israel Shamir, to both drop off and collect my passport, in order to get a visa."
Another file, allegedly penned by Guatemalan lawyer Renata Avila that same year, discussed a number of outcomes that Assange, who was facing sexual assault allegations at the time, might encounter. One scenario read, "We already contacted the Ministry of Justice in Brazil, there is a possibility to run out of the country in a Brazilian ship, direct flights to there."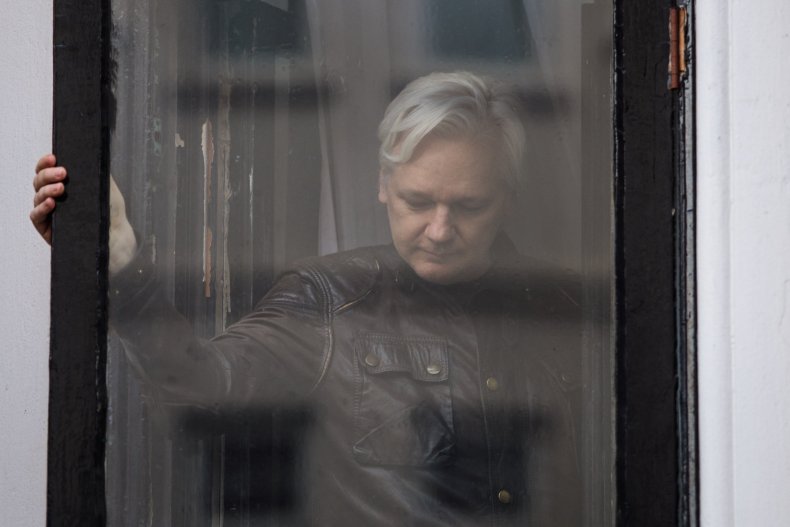 Also on November 30, 2010, Interpol issued a Red Notice seeking Assange's arrest. Israel Shamir, who has long been a murky figure in WikiLeaks history, is a Russian-born writer and commentator with ties to Holocaust denial.
Only two days prior, WikiLeaks made headlines across the world by publishing hundreds of thousands of U.S. diplomatic cables. It was a busy time for the collective, which at the time was partnering with mainstream media outlets including The Guardian and The New York Times to release pilfered secretive documents largely focused on the ongoing war in Afghanistan.
After publication of the AP report on Monday, WikiLeaks denied Assange ever made the application, and said the leak had emerged from a former staffer. Assange received political asylum from Ecuador in 2012 and remains in its London embassy to this day.
"Mr. Assange did not apply for such a visa at any time or author the document. The source is document fabricator & paid FBI informant Sigurdur Thordarson," the official verified WikiLeaks account tweeted. "Thordarson distributed these docs to Scandinavian media outlets years ago who found them to be untrustworthy," said WikiLeaks. "Thordarson, a proven serial document fabricator and media hoaxer has been released, so the docs are being recycled yet again."
Indeed, the AP could not confirm "whether or when" the letter was delivered.
The whistleblowing platform did not immediately respond to a request for comment sent via Twitter, where it remains active despite Assange's internet privileges being revoked this year.
The U.S. intelligence community believes WikiLeaks was weaponized by Russian hackers during the 2016 presidential election. At the time, it released stolen emails seemingly taken from the Democratic party, an intrusion later linked to the country's military intelligence agency.
In July, more than 11,000 messages from a Twitter group used by WikiLeaks leaked online.