WikiLeaks' Twitter Chats Exposed as 11,000 Private Messages Posted Online
More than 11,000 messages from a Twitter group used by WikiLeaks have been posted online in full, exposing private chats between 2015 and 2017.
The cabal—populated with around 10 close supporters—was a "low security" group created to share news stories, distribute disclosures, collate freedom of information requests, discuss politics and, in WikiLeaks' own words, push "advance notice of hostile Twitter PR."
The messages, released in full for the first time on Sunday, have been referenced by U.S. media outlets in the past. In February, The Intercept first reported some key excerpts, including one snippet showing criticism of Hillary Clinton and support for the GOP. "[Clinton's] a bright, well connected, sadistic sociopath," the WikiLeaks account said in November 2015.
The cache was published by national security researcher Emma Best, who broke out some key points in blog posts last week, including alleged anti-Semitic remarks. Best—who has clashed with WikiLeaks in the past—said the information was needed to provide "context" to news reports. The release was redacted in parts to protect the privacy of some named individuals.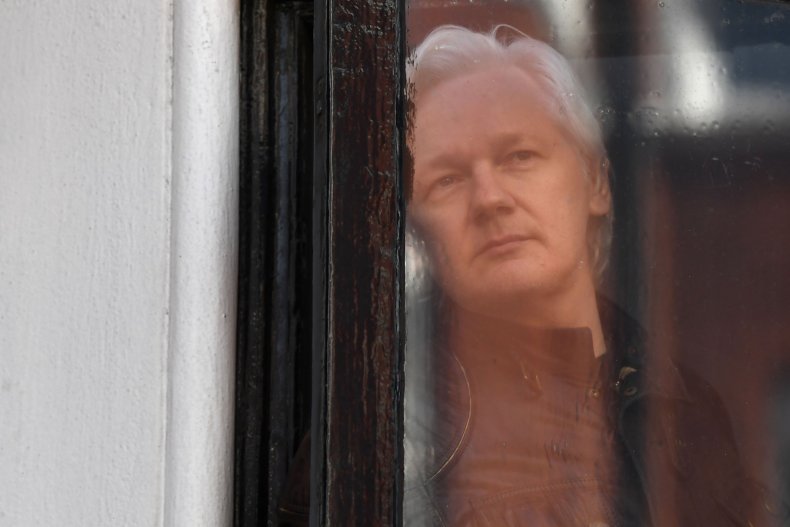 "I posted the chats because they give people a look at WikiLeaks behind closed doors and lets them judge the context for themselves," Best told Newsweek on Sunday. "I've released excerpts and commented on them, but it's best to let people see them for themselves."
Best believes WikiLeaks has "lost its way," commenting that it has recently "become a group guided more by agenda than transparency, and by a cult of personality more than ethics." She described members of the Twitter collective as "supporters who were promoted to assets."
The leak provides a glimpse into how WikiLeaks' closest allies remained active in the face of intense scrutiny over the platform's alleged links to Russia in 2016. It also shows the internal debate caused by conspiracy theorists, many of whom were demanding the website's founder, Julian Assange, provide "proof of life" to show he was safe in the Ecuadorian embassy.
The primary author behind the WikiLeaks account is believed to have been Assange.
In one instance, a group member references criticism that called WikiLeaks a "dictatorial cult which refuses to accept criticism." WikiLeaks later addressed its followers: "Morning, culties."
In another, WikiLeaks branded Swedish citizens as "a different race." Additional messages reference the rape accusations previously leveled against Assange, now dropped. "Only way to deal with this is to make JA's case a famous example of false rape," WikiLeaks said. But there was little talk of the claims by U.S. intelligence that WikiLeaks had been weaponized by Russia.
The WikiLeaks Twitter account did not immediately respond to a request for comment. Motherboard reported Monday that the dataset was the same as given to The Intercept.
In May, The Daily Beast also ran a story based on the leak after editor Kevin Poulsen obtained the dataset from a U.K.-based defector who was once a part of the group.
Speculation has mounted in recent weeks that Assange's time at the Ecuadorian embassy could be coming to an end, as political tensions boil over. The WikiLeaks founder entered the London building in 2012 but is still wanted by U.K. authorities for breaching bail at the time. Ultimately, he fears extradition to the U.S., where he may be wanted for his national security disclosures.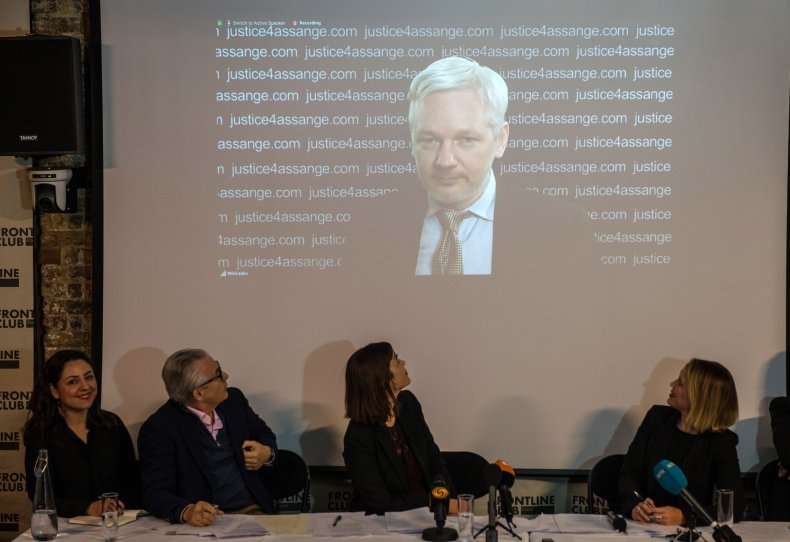 On Saturday, British media suggested his expulsion from the embassy could be imminent. Supporters have argued that his arrest would have severe consequences for press freedom.
In February 2016, a United Nations panel ruled Assange was being arbitrarily detained. It has been widely reported that the WikiLeaks chief's health is deteriorating. "It's an untenable situation," Assange's lawyer Jennifer Robinson told The Sunday Times this weekend. "He's under a huge amount of pressure. If they do remove his protection, we will go to the courts."
In March this year, Assange's internet connection was cut off by his Ecuadorian hosts.
WikiLeaks has released war logs, diplomatic cables and footage showing the killing of journalists by U.S. soldiers. Recently, it has leaked gigabytes of information detailing Central Intelligence Agency (CIA) hacking tools and emails from high-level Democratic Party staffers. It denies links to Russia, and Assange has brushed off the suggestion it obtained data from a state source.
Assange became a focus of conspiracy theories during the 2016 U.S. presidential election as speculation on Reddit and 4Chan suggested that he had died or escaped the embassy.
"These proof of life people :0," one group member complained in November 2016. "Yes, they are *so* annoying," came the reply from one account called the WikiLeaks Task Force.
But the mainline WikiLeaks account appeared reluctant to label all of them as trolls.
"Some of them are real supporters who believe information they have been fed," it claimed. "The proof of life stuff seems absurd but is a very important and positve (sic) development." The profile later added: "There may soon come a time when that demand is important."
American intelligence believes that a Kremlin-linked cutout known as Guccifer 2.0 was in contact with the whistleblowing outlet and potentially sent it stolen emails. Russian spies were recently indicted by the U.S., accused of hacking the Democratic National Committee (DNC).
Ecuador's president Lenín Moreno confirmed late last week that discussions had taken place with the British government in an attempt to remove Assange from his London embassy. "I have never been in favor of Mr. Assange's activity," Moreno asserted.