Is WikiLeaks Too Full of Itself?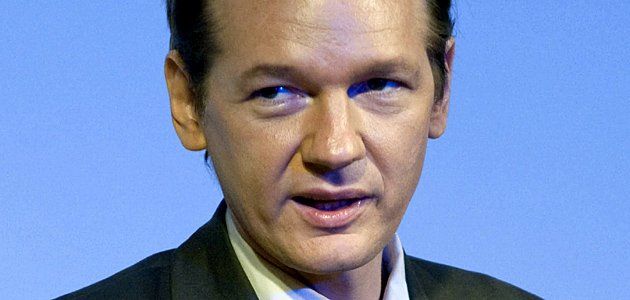 Have the activists behind WikiLeaks—and in particular the Web site's founder, Julian Assange—become intoxicated by their own myth? Two recent events involving the now internationally watched Assange and the Web site seem to indicate that this is the case.
WikiLeaks proclaims lofty goals. "Since July 2007, we have worked across the globe to obtain, publish and defend [sensitive] materials, and, also, to fight in the legal and political spheres for the broader principles on which our work is based: the integrity of our common historical record and the rights of all peoples to create new history. We believe that transparency in government activities leads to reduced corruption, better government and stronger democracies." The personal aims proclaimed by Assange, WikiLeaks' floppy-haired face to the world, are even more grandiose: "I enjoy creating systems on a grand scale, and I enjoy helping people who are vulnerable. And I enjoy crushing bastards," Assange told the German magazine Der Spiegel in an interview last month.
The interview was published as a sidebar to revelations Der Spiegel published last month about a cache of secret field reports leaked from the Pentagon charting the U.S. operations in Afghanistan. While many experts said that the reports contents were quotidian or underwhelming, Assange offered Spiegel's readers a more expansive assessment of their importance: "A single body of information, they eclipse all that has been previously said about Afghanistan. They will change our perspective on not only the war in Afghanistan, but on all modern wars."
By granting only the German magazine, London's The Guardian, and The New York Times advance access to its stash of Afghan war reports, WikiLeaks and Assange ensured that the material made a big international news splash, even if experts downplayed its significance. But two subsequent developments suggest that perhaps WikiLeaks and Assange—whose activities at the moment appear to be inextricably entwined—are already failing to live up to their own exalted standards for truth and transparency and could see their credibility eroded, if not ultimately destroyed, by their overindulgence in self-righteousness and hype.
Let's examine WikiLeaks' most recent corporate stunt first. On Wednesday afternoon, following roughly 12 hours of Internet fanfare, the website tweeted this item: "LEAK: CIA Red Cell Memorandum on the United States as an "Exporter of Terrorism". At the link could be found a CIA paper, stamped "SECRET/NOFORN" ("no foreign nationals"), that examines the topic: "What if Foreigners See the United States as an 'Exporter of Terrorism?"
What if? The paper briefly notes that some American citizens have been implicated in recent Islamic terror plots overseas (a subject Declassified examined at far greater length last spring). It also notes that the U.S. in the past has been a home for terrorists of other ethnicities, including Jewish extremists and the Irish Republican Army. Without citing any specific secret intelligence reports, the CIA document, produced by a "Red Team" of analysts whose mission is unconventional thinking, says that because foreign governments don't really expect American passport holders to be terrorists, this might make American citizens attractive recruits to terror groups seeking fighters for missions outside the United States. The paper concludes with a warning that, if foreign governments see more and more Americans implicated in terror plots outside the U.S., they might become more reluctant to help American authorities investigate terror plots directed against the U.S.—for example, by stalling on U.S. investigation requests or refusing to cooperate with U.S. extradition or rendition requests.
If you don't find these observations earth-shattering or worthy of a "SECRET/NOFORN" stamp, you'll probably have a lot of company. The secret paper's revelations, while perhaps not the sort of thing a president or CIA director would want to talk about on Meet the Press, are commonplace thoughts that are voiced by pundits and bloggers every day, often with a far more ferocious tone than used by the CIA analysts. The agency's own reaction to the release of the secret paper came close to a yawn. "These sorts of analytic products—clearly identified as coming from the Agency's 'Red Cell'—are designed simply to provoke thought and present different points of view. That's the kind of thing our government ought to be doing," says George Little, a CIA spokesman. An American official familiar with the document, who asked for anonymity when discussing a document which is still technically classified, added, "This is not exactly a blockbuster paper." WikiLeaks offered a predictably grandiose reaction to the CIA's confirmation that the paper was authentic, tweeting: "CIA usually does not confirm, so CIA likely wants to use Red Cell leak to push for policy change in US." Ahem. Really?
The second recent development, which is already causing some of WikiLeaks' own loyal supports to question whether the group is its own worst enemy is, not surprisingly, the widely publicized sexual-misconduct investigation of Assange in Sweden. WikiLeaks' latest tweet on that subject (at the time this story was written) portrays the most recent developments in the investigation in the most favorable light possible: "WikiLeaks founder cleared of sex allegations | AP" The reality, however, as the wire service story makes clear, and as Declassified reported in greater detail earlier on Wednesday, is that while Swedish prosecutors have indeed terminated an investigation that resulted in a warrant for Assange's arrest in connection with an allegation of rape being issued and then quickly canceled, a Swedish prosecutor is still investigating Assange in connection to an allegation of "molestation" and has determined that there is sufficient reason to order police to interrogate Assange about the allegations.
Most of Assange's public responses to the Swedish investigation have been conspiracy-mongering and bluster. On Sunday, Assange told the Middle Eastern broadcast outlet Al-Jazeera, "It is clearly a smear campaign. … The only question is who was involved. We can have some suspicions about who would benefit, but without direct evidence, I would not be willing to make a direct allegation." He was quoted by Aftonbladet, a Swedish newspaper, as saying, "I know by experience that WikiLeaks' enemies will continue to bandy around things even after they have been renounced. I don't know who's behind this, but we have been warned that, for example, the Pentagon plans to use dirty tricks to spoil things for us."
But the Swedish paper also quoted him as saying, somewhat cryptically, that he had "never, whether in Sweden or in any other country, had sex with anyone in a way that is not founded on mutual consent." And as Declassified reported Wednesday, a lawyer representing two women whose allegations triggered the investigation by Swedish authorities suggests that not only are his clients standing by their claims, but that he may well challenge the decision by prosecutors to close the rape probe of Assange. A person in close contact with other WikiLeaks activists around Europe, who asked for anonymity when discussing a sensitive topic, says that many of them were privately concerned that Assange has continued to spread allegations of dirty tricks and hint at conspiracies against him without justification. Insiders say that some people affiliated with the website are already brainstorming whether there might be some way to persuade their front man to step aside, or failing that, even to oust him. Given that Assange is the person who put WikiLeaks on the map, and given that no one appears more entranced by the aura surrounding WikiLeaks than Assange himself, that could certainly cause the website considerable anguish about its own practice of "transparency," "democracy," and "integrity."
Update: Karin Rosander, a spokewoman for Swedish prosecutors, told Declassified on Thursday, Aug. 26, that authorities had received word that Assange had agreed to answer police questions about the "molestation" investigation of him that is still open. She said that it was unclear when the interrogation would take place, but that it would likely be within the next few days.