Internet Raves Over Wild House Listing Which Comes With a Free 'Ex-husband'
A wild house listing in Florida has caught the attention of prospective buyers not for its location or size, but rather for the "ex-husband" who comes as a tenant.
The description for the family home, located at 3819 Quail Street, in Panama City Beach, reveals it was on the market for $699,000.
For that price you get three bedrooms, two bathrooms, 1,396 square feet of space, a garage, pool and a hot tub—and a sitting tenant.
The tongue-in-cheek listing, by realtor Crystal Ball, says: "Wonderfully rehabbed ex-husband up for grabs as tenant in this stunning Panama City Beach, Fl. home.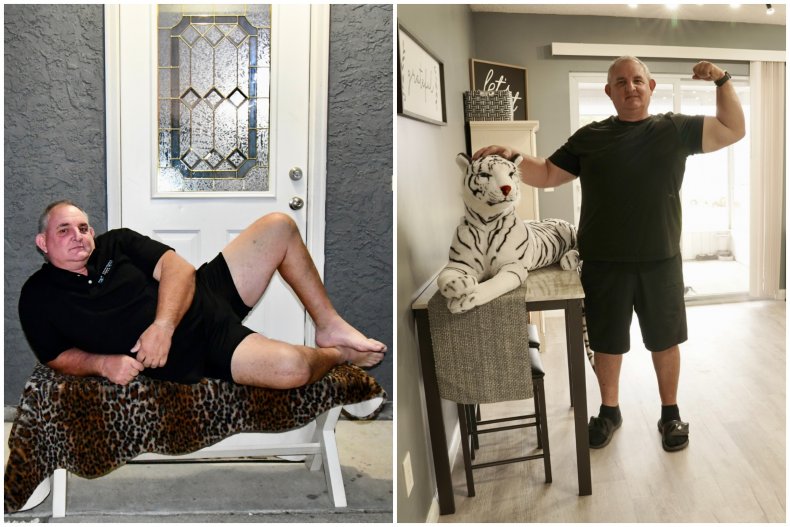 "This dream man in the kitchen is a personal chef and server cooking up perfect meals on a new stove with updated countertops you can make memories on. Head covering is well worn, mostly balding, like the eagles soaring in the sky above S. Lagoon steps from your massive driveway.
"XL ears will pick up creaks and make sure WD40 is applied to your new fixtures. Large Italian nose will sniff out any odors before you even think about taking the trash out your decorative front door.
"Superhuman strength will save your back years of hard work lifting your hot tub cover where you can fall in love listening to our two young boys splashing in the pool. Tenants new metal knees should outlast the new LVP flooring just expertly installed.
"Price is firm as seller has spent hundred of thousands of dollars in rehab, training and time to convey these assets."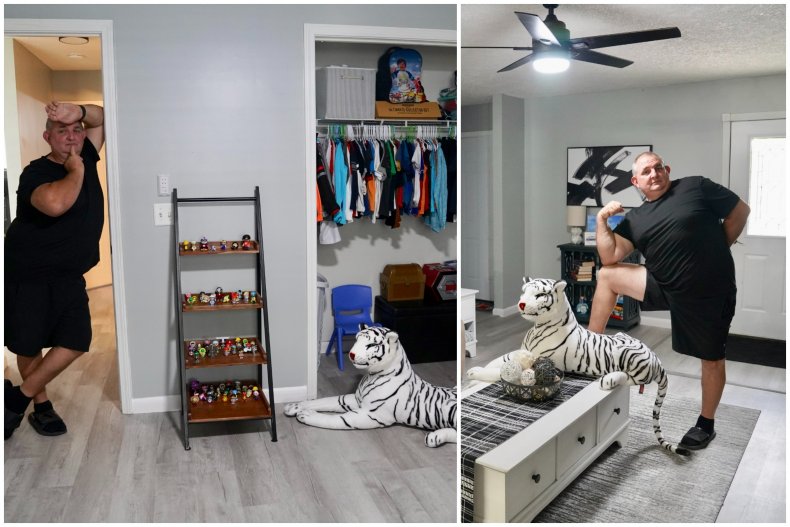 The listing photos show a man, named Rich, suggestively posing around the house complete with a giant stuffed tiger, as well as on an animal-print throw.
Two kids also appear throughout the listing, as Ball explained to Newsweek the home, and family, were hers, with the boys aged 10 and five.
She explained she came up with the concept as a way of generating interest in the sale, as well as finding "humor in chaos."
Ball told Newsweek: "I'm a huge fan of creative marketing tactics and I felt this was a fitting way to announce my divorce, my name change and my new brokerage launch. "
Ball, who previously went by Crystal Chaillou, and ran website www.crystalchaillourealestate.com, said the pair were getting divorced after five years' of marriage.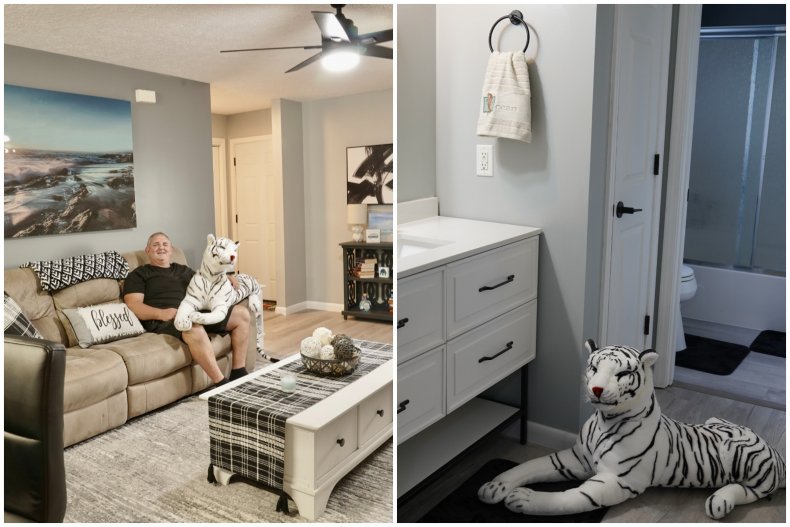 Health and financial complications contributed to the break-up, Ball said, adding: "Instead of walking away and filing bankruptcy, which would have definitely been the easier route, I chose the path of forgiveness and we worked together over the next couple of years still supporting each other and handling things with each other, not against each other."
When it came to the house sale, Ball explained she specializes in "vacation rental properties," adding: "It is common in Florida for homes to be sold with tenants included with investment properties."
Since being shared the listing blew up online, as Ball said: "The feedback overall has been positive. There are some other agents that don't see the humor in it but that is part of the reason why I listed it.
"The last few years have been challenging to say the least and though my husband and I didn't make it as life partners we are still great friends, and he is an amazing father to our sons.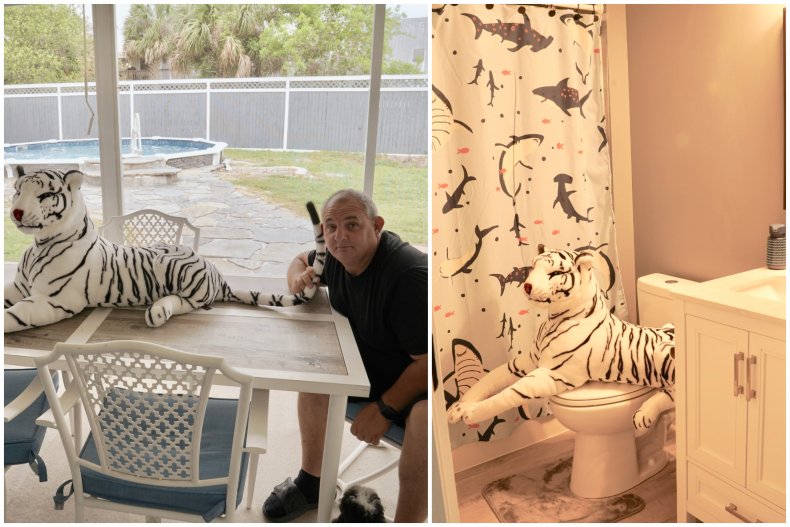 "I bought him this house for him and my sons to live in and we just finished rehabbing the house and moving them. Our divorce was finalized that same week so I thought selling the house with him as a tenant would be a fitting close to the chapter.
"I didn't expect anyone to buy the home but thought it could be an enticing offer for some. I've not got any real interest from buyers just fellow agents that find it hilarious and love the idea."
However, she claims the listing keeps getting flagged and removed, but not before it was shared on Twitter by Zillow Gone Wild earlier this week.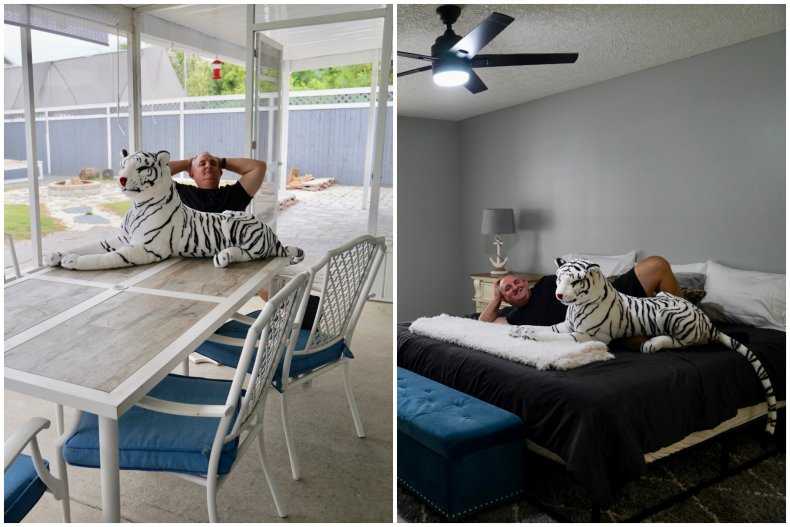 More than 1,500 people liked the post, as @TwiZZle_Scratch asked: "But is his cooking actually GOOD? They say "chef" but I don't see no apron & hat!"
A tribe called bae wrote: "Pretty much sold on personal chef."
EverGemma commented: "I have so many questions and I'm desperate for answers."
Marf thought: "Is this a dating ad disguised as a home for sale or?"
I will sail my vessel til the river runs dry questioned: "What happens if you want it sans 'rehabbed ex-husband as a tenant'?"
Jessica admitted: "I respect the hustle and all but I don't know whether to be impressed or disturbed. Also, I need the story behind the white tiger plushie."
Lurker raved: "His poses... I'm sold."
While Ellen Cotter added: "But what about the tiger? No tiger, no sale."
According to Zillow, the average house price in the Sunshine State is $367,175. The site noted: "Florida home values have gone up 31.2% over the past year."
Last March, the average price was $279,000, while the year before it was $253,000.